Coming November 1, 2021 to gbmarian.bandcamp.com
Our Lady of Thrones is the follow-up to last year's His Nocturnal Majesty (2020). Both stories revolve around the appearance of a monster called "the Ungod" in the sky. But while His Nocturnal Majesty concerns one group of characters and their efforts to repel this monster back to the Other Side, Our Lady of Thrones concerns a very different group of characters and their efforts to rebuild human civilization. It is also a double album, with Disc One taking place prior to His Nocturnal Majesty, and Disc Two taking place afterwards.
(For more detailed character biographies, check out His Nocturnal Majesty & Our Lady of Thrones – Cast of Characters.)
Album Art
The Whole Story:
Sorceress (The Prophecy)
When the Sorceress was a girl, Lady Isis spoke to her in dreams, showing her the end of the world. "You must gather as many of your sisters in humanity as you can," the Goddess advised. "Together, go forth and build the city of New Sennebytos. Those who follow My guidance will survive to heal this world from the horror that is soon to come."
Witchfinder
No one knew the Witchfinder's true name or origin, but he could hear thoughts. He knew when other people had similiar abilities to his own. He killed as many such "witches" as he could, one by one, by any means necessary. No matter what was done to stop him, the "God" that commanded him to kill would not let him die. And the Sorceress, still a young girl, was next on his list…
The Church of Many Mothers
The Sorceress traveled far and wide, bringing women together in spirit from across the continent. Caregivers, educators, public servants…all became sisters in Lady Isis, and all pooled their resources to buy land in the West. Together, they built the community of New Sennebytos and made preparations to survive the coming disaster.
Initiation
When Rae first learned of the Church of Many Mothers, she thought they were just another doomsday cult. But it soon became clear the Sorceress was no false prophet. And when Rae saw for herself how safe, happy, and powerful these women were together…she began to realize she was one of them at heart.
The Reverend President
He was a televangelist. He hypnotized the masses into swallowing his toxic brand of Christianity. He advised several American presidents on both foreign and domestic policy. Then the people voted him into the White House, and the Church of Many Mothers became Public Enemy Number One.
Satanic Panic (Disciple of the Worm)
The Reverend President enlisted the aid of the Warlock, who engineered a spell to possess thousands of viewers through their television sets. Like flicking a switch, the evil magicians drove entire communities to commit acts of mass violence and terror. This horror was then blamed on "cults" like the Church of Many Mothers, and the world descended into madness.
Go With The Goddess
It was time for New Sennebytos to retreat underground, but the Sorceress refused to abandon those members of her church who had not yet escaped to the city. She sent her best warriors to rescue as many of their sisters from across the country as they could. One sister chosen for this quest was Rae, who had since taken a wife named Autumn. The lovers feared they might never see each other again.
Escape to New Sennebytos
Along with a warrior named Adrienne, Rae was assigned to rescue those Isians who were trapped in Atlanta. While there, the women were pursued by the Witchfinder. Rae sacrificed herself so that Adrienne and the other women could escape. It broke poor Autumn's heart when her wife did not return home; but there was nothing to be done. For the end was about to begin…
The Screaming Sky
As civilization decayed, Ma'at began to unravel. Then the Ungod appeared in the sky, just as the Warlock had secretly planned. The monster's countless tongues slithered down from its gigantic mouth to slowly encircle and devour the entire world. Most everyone who witnessed this immediately went insane. Our planet would never be the same again…
The Shieldmaiden's Daughter (Part I)
While the Church of Many Mothers remained hidden beneath New Sennebytos, the Shieldmaiden of Set fought to survive above. One day, the Shieldmaiden found an orphaned baby girl, whom she adopted as her own. Whenever mother and daughter both felt hopeless at night, Lord Sutekh appeared and gave them comfort. "You are My Shieldmaidens," He explained, "and the Ungod will tremble when you are near."
After the End
After the elder Shieldmaiden of Set repelled the Ungod back to the Other Side, the earth slowly returned to life. The Church of Many Mothers returned to the surface and began to rebuild civilization. They welcomed refugees into their society, and they helped neighboring communities rebuild themselves too. The women of New Sennebytos then became legendary defenders of civility and peace.
Sentinels of Sekhmet
Meanwhile, the Reverend President and the Witchfinder had both survived as well. Together, they transformed Atlanta into a theocratic totalitarian empire: the Kingdom Guard. In time, the Church of Many Mothers sent a special taskforce—the Sentinels of Sekhmet—to infiltrate the Kingdom Guard and help those of its citizens who were trying to escape. Autumn was chosen to lead this quest. She believed her wife Rae might still be alive in Atlanta, and she was desperate to find out.
The Kingdom Guard
The Sentinels of Sekhmet infiltrated Atlanta, searching for citizens who sought refuge. While there, they witnessed just how horrible things within the Kingdom Guard really were. They were soon captured and imprisoned, whereupon they found a tortured and beaten Rae, near death. Sobbing, Autumn embraced her wife and gave thanks to Lady Isis.
The Shieldmaiden's Daughter (Part II)
Just when the Sentinels of Sekhmet thought they were done for, the second Shieldmaiden of Set appeared, now fully grown. She helped the women break free, and she battled the Witchfinder as they made their escape. All of the women, including the Shieldmaiden, safely returned to New Sennebytos…But not in time for Rae's life to be saved.
Resurrection Ceremony
Back in New Sennebytos, Autumn begged the Sorceress to use her magic and restore life to Rae. The Sorceress agreed, but explained that her magic could only resurrect Rae for a limited time. Once that time was up, Rae would have to return to the Other Side with all the rest of the dead. The Sorceress performed the ceremony, and Autumn and Rae were able to spend one last night together after all.
Last Embrace
Autumn and Rae spent their last night together in each other's arms. Rae promised to do whatever she could as a ghost on the Other Side to help Autumn in her battles. Autumn swore she would never take another wife so long as she lived.
Warlocked (Disciple of the Worm)
Before she left this world, Rae told Autumn what she had seen as a prisoner of the Kingdom Guard. Even the Sorceress was surprised to learn the Reverend President was actually long dead, and that his corpse was but a rotting puppet. The Warlock had been the true mastermind all along, manipulating the entire Kingdom Guard for his own purposes. Now he sought to facilitate the Ungod's return…by destroying New Sennebytos.
Witchfinder General
The Sorceress and the Witchfinder faced each other on the battlefield. The Sorceress was mighty, but even she could not phase her opponent. Then she shouted a word only the Witchfinder could hear. It was a name no one else understood. When the Witchfinder heard this, he froze like a statue…and he never moved again. Exhausted from her injuries, the Sorceress smiled…and then she died.
Defy the Ungod
The women of New Sennebytos launched their final assault against the Warlock's hordes. They were joined in battle by the Shieldmaiden of Set, who had just returned from reuniting the Knights in Sutekh's Service. When these mighty Setian warriors joined their Isian sisters on the battlefield, the Kingdom Guard soon dissolved into chaos.
Long Live the Queen
After defeating the Kingdom Guard, the Church of Many Mothers and the Knights in Sutekh's Service returned to New Sennebytos. All who fell during the battle, including the Sorceress, were given the most beautiful funerals anyone had ever seen. Autumn was then coronated Pharaoh, and with their new Queen, the women of New Sennebytos went forth to continue rebuilding our world.
His Nocturnal Majesty and Our Lady of Thrones both hinge on a central apocalyptic event that occurs sometime in the not-too-distant future, and which I first envisioned when I was in high school back in the 1990s.
The key to understanding this apocalyptic event is Ma'at, the Egyptian concept of truth, justice, and healthy reciprocal relationships between sentient beings and the rest of nature.
When Ma'at is upheld, human civilization, the forces of nature, and even Duat (the Spirit World or Other Side) are all made to flourish. But whenever Ma'at is forsaken, it makes a crack in the very fabric of Creation itself. And there are all kinds of nasty things out there in the nothingness outside Creation—the myriad Powers of Isfet—that would like nothing more than to rip our multiverse apart from within.
Chief among these malevolent forces is an entity so utterly toxic and poisonous, even lesser Powers of Isfet are afraid to speak its true name. For the purposes of my narratives at least, this ancient enemy of all gods and creatures is simply called the Ungod.
Each of the Netjeru or Egyptian gods and goddesses plays various roles in upholding Ma'at and repelling the Ungod at a higher, cosmic level of existence. This prevents the foul thing and its hordes from simply swallowing the entire multiverse whenever they want.
But part of Ma'at requires appreciating the autonomy of all sentient beings, and human mortals are sentient. This means the Netjeru can't just come down here and uphold Ma'at for us in all of our affairs. We are responsible for upholding Ma'at in our own dealings with each other, our environment, and any other sentient species we might eventually encounter. And so long as there are enough people upholding Ma'at across the world, the Powers of Isfet can never just seep into our area of the multiverse…
The flip side to this, of course, is that when human beings finally become too rotten and despicable in general, all bets are off. The Ungod will slither through the cracks we have made in Ma'at and un-create us (physically, mentally, spiritually, etc.), doing so as slowly and maliciously as it can. The gods will be unable to save us, as well, for we will have chosen this fate for ourselves by our own catastrophic actions. And this is exactly what I saw in my nightmares as a teen. One day, when it seems there's just no more hope for humanity at all, the Ungod physically appears to everyone as a giant mouth in the sky. Its massive tongues reach down to devour all the people below. And the damned thing is in absolutely no hurry to eat us all at once, either; it prefers to play with its food first, since we taste much better when we are insane with fear.
I'm pretty sure I dreamed all this up from reading the Lament of Hermes, a Greco-Egyptian "prophecy" that foretells of the world falling apart due to a complete absence of Ma'at among humanity. But in my version of events at least, we still have a chance of reversing all this bullshit and exorcising the Ungod. There are still handfuls of good people across the earth who try to uphold Ma'at, even after the monster breaks loose and slithers into our atmosphere. These include the protagonists of both His Nocturnal Majesty and Our Lady of Thrones, who fight to repel the Ungod and restore enough Ma'at so it can't return.
Our Lady of Thrones is a double album, and the first disc takes place during the final years before the Ungod breaks loose. The second disc takes place after the events of His Nocturnal Majesty, in which the Ungod is repelled by the Shieldmaiden of Set and the Knights in Sutekh's Service. Once that particular battle is won, the protagonists of Our Lady of Thrones set to work trying to rebuild our world, and they also face off against the Ungod's surviving mortal allies (who actually want to bring the monster back).
THE SHIELDMAIDEN OF SET
There are actually two Shieldmaidens of Set: a mother and a daughter.
The elder Shieldmaiden was born and grew up long before the Ungod appeared, and she was a police detective. She earned her chops hunting and apprehending some of the most dangerous human predators imaginable. She first encountered Lord Sutekh during a near-death experience, when He warned her of the doom that was to come. After she recovered, she became a survivalist and a martial artist.
When the Ungod appeared, nearly everyone who looked up to the sky went dangerously insane…except for the Shieldmaiden. Somehow, she could look at the Mouth above without losing her nerve. And with this indomitable nerve of steel, she went forth to rescue as many lives as she could during the apocalypse.
One life she saved was that of the second Shieldmaiden, who was just an orphaned baby girl at the time. The woman adopted the child as her own; then they traveled the dying earth, following Lord Sutekh's instructions. The mother found other people who remained sane at the sight of the Ungod, and she raised a mighty army. The Knights in Sutekh's Service then launched a counterattack against the Ungod, and the elder Shieldmaiden worked a spell that banished the monster back into the void. She had to attract all of the monster's attention entirely to herself in the process.
When the Knights saw the gigantic red hand of Sutekh reach into our atmosphere and grab the Ungod in a chokehold, they knew they had won. Then the heroes all dispersed and went to live out their lives in the wilderness (as recounted in His Nocturnal Majesty).
In the years that followed, the elder Shieldmaiden taught the younger everything she knew. The two became known far and wide among the various civilizations that developed after the apocalypse. They were beloved as heroes in most places, but were also feared for being friendly with Lord Sutekh and other Powers people couldn't understand.
As an adult, the second Shieldmaiden reunited the Knights in Sutekh's Service to help prevent another visit from the Ungod, which is just part of the story in Our Lady of Thrones.
THE SORCERESS
Like the elder Shieldmaiden of Set, the Sorceress was born and grew up long before the coming of the Ungod. When she was still a young girl, Lady Isis showed her the coming apocalypse in her dreams. These nightmares were terrifying, but the Sorceress took them to heart. Lady Isis told the girl everything she needed to do to plan for and survive the apocalypse as an adult, and the Sorceress followed Her instructions faultlessly.
When she came of age, the Sorceress traveled the world and brought women of different backgrounds together. They became the Church of Many Mothers, and they pooled their resources to buy land and build the town of New Sennebytos somewhere in the West. Not only would this town be dedicated to Lady Isis and the Church's way of life; it was also equipped with plenty of bunkers and provisions for when the apocalypse began.
In time, the Church of Many Mothers became subject to greater scrutiny and was even perceived as a dangerous terrorist group by the federal government. Members of the Church were hunted down, arrested, even murdered. But the majority survived and hid deep within the bunkers of New Sennebytos when the Ungod appeared. After the monster was banished by the Knights in Sutekh's Service, the Church returned to the surface and began to rebuild human civilization.
Members of the Church regarded the Sorceress as their prophet and Queen. Some have said she could even raise the dead. Later, she and her Church joined forces with the Knights in Sutekh's Service to try and prevent the return of the Ungod.
AUTUMN AND RAE
Autumn and Rae were two of the greatest warriors in the Church of Many Mothers. Both thought the Church was just another "doomsday cult" until they saw for themselves how safe, happy, and powerful the women of New Sennebytos really were. After a few years of being members, Autumn and Rae fell in love and were married by the Sorceress.
Shortly before the Ungod appeared in the sky, the monster's human allies tried to systematically exterminate the Church of Many Mothers. Members were targeted for death in every major city. So the Sorceress appointed a special team of warriors to go and save as many of their sisters in Isis as possible. Rae was chosen to lead the rescue team in Atlanta, and though she managed to save her sisters there, she did not return home herself. Autumn was mad with grief when she and the rest of New Sennebytos were finally forced to retreat underground.
After the Ungod was defeated and the women of New Sennebytos returned to the surface, Autumn trained like hell to become the deadliest warrior in the entire Church. Years later—when the second Shieldmaiden of Set was fully grown—Autumn would lead an excursion back to Atlanta and try to find Rae, assuming she was even still alive…
THE WITCHFINDER
No one knew the Witchfinder's true name or origin, but he first appeared long before the World Fell Apart, when the Sorceress was still a young maiden. His existence was really known mostly to the Church of Many Mothers. What little media coverage he received was very closely monitored and censored from the general public.
The Witchfinder was absolutely impervious to any physical injury; he never became ill, and neither blades nor bullets nor blasts could bruise him. He was also a born psychic and could hear thoughts. He knew when other people had paranormal abilities, and he relentlessly stalked and killed as many of these "witches" as he could. He did this because he heard a voice in the sky telling him to do so—the insidious hiss of the Ungod.
The Witchfinder first attacked the Sorceress shortly after she started receiving her prophetic visions from Lady Isis. He relentlessly stalked her entire Church (among others) for decades afterwards. Then the end came, and after the Ungod was repelled, the Witchfinder became the second highest authority in the Kingdom Guard. He would eventually lead the armies of this brutal regime to war against the women of New Sennebytos, and with zero intent of taking any prisoners.
THE REVEREND PRESIDENT
The Reverend President began his career as a televangelist. He heard the hiss of the Ungod, whispering to him from the sky. He mistook it for the voice of "God," and things always seemed to go his way when he heeded its advice.
He preached that "the Lord" was displeased with society recognizing the freedoms of women, the LGBTQ+ community, minority religions, and atheists and agnostics. He wanted his creeds made into law, requiring Americans to convert and obey upon threat of public execution by the state. The Reverend further taught that if this were not made to happen very very soon—within the next seven years, in fact—"the Lord" would give this world to Satan, and it would be forever destroyed.
As if on cue, the country was besieged by a cult of domestic terrorists who claimed to worship Satan. Even normal rational people started buying into the Reverend's wild-eyed claims. It wasn't long before the Reverend was voted into the White House and started issuing executive orders that tyrannized anyone who didn't worship him and follow his every command. Suspected "witches" were harassed, assaulted, even murdered by their neighbors all across the country, and institutions like the Church of Many Mothers became Public Enemy Number One.
Then the Ungod appeared, and the World Fell Apart.
While the Knights in Sutekh's Service fought to repel the Ungod back to the void, the Reverend President and the Witchfinder joined forces in Atlanta, which became the capital of their new empire. Known as the Kingdom Guard, this regime invaded and enslaved as many surviving communities across the country as it could. All who were occupied were either converted or exterminated. Those who encountered the Kingdom Guard and escaped with their lives have consistently described its citizens as monsters in the shapes of men.
Our Lady of Thrones culminates in the final confrontation between the Kingdom Guard and the Church of Many Mothers.
THE WARLOCK
The Warlock or "Disciple of the Worm" was known by many names across multiple universes. He wasn't human, though he had a thousand human faces. Each world he visited soon decayed into nothingness. He used the same method for interdimensional travel as beings like the Fae—by walking between the worlds on different Halloween nights in history (a theme also explored in Summer's End II)—and he first arrived in this reality in 1982. The Warlock then used (at least) two fake human identities to engineer the end of our world.
In one of his roles, the Disciple was a multimillion dollar media tycoon whose TV programs made him insanely rich. He pretended to be a born-again Christian, and he used his media wizardry to help the Reverend President win the White House.
In his other role, the Warlock was a psychiatrist who worked with the criminally insane. He discreetly hypnotized his patients and helped them all escape. Once free, his patients burned down entire neighborhoods in the name of Satan. The Warlock then encouraged the Reverend President to capitalize on these "satanic terrorists" and seize more and more power over time.
When this evil spell had spread across enough of the globe, the World Fell Apart and the Ungod appeared in the sky. The Warlock was seldom seen afterwards; yet his presence continued to be felt, especially in cities occupied by the Kingdom Guard. His true appearance remained unknown, and it was rumored he could create doubles of himself. Perhaps not even the Reverend President had ever seen the actual Disciple of the Worm face-to-face.
How could anyone know who, when, or where this master of misdirection really was?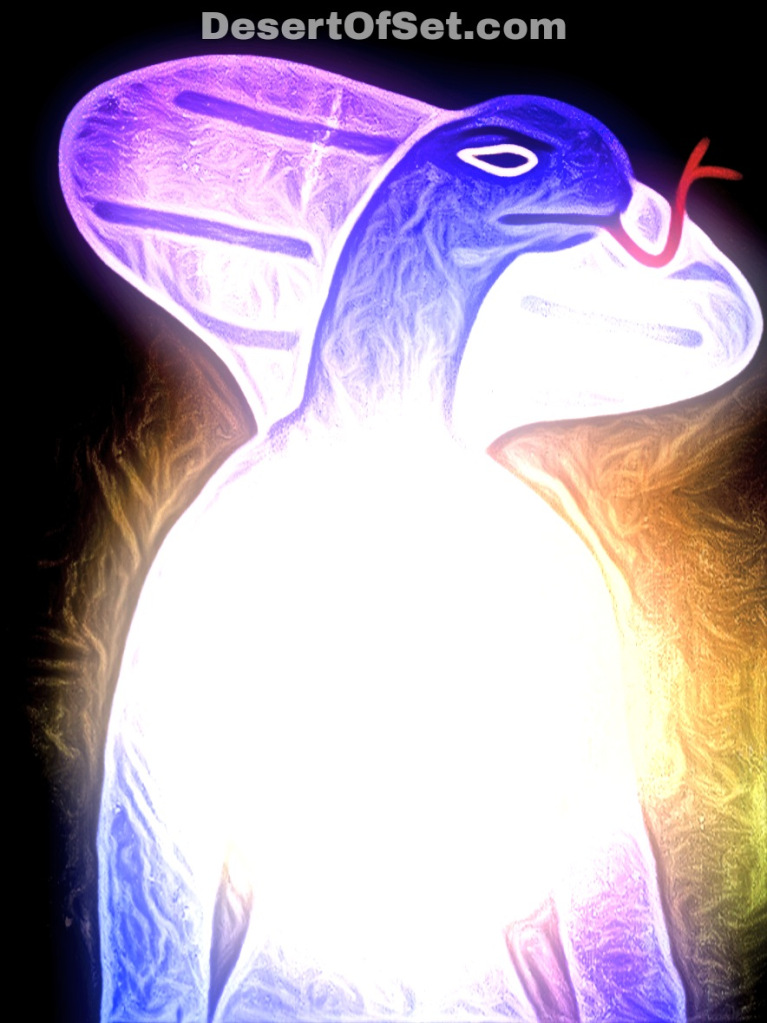 The sister and ex-wife of Set is a renowned healer of wounded hearts and minds.
Even more than Ishtar or Taweret, Nephthys is the goddess who is most often linked with Set. In fact, some people might be wondering why it's taken me 40 whole episodes before I got around to discussing Her. Truth is, I wanted to highlight the aforementioned goddesses first because Their interactions with Set are far less known. I also think Set and Nephthys share a much more complex relationship than what is typically imagined about god and goddess couples, for reasons I shall explain.
The name of this goddess, which comes from the Egyptian Nebet-Het, means "Lady of the House." It refers to a temple enclosure, rather than a domestic residence. In the Heliopolitan cosmogony, Nephthys is one of the fourth generation of Netjeru (the others being Osiris, Isis, Set, and even Horus in some accounts). As such, She is one of the divinities who facilitate life here on earth, and who contributes to the arts of human civilization.
The fourth generation of gods was somewhat disruptive to the natural order of things at first. There is even a story about Ra, the first Netjer, prohibiting their granddaughter, the sky goddess Nut, from giving birth to these young'uns (despite already being pregnant). Thankfully, the wise god Thoth finds a technicality that allows Nut to have her children while still technically obeying Ra's decree. So first it was just Ra, and all things were united in them. Then Ra begat Shu and Tefnut, the breath and the waters of life, who are the first male and female. After that, Shu and Tefnut begat another male and female, Nut and Geb, the deities of heaven and earth. While Ra themself is hermaphroditic, the second and third theological generations are dichotomous, falling into a strict gender binary that is strongly tied to the reproductive cycle.
Reproduction becomes a major theme for the fourth generation of Netjeru as well, but in a radically different way. For one thing, there are not just two deities in this generation, but at least four (if not five, depending on whether you choose to include Horus—but more on that in a moment). Only two of these figures—Isis and Osiris—are a fertile heteronormative couple, and they become the darlings of the pantheon for this reason. Set and Nephthys are sterile and barren, incapable of producing any offspring. Set is also attracted to gods of the same sex, and there is reason to think the same might be true of Nephthys. While Isis and Osiris are like celebrities, receiving all the glory and the privilege from their elders, everybody tries to forget about Set and Nephthys in the beginning, pairing Them together and leaving Them to fend for Themselves.
The way I see it, this is what sets the entire Osirian drama into motion. More than anything, Nephthys—sometimes described as "an imitation woman with no vagina"—wants to have a child; She wants to experience all the same parts of womanhood that Isis enjoys. So She disguises Herself as Isis and sleeps with Osiris, who is so miraculously fertile, he could even impregnate a corpse. Nephthys then gives birth to Anubis, the jackal god, and tries to hide Him so Set won't find out what happened. But Set learns the truth and loses His temper big time. Instead of trying to harm Nephthys or Anubis, however, He squashes Osiris instead (twice, in fact). Then Isis goes on her journey to raise Osiris from the dead. She succeeds, sleeps with her brother-husband one last time before he goes to Duat, and becomes pregnant with Horus. (This is where the question of when Horus is born comes up again. I prefer to place it here at this point in the narrative, as it makes the most thematic sense to me personally; but there are other versions of the same narrative that cite Nut as the mother of Horus. Just one more example of how the ancient Egyptians were way ahead of quantum physicists or science fiction writers when it comes to the idea of alternate universes.) Nephthys dutifully accompanies Isis through all of this insanity, helping Her sister every step of the way.
This is especially the case when it comes to the funeral of Osiris; and here is where Nephthys' innermost drive becomes most evident. She and Her son Anubis help Isis reconstruct the body of Osiris and restore him to life. Through much of this process, Nephthys weeps and wails and whimpers with Isis, empathizing with the widowed goddess and sharing in her profound sorrow. The Egyptians prayed to Nephthys as a kind of "dark midwife" you might say, a divine grief counselor who assists those in terrible emotional anguish, helping them heal and feel better over time. This fits together with the role of Anubis, who invents the funerary arts and becomes the first mortician. Nobody enjoys experiencing death or loss, but they are facts of life, and those of us who survive must find a way to live again. To think that Nephthys and Anubis have always been there to nurture things that help us cope with such experiences (such as counseling or mortuary science) makes my heart glow like a jack-o'lantern.
Nephthys sides with the Osirian Trinity during the Contendings of Horus and Set, and She sticks with them for the most part after the Great Reconciliation. She continues associating with Big Red when it comes to fighting the Chaos Serpent, and She appears to have been revered as a powerful fire-breathing warrior in this regard. But the one member of the Divine Family Nephthys truly seems to have fallen in love with is Isis. To make things even more interesting, other cosmogonies have cited Set as being Anubis' father; the two are often linked (or even outright confused with each other) even today.
None of what I say next should be treated as any kind of official religious dogma. This is just what I personally take from these wonderful stories, and you can either take it or leave it. But I think Nephthys is a lesbian goddess. I think She and Set still love each other; They have just always loved each other as brother and sister for the most part. They are divorced, but for good reason; They were never very attracted to each other in the first place. Isis and Osiris are married because they love each other; Set and Nephthys were paired together as an afterthought to make the rest of the pantheon happy. This refusal to properly integrate the forms of life and being that Set and Nephthys represent is what almost caused the downfall of Creation, and the apocalypse was only averted when the Netjeru got wise as a society and changed their ways. Now these two outcasts are truly accepted by Their family as equals, and Set has even grown to love Anubis and become His stepdad.
This trinity of Set, Nephthys, and Anubis is truly remarkable for many reasons. A divorced pansexual genderbending dad, a barren lesbian spinster mom, and a so-called "illegitimate" stepchild born of "adultery"? What isn't there to love about this, or the fact that these figures were considered acceptable and divine in ancient Egyptian culture? The Western patriarchal concept of "the nuclear family"—which insists that all families must consist of two heteronormative cisgender adults with 2.3 biological offspring born in wedlock—is not only a more recent invention in the grand scheme of things, but a blatant work of isfet (poisonous falsehood and injustice) that contradicts Ma'at (everlasting goodness and truth). There is a place for EVERY sentient being in this world, AND for the sentient beings they love too. It simply DOES NOT MATTER whether we are male or female, gay or straight, trans or cisgender, married or unmarried, monogamous or non-monogamous, biologically related or adopted—and it NEVER has. Other religions need to hurry the fuck up and get wise to this, already. Set, Nephthys, and Anubis were already on top of this well ahead of Yahweh and Jesus, and things still don't look so good for those two on this score today.
(Plus, Set, Nephthys, and Anubis are all goth as hell, like They're the original Addams Family—and that is just cool.)
If there is any one divinity I associate with Hallowtide in particular (which is no easy task, given the sheer quantity of gods who align with the occasion perfectly), Nephthys is the one. My wife and I enjoy visiting cemeteries all around our state in October and November, and to me, this is a way of honoring Nephthys throughout the holiday season. Just to walk among the graves and admire the craftsmanship of the headstones and tombs; to see all the ancient iconography that still shows up, even among the newer statuary; to soak in the names of the ancestors who rest there, and the times in which they lived; to be alone in the eerie silence. Even if you don't believe in ghosts, there is just something about visiting such places for a couple of hours that has an effect on you. Most people seem to find the idea spooky, but I find it very peaceful and meditative, helping me achieve a level of mindfulness I usually can't reach otherwise. To me, this kind of mindfulnessness is a huge part of what Lady Nephthys is all about.
Lest She be accused of never being colorful, Nephthys is also the guardian of the Bennu. This avian divinity was associated with heron birds and the solar cycle in Heliopolis. The Greek writer Herodotus described it as the phoenix (a possible Greek derivative of Bennu), which later developed into the archetypal "bird of fire" that ritually burns and rises from its own ashes. These more modern associations are fascinating when put together with Nephthys' reputation as a healer of wounded minds and hearts, as well as Her role as a fiery monster-slayer. Though it is really about Russian folklore, I enjoy listening to Igor Stravinsky's The Firebird each year at Hallowtide because I find the titular creature analogous to that of the Bennu, and phoenix symbolism is very evocative of Nephthys to me personally.
Gorgo (1961) is a British kaiju (giant monster) movie with several interesting subtexts, all of which seem relevant to the goddess Taweret.
In Gorgo (1961), two guys named Sam and Joe are traveling the British seas, looking for gold and other precious junk on the ocean floor. Their ship gets damaged during a weird volcanic eruption that happens in the middle of the sea for no apparent reason, and they end up having to stay on an island off the coast of Ireland for a few days. While repairing their ship, Sam and Joe notice that the people of this island seem to be hiding something. Well, that something turns out to be a giant bipedal lizard with big floppy fins for ears. Sam and Joe decide to capture the creature, and when they do, the Irish government implores them to give the beast to the University of Dublin for scientific research. Unfortunately, our protagonists decide to bring the reptile to Dorkin's Circus in London instead, where they make a shit-ton of money off the poor creature. The joke's on them, though, because they soon learn that "Gorgo" (the name Dorkin gives to the creature, which is taken from the three Gorgons in Greek mythology) is not the only one of its breed. It's really just a baby, in fact, and its mother—who is significantly larger and meaner—is now on her way to file one hell of a grievance against the entire city of London.
That's pretty much the entire plot to the film right there, and considering its year of release, we're dealing with some pretty predictable stuff. For the most part, Gorgo is largely a remake of King Kong (1933), save that its giant monster is of the saurian persuasion. Yet there are several things that distinguish this kaiju film from all of its contemporaries. At the most obvious level, it's not Japanese but British, and it provides some interesting insight into the United Kingdom's sociopolitical situation at the time. When Sam and Joe arrive at the island with their crew, they seek help from the Irish locals. But the locals will only respond to them in Gaelic, even though they clearly understand English. Sam and Joe also learn the harbormaster has been salvaging archaeological finds from the ocean, and they bully the dude into giving them all of his loot as "payment" for capturing Gorgo. Later on, when they decide to sell Gorgo to the London circus, they are effectively giving the Irish government the middle finger. That's not once, but twice in the same film where Ireland gets screwed over by Anglo-Saxons, who rob the Gaels not only of their history (in the form of their archaeological treasures), but of their very own real-life dragon as well.
I first saw Gorgo when I was five or six years old. I had already seen a lot of giant monster flicks by that point, and in most of them, the "ethnic" people are usually people of color (or white and/or Japanese people in blackface or brownface). This goes all the way back to King Kong (1933), which unfortunately depicts black people as savages whom the white characters could easily exploit. But Gorgo was the first of these movies I ever saw where it's white people treating other white people this way. Seeing Englishmen mistreat Irish people and animals in Gorgo was my introduction to subjects like Hibernophobia and the Troubles of Northern Ireland. I also love the film for being my first exposure to Gaelic language and culture.
But there's another subtext in this film. So there's this Irish kid named Sean, and he's the only character who sympathizes with the monsters at first. He even stows away on Sam and Joe's ship, hoping to free Baby Gorgo out at sea. The kid gets caught, but what do you think happens after that? Sam and Joe decide to let Sean live with them, that's what. And yes, I said "with them." With only a few brief exceptions, these two men spend the entire movie together; and the body language they use around each other at home is most interesting. There's one scene where Sam and Joe are comfort little Sean while he tries to go to sleep, and Joe stands at the head of the bed in a typical fatherly pose, while Sam sits beside Sean on the mattress in a more gentle and nurturing pose. Then there's another scene where Sam and Joe squabble over a carnival worker who has been killed by Baby Gorgo. Sam is worried about the guy's wife and kids, and Joe, not wanting Sam to worry, promises he will send the family some money. There's even a scene where the two of them are introduced as "Joe Ryan and his partner, Sam Slade"—and while that kind of terminology didn't have the same connotation in 1961 that it has today, it's hard not to imbue it with contemporary significance. It's also interesting that there isn't a single girl or woman in the entire cast, and that when one of the adult characters finally starts to side with Sean about setting Baby Gorgo free, it's Sam (the "motherly" father). In other words, it's totally believable to me that Sam and Joe are a couple, that they've adopted Sean, and that the three of them have become a family.
Sam (William Sylvester), Joe (Bill Travers), and Sean (Vincent Winter)—a 1960s same-sex family?
I say Gorgo has no women in it (aside from a few here or there among the extras during the final act), but there is at least one female in the film (if not two), and that's Mama Gorgo. It's never specifically confirmed at any point that she's got a XX pair of sex chromosomes, but I think we can safely assume that this is true. How else can we explain Baby Gorgo? If you're wondering where the father might be, there are such things as the New Mexico whiptail, a lizard species that is entirely female and that reproduces through parthenogenesis. It seems likely to me that Baby Gorgo is female as well, given that Dorkins names her after the Gorgons of Greek mythology (all of whom are ladies). Gorgo was also the name of a famous Queen of Sparta who lived and ruled during the 6th and 5th centuries BCE. So any way you slice it, it would seem that the giant lizards in Gorgo are the only female characters in this entire movie. This would make sense in light of certain combat myths like the Enuma Elish, for just as Marduk used his masculine strength to slay his saurian mother Tiamat and create the universe from Her corpse, so too do Sam and Joe try to create a multimillion dollar empire with the female Irish sea dragon they've captured. But things don't go quite so well for them as they did for ol' Marduk, which brings us to why I think Gorgo is something more than just a King Kong cash-in.
I've always found the original 1933 King Kong too horrific to watch, because it's about people committing acts of animal cruelty and not having to pay any real consequences for doing so. While many viewers sympathize with the titular giant ape, there is no indication in the film itself that we're supposed to; Kong is presented as being just a big dumb animal who has to die so the damsel in distress can live to marry the dashing male hero. None of the characters mourn for Kong, and no one acknowledges that removing him from his natural environment and exploiting him was wrong (or at least, not until the remakes came along). Such was the general attitude audiences had toward giant monsters until 1954, when Ishiro Honda gave us the originalGodzilla. The monster in that film also had to die, but its death is treated more like a funeral; the audience is actively encouraged to sympathize with it and to consider the aftermath of all the violence that happens in the film. Gorgo, in contrast, is the first kaiju film in which the monsters are not only sympathetic, but victorious. There's nothing quite so satisfying as seeing Mama and Baby Gorgo swimming back home to Ireland at the end of the film, and it wasn't long after their victory that Mothra, Godzilla, King Kong, and the giant turtle Gamera were each re-imagined as kid-friendly superheroes.
No phallic symbolism is safe from Mama Gorgo!
So the conflict in this film would seem to exist between two different same-sex families: (1) a single mother and her little girl (the Gorgos), and (2) two men and their son (Sam, Joe, and Sean). Neither of these two families is "normal" according to "traditional" patriarchal standards; and yet the film never tries to "punish" either of them for this. As mentioned earlier, the Gorgos are reunited and get to go home, alive and happy; but even the human family turns out okay in the end. They also share a collective character arc; at first it's just Sam and Joe, and all they care about is fame and money. Then they adopt Sean, and Sam starts sympathizing with the Gorgos like Sean does. Joe—the "fatherly" dad—remains an asshole for most of the story, but then redeems himself during Mama Gorgo's attack on London. He protects Sean amidst all the destruction, and they are both safely re-united with Sam at the end. Based on how Joe behaves earlier in the film, you would expect this character to try and save his own skin while leaving the kid alone to die (and then be promptly eaten by the monster for being a dick). Not so with Joe; he sees the light, chooses his kid over his own self-preservation, and actually works hard to be a good dad. You almost never see this kind of character transition in giant monster movies, especially in the 1960s, and to think Joe is a gay man just makes it cooler.
Gorgo does have its flaws, but most of them are the kind I tend to overlook. The writing isn't as sharp as it could have been; most of the character development is restricted to the first two acts (which tends to bore the hell out of most viewers), while most of the action occurs during the final act (at which point, the film forgets its human characters almost entirely). These things don't really bother me; the only serious criticism I have about Gorgo is the fact that during its final 18 minutes, it suddenly introduces a news reporter character who narrates every single detail about Mama Gorgo's parade through London. This segment is so glaringly unnecessary, it's virtually impossible to ignore it. The first 60 minutes of the story are easy enough to follow, so why the hell did anyone think the last 18 needed a narrator?
Another thing I love about Gorgo is the fact that it makes me think about Taweret, the hippo fertility goddess. Taweret is like a benign chaos monster; instead of being killed to save (or create) the world, She kills other monsters that threaten the future of the world. Mama Gorgo is a perfect cinematic avatar for Taweret, and watching this film is like watching the Great Female crush the white racist capitalist patriarchy beneath Her cute, stubby toes. Seeing this movie as a kid probably helped put me on Taweret's wavelength, even back then. If you're Pagan and you love animals (especially gigantic reptilian beasties with wiggly ears), I bet dollars to donuts you will enjoy Gorgo. If you've never seen it and you'd like an additional bonus to go with it, this movie is featured in Episode 9 from Season 9 of Mystery Science Theater 3000.
A discussion of the Egyptian hippo goddess Taweret, Her connections with Set, and the reasons I love Her so much.
Taweret is the Egyptian hippo goddess of childbirth. Her name means "Great Female," and She is otherwise known as Taurt, Reret, Apet, or Thoueris. According to some accounts, She was originally the female counterpart of Apep, the Chaos Serpent; but She became a goddess and a defender of Ma'at. Now—along with Her trusty sidekick, the benevolent daemon Bes—Taweret protects the frightened and the vulnerable. As frightening as all the qliphoth of the Void might be, they are frightened of Taweret, and for good reason. Her sacred animal is one of the deadliest creatures on earth, and She is the only other Netjer or Egyptian divinity who is powerful enough to wield Khepesh, the celestial Iron of Set!
Hippos are Typhonian animals, which means there's a very strong connection between Taweret and Set. While male hippos were feared, females were celebrated for their ferocity in protecting their young. The Egyptians channeled this ferocity by invoking Taweret for protection, especially when it came to mothers and little children. Midwives commonly used hippo statuettes to instill Taweret's strength in women who were giving birth. People kept Her image around their homes because it made them feel SAFE in a world of terror and chaos, with no hospitals or public health system as we understand such things today. People generally don't behave that way toward influences they think are "ugly" or "disturbing," so clearly the sight of Taweret inspired confidence. Despite Her so-called "demonic" appearance, the Great Female is there to defend the defenseless.
Taweret never had any temples or priesthoods of Her own (that we presently know of, at least); Hers was a purely folk tradition, kept alive by Egyptian peasants in their own homes. This is ironic, given that Taweret is also linked with one of the largest and most important constellations in the northern sky. The Egyptians viewed Draco not as a dragon, but as a great big hippo with a crocodile on Her back. In funerary art, this hippo was shown with sagging breasts that are heavy with milk. She holds a chain by which the Big Dipper is tethered to Polaris, the North Star. Taweret is said to keep the Dipper restrained to prevent Set from completely destroying the universe whenever He becomes too angry. She is helped in this regard by the Four Sons of Horus: Duamutef, Hapi, Imsety and Qebshenuf.
The Great Female was eventually recast as an alternate form of Isis, the sister-wife of Osiris; but I disagree with this conflation myself. Isis is linked to Sirius and the Sothic cycle, not to Draco or the circumpolar stars, and the Isian religion is known for having absorbed virtually every other goddess religion it encountered in Late Antiquity (including the cults of Aphrodite, Demeter, and Diana). But most importantly to me, Taweret is a "monstrous" divinity who was born of chaos and who exhibits chaotic traits, yet who uses Her chaotic powers to defend the cosmic order (not to un-create it, as Apep seeks to do). She trades in an altogether different, more primeval kind of fertility than Isis does. The Egyptian gods are kind of like Voltron or the Megazord; they can converge in various formations and become composite deities, and this includes Taweret and Isis as much as the rest. But this is not the same thing as saying Taweret is simply a "different version of Isis."
Many goddesses are portrayed as beautiful, slender-bodied women, but Taweret has always been depicted as rotund, with a gaping mouth full of razor sharp teeth. She certainly isn't the sort of "glamour girl" one normally finds in pinup magazines, and I absolutely love Her for this. (Not that I have anything against the more glamorous goddesses; remember, I revere Ishtar too.) Our patriarchal society pretends to love women, but continues to shame them for not keeping fit, wearing makeup, shaving their armpits, or bearing children. There is nothing wrong with doing either of these things so long as it is your choice, just like there is nothing wrong with wearing a skirt or a hijab so long as it is your choice. But the expectation that every woman must fit some kind of "mold" is not only misogynist; it goes against nature, as holy figures like Taweret are here to remind us.
By the time the Greek writer Plutarch came along (circa 46–120 C.E.) to offer his version of events, Taweret's story had been changed so that She was a concubine of Set who abandoned Him after the killing of Osiris. This change was probably the result of Set's demonization in Late Antiquity, when He was conflated with the Chaos Serpent and blamed for Egypt's fall to foreign rule. I think Taweret is still one of Set's many romantic partners, but She also acts as a kind of "buffer" between Him and the other Netjeru, restraining Set when He loses His self-restraint. (A Lady who's not afraid to smack Big Red around with His own iron genitals whenever She thinks He's being an asshole? How can such a Female be regarded with anything but boundless AWE?)
Taweret also resembles Big Red in that She seems to have identified more with the "little people" who didn't benefit as much from Pharaonic privilege. The peasants knew She would always listen to them, even if the "more important" gods of the Pharaohs and the priesthoods didn't. In Typhonian Thelemic lore, it is said that Set is the male offspring or avatar of Typhon, whom Kenneth Grant depicts as a saurian mother goddess associated with Draco. Grant further claimed that "Typhon's" worship was suppressed by later patriarchal religions. As far as I can tell, there is no historical evidence to support either of these claims, which Grant appears to have drawn from the poet Gerald Massey (who was not an Egyptologist). But I do agree with Massey and Grant that Set's worship is linked to that of a "monstrous" female divinity who resonates with Draco, and who was ignored by the Pharaohs for some reason. I just think the entity they were describing is actually Taweret.
I think of Draco and the Big Dipper as being at the "center" of heaven. Being circumpolar, they never descend beneath the horizon, which is why the ancient Egyptians called them "the Imperishable Ones." Unlike the planets and the constellations of the Zodiac, the circumpolar stars can be seen on any night at any time of year (in the northern hemisphere, at least, and weather permitting). Since Draco and the Dipper are above the Zodiac, I think of Taweret and Set as being "older" and "darker" than any of the various planetary divinities (e.g., Marduk and Zeus for Jupiter, Ishtar and Aphrodite for Venus, etc.), as well as divinities associated with Sirius and Orion (e.g., Isis and Osiris, respectively), which are beneath the Zodiac. Mind you, I am not asserting any of this to be a dogmatic "fact"; it's just the way I prefer to think about the gods based on Their related stars. I also incorporated this theoretical cosmogony into A Would-Be Ombite Creation Myth, with Set and Taweret cast as the first Netjeru to be born from Nut or Mother Sky.
How The Final Conflict (a.k.a. Omen III: The Final Conflict) can be read as an allegory for the goddess Ishtar and Her rivalry with Therion, the spirit of human tyranny.
The Final Conflict (1981)—which was re-christened Omen III: The Final Conflict for its DVD release in the early 2000s—is the second sequel to Richard Donner's 1976 masterpiece, The Omen. I enjoy the original Omen trilogy in its entirety, but The Final Conflict is the one installment thereof that's made the largest impression on me. This film also makes me think about the Akkadian goddess Ishtar, who is one of Set's many romantic partners and the second-most important deity to me personally.
In case you've never seen The Omen or its initial sequel, Damien: Omen II (1978), here is a brief recap of their events. The 1976 original is about a U.S. politician named Robert Thorn (played by Gregory Peck) who learns his child has died while his wife Katherine (Lee Remick) was giving birth. A Catholic priest convinces Thorn to adopt an orphan who was born at the same time at the same hospital. Robert agrees, and the Thorns leave with their newborn baby boy (and with Katherine none the wiser to his true parentage). But as the child, Damien, grows older, weird shit starts to happen. One of his nannies hangs herself in front of his entire birthday party. A new, creepy nanny shows up to take the old one's place. A crazy priest stalks and harasses Robert. A big black dog starts hanging around the Thorn household. A photographer (David Warner) captures prophetic photos of people's deaths. And poor Katherine becomes terrified of the child who is supposed to be her offspring. All of which leads Robert to visit Rome, a monastery in Subiaco, and an archaeological dig in the valley of Megiddo, where he learns that Damien is really the son of Satan and can only be killed with these mystical artifacts called the Seven Daggers of Meggido.
What follows is the most disturbingly sympathetic depiction of attempted infanticide that has ever been filmed. Unfortunately, Robert only succeeds in getting himself killed when he tries to prevent the apocalypse (spoilers!), and Damien is then adopted by his uncle Richard (William Holden) in Damien: Omen II. Now an adolescent, Damien (Jonathan Scott-Taylor) remembers nothing of what happened to him or his parents in the first film. He's also best friends with his cousin Mark, who's more like a brother to him. Damien and Mark both attend military school, where their drill sergeant (Lance Henriksen) teaches Damien about his true identity. Meanwhile, a nosy reporter tries to convince Uncle Richard of the truth, and this leads to a bunch of increasingly over-the-top deaths. (My favorite is the guy who gets sawed in half by an elevator cable. Truly classic.) Eventually, Damien grows into his predestined role and wipes out all that remains of his family tree so he can be the sole inheritor of the Thorn family fortune.
The Omen is a perfect horror show from start to finish, and it's every bit as scary as people say it is. The script wastes no time getting down to business, and each of the actors' performances is Oscar-worthy. But it's also my least favorite film in the trilogy, for Damien is only a peripheral character in the story. Granted, this is exactly what makes the film so scary; Damien remains completely alien to both his parents and the audience right to the very end, and it's always easier to be frightened of something when it's part of the unknown. But I find Damien: Omen II much more interesting, because it's the first film ever made that actually puts us inside the Antichrist's head. When Damien learns he is the Great Beast, he's just as horrified as everyone else is; but the most powerful moment is when his cousin Mark gets wise and confronts Damien about his true identity. Mark threatens to tell everyone, and Damien reluctantly uses his powers to give Mark a brain aneurysm. When Mark drops dead, Damien screams the most convincing scream of despair I've ever heard from any character in any movie ever. That scene always makes me weep a little whenever I see it, because Jonathan Scott-Taylor really sells it. Damien: Omen II is quite derivative of the first movie, but it deserves credit for one thing at least: the character of Damien is perfectly written.
A lobby card for the film.
In The Final Conflict, Damien is now an adult in his thirties, and he's played by Sam Neill. He has now become the owner of Thorn Industries, a multi-billion dollar company that has revolutionized the food industry, and which is working to solve the world hunger crisis forever. Damien is also the U.S. President's first choice for Ambassador to Great Britain (after the current guy gets possessed by a black demon dog and blows his brains out). Damien is hot for Great Britain because he has this entirely fictitious apocryphal text called the "Book of Hebron," which prophesies that Jesus will be reincarnated in Jolly Old England any day now. (Maybe they didn't have the budget to do a proper Second Coming, with the J-Man flying down from the sky?) But after he sets up shop across the pond, Damien falls for a news reporter named Kate Reynolds (Lisa Harrow); then these Catholic monks at a monastery in Subiaco, Italy find the Seven Daggers of Meggido and try to assassinate him. This leads to a series of hilariously incompetent murder attempts that will have you shaking your head in disbelief. Meanwhile, Jesus is born again somewhere (did you see what I just did there?), but nobody knows where. Lucky for him, Damien knows the birth coincided with a weird astronomical convergence that occurred a few nights ago, so he sends his worshipers out to murder every male baby in England who was born within that time frame. Then Kate Reynolds finds out what the rest of us already know about Damien, and the titular Final Conflict truly begins.
The number one attraction in this film, and the most important reason for anyone to see it, is Sam Neill; he's literally the greatest Antichrist I've ever seen in any film ever. Forget about Michael York, Nick Mancuso, Gordon Currie, or anyone else who's ever played the Beast in those movies they show on the Trinity Broadcast Network; Sam Neill's performance here is the gold standard. Rather than playing Damien like some two-dimensional cartoon villain, he plays him like he's the goddamn hero of the movie. He brings so much charisma and charm to the role that he succeeds in making Damien extremely likeable, even when he's ordering hundreds of newborns to their deaths. Everyone I know who's ever seen The Final Conflict ends up rooting for Damien somehow (even though they know they're not supposed to), and they can't help but feel disappointed with the ending. (More on that in a minute.) The only other performance that's comparable to this is that of Sir Anthony Hopkins as Dr. Hannibal "the Cannibal" Lecter in The Silence of the Lambs (1991). If there is an Antichrist and he ever tries to take over the world, we'd all better pray he isn't just like Sam Neill in this movie—or else we might actually want him to take over.
The novelization of the 1981 film, The Final Conflict, by Gordon McGill.
In one scene, Damien and Kate walk through a park and see one of the monks, who's standing on a soapbox, preaching. Damien notices the monk is staring right at him, and he instantly knows the guy is here to kill him. So he starts surveying the area like a hawk—without breathing a word of his concerns to Kate—and he actually looks worried. Is he concerned for himself, or is he concerned for Kate's safety should there be an ambush? Then there's another scene where Damien goes to work right after the Christ child has been born. He's been up all night because he could sense the birth happening, and Kate catches him at the elevator, asking if it's okay for her to try interviewing him again. (Her last attempt was foiled by another assassin.) Damien smiles and agrees, and she leaves; then he gets in the elevator, sighs, and slumps his shoulders. I'd like to remind you that this character is supposed to be Friedrich Nietzsche's Übermensch with a vast array of supernatural powers; and yet Neill sneaks in all of these brief human touches—a look of genuine concern, a tired sigh—and actually makes us care about this evil, rotten bastard…
I hate to blow the ending of this film for anyone who hasn't seen it, but trust me; you probably want to know about this going in. For some reason, I thought this movie was going to end with a big showdown between Damien and Jesus; surely, that would be the "Final Conflict" everyone was expecting, right? I knew things wouldn't end well for the Beast, but I figured there would at least be some kind of special effects extravaganza. No such luck; the movie ends with Damien being led into a trap by Kate, and Kate stabs him in the back with one of those nifty Meggido daggers. Then Damien limps away, curses Jesus, and promptly dies. Cue music, roll credits. When I first saw this, I was royally pissed. The film had done an excellent job of keeping me at the edge of my seat for the first 90 minutes or so; but it starts running out of steam real fast during the final 20, and that ending just didn't seem fair. They went through all that hard work of building up this magnificent character and this huge final battle he's going to have, and what do they give us? Sam Neill getting stabbed in the back (literally) by the woman he loves. I mean, what the hell were they thinking? I wanted to see Damien and Jesus go "Hell in a Cell" on that shit!
An additional lobby card for the film, with Lisa Harrow as "Kate Reynolds" in the center.
But I've watched The Final Conflict countless times since that first viewing in 1999, and I think I've figured out what they were really going for here. Let's consider that this film was not made by evangelical Christians with a religious axe to grind; if it had been, they would have kept things as close to their scriptures as possible. Let's also consider the fact that none of the avowed Christian men in this movie can stop Damien; hell, not even Jesus himself can stop him! The only character who actually poses a real, substantial threat to the Antichrist is (1) a woman, (2) a skeptic, (3) a feminist, and (4) a single mother. In other words, she is precisely the sort of person whom conservative Christianity has always sought to disempower. The real "Final Conflict" here is not between Christ and Satan at all; it's between male religious violence (perpetuated by Christians and Satanists) and a female secularist who just wants the violence to stop. Note that while Kate scoffs at Christianity at various points in the film, she nevertheless respects its right to exist; and while she eventually sends Damien back to hell, it's clear she would much rather work things out and share a life with him somehow. Kate is also the only character who commits an act of violence for purely personal reasons. The monks want to kill Damien because he's the Beast, and Damien wants to kill the Christ child because he's Jesus; both sides are motivated by purely ideological concerns. But when Kate stabs Damien, it's because he's just murdered her son. (Peter is accidentally killed by one of the monks when Damien uses him as a human shield; the poor kid is literally caught between two religious fanatics.) With all this in mind, I now think the climax of this film is far more daring than I originally thought.
I used to think the conclusion to this film was just an example of lazy screenwriting, but I've noticed over the years that The Final Conflict gives us several hints about how it will end. In one scene, one of Damien's "Disciples of the Watch" advises him to stay away from Kate. "I decide who's dangerous and who isn't!" Damien shouts angrily, betraying the fact that he feels insecure about Kate himself. Later, Kate falls into a river and almost drowns at Damien's house. He hesitates before rescuing her (as if he senses that he shouldn't), but his concern for her overpowers him. As Kate dries herself by the fire back in the house, she tells Damien she feels like a moth who's flown too close to the flame; she knows he's dangerous, but she can't stay away. Damien's response to her is perhaps the most beautifully-delivered line in the entire film: "Yes—but who is the moth, and who is the flame?" Finally, when Kate stabs Damien at the end with the Megiddo blade, he smiles to himself ever so subtly, as if he's always known that she would be his undoing. Kate Reynolds was clearly meant to be the savior of humanity in this film from its very conception; and in casting her as such, The Final Conflict offers us a most unexpected soteriology.
"[Damien] is the human son of Satan, fully committed to his Father. But just as Mary Magdalene represented temptation to Jesus, so Kate represents temptation to Damien. She arouses human feelings within him that could so easily lead him astray from his insidious mission, his inglorious destiny."
—Sam Neill in an 1981 interview upon the film's release
The hero of this film is an independent, powerful, and successful woman. She isn't owned or controlled by any man or male divinity. She comes awful close to losing herself in Damien, especially when she spends a dark night of the soul with him in bed. But she rises again from that proverbial pit, stronger than before, and equipped with the power to send her two-faced lover back to the Underworld. Is any of this starting to sound familiar yet? By gods, it should; for Kate's arc is basically the Descent of Ishtar all over again. Damien is like a really nasty corruption of Tammuz, a version that's turned completely rotten. All of his power and wealth are tied to the food industry, just as Tammuz is the god of food and vegetation. But while this "anti-Tammuz" and his enemies are gridlocked in their increasingly futile holy war, Ishtar sneaks in and chooses Her own "messiah" to save the day. The filmmakers try to give Jesus all the credit for this by slapping an obligatory Bible quote on the screen just before the end titles roll; but as far as I'm concerned, it isn't the Lion of Judah who snuffs the Great Beast here. It's the Lion of Babylon!
Ishtar be praised!
Contrary to popular wisdom, there is a distinction between "the Antichrist" and "the Great Beast 666" from Revelation 13. Early Christians used the word antichristos to describe anyone who (1) refused Jesus Christ as their Lord and Savior, (2) propagated a "heretical" version of Christianity, or (3) claimed to be Christian but didn't behave like one. The first of these definitions is practically useless since it would seem to include all non-Christians. The second is equally problematic since it requires demonizing all Christian denominations apart from one's own. The third, however, makes a great deal of sense, for what else can you call someone who claims to love Jesus but fails to treat people in a Christian manner? The real Antichrist has nothing to do with Satanism, but is actually the spirit of Christian hypocrisy itself. Turn on your local televangelist TV network and you will find the true disciples of Antichrist at work, pushing their insane political agendas and extorting millions from their hapless followers in Jesus' name.
The Great Beast (or Therion in Greek) is based on several ancient kings who persecuted monotheists. People like the Pharaoh in Exodus and the Roman Emperor Nero all had three things in common: (1) they ruled over polytheist nations, (2) they considered themselves to be divine, and (3) they considered the Hebrews and the early Christians to be a threat. After being fed to lions for so long, Christians became convinced that such rulers were actually possessed by Satan himself, and prophetic texts like the book of Revelation were built upon this core concept. While Antichrist represents the evil that lurks within Christianity, the Great Beast represents the archetypal "evil king"—a ruler who tyrannizes his people, and whose actions will bring about destruction and doom. Unlike Antichrist, the Beast doesn't try to pervert Christianity from within; he seeks instead to destroy it from without. So if we want to get technical about it, Damien Thorn is not really the Antichrist per se, but the spirit of Therion in human form.
Mind you, monotheists have not exactly been "kind" to Pagans throughout history, either. It was especially bad for those civilizations that lived right next door to ancient Israel. The gods and goddesses of these cultures are specifically named as "demons" in the Old Testament (e.g., Ba'al, Asherah, etc.) and are commonly invoked as such in contemporary media. Lady Ishtar is just one of these divinities, and it's sad to think that whenever She is discussed in today's world, it is almost always in terms of biblical prophecy. She is even linked with Therion in the book of Revelation:
Then the angel said to me, "The waters you saw, where the prostitute sits, are peoples, multitudes, nations and languages. The beast and the ten horns you saw will hate the prostitute. They will bring her to ruin and leave her naked; they will eat her flesh and burn her with fire. For [Yahweh] has put it into their hearts to accomplish his purpose by agreeing to hand over to the beast their royal authority, until [Yahweh]'s words are fulfilled. The woman you saw is the great city that rules over the kings of the earth."
—Revelation 17:15–18
As I've discussed before, the Whore of Babylon is clearly inspired by Ishtar, even if her symbolic purpose is different. But what I find especially interesting here is the contrast between a female entity who "rules over the kings of the earth" and an evil king who has turned against her. Ishtar presides over the concept of "sacred kingship," which required a Babylonian king to "marry" the goddess and serve the people as Her priest. He had to ensure that his nation's crops didn't fail, that his borders remained protected from foreign invaders, and that his people were cared for in times of disaster. He also had to perform religious rituals all the time to ensure that his people's gods were properly appeased. A lousy ruler who brought ruin to his people would have been considered "unfaithful" to Ishtar, and some kings were even sacrificed to atone for this sin. This only reinforces my opinion that by killing Damien in The Final Conflict, Kate Reynolds is actually sacrificing him to Ishtar as penance for his disastrous leadership. (It's reassuring to think that with the Queen of Heaven, even monarchs can be held accountable and taken to task.)
Sam Neill and Lisa Harrow posing for a behind-the-scenes photo.
Don't get me wrong; The Final Conflict is not a perfect film. There are times when it sabotages itself by trying to copy the original Omen too much. Why are we still wasting time with lone individuals getting slaughtered in isolated places? Why isn't Damien the President already when this film begins, sending troops to invade the Middle East and start World War III? They missed an opportunity to enlarge the scale and the stakes of the story here; and by restricting all the action to Great Britain, they do a great injustice to the premise. The only exception to this is the baby-killing conspiracy sequence, which is one of the most chilling things I've ever seen. The murders themselves are never shown, but are only suggested through quick cuts, musical cues, and horrified reactions from the actors. This is a perfect example of how the power of suggestion can leave a much deeper impression on the mind than just painting the screen with gore. It also helps keep the violence as tasteful as possible (which is no small feat, considering the subject matter), while also making it more disturbing to sit through. If you think the jump scares in The Conjuring (2013) are scary, try watching the scene where one of Damien's disciples—an Anglican priest—gives a newborn his own version of a "baptismal rite." It makes my skin crawl just thinking about it.
She rebelled to help humanity before Prometheus. She died and rose from the grave before Jesus. And She invented the "zombie apocalypse" before George Romero.
Almost every culture has viewed Venus—the "Lucifer" or Morningstar—as an aggressive, contrary force. This is because it is usually the first star seen at sunset, and the last star seen at dawn. Based on this phenomenon, people imagined that Venus is a "rebel" who defies the Sun, refusing to disappear as her superior rises, then rushing to ascend as the Sun sets. Even before medieval Christians incorporated Lucifer into their devil myth, most theological beings associated with Venus were perceived as unruly, cosmic shit-disturbers.
Ishtar, the Akkadian goddess of Venus, is no exception. She stole the sacred mes, the powers of civilization, from Her uncle Ea and gave them to the people of Uruk. She insisted on visiting Her deadly sister Ereshkigal, the Queen of the Underworld, and conquered death in the process (with some help from Ea). When She learned Her husband Tammuz had not grieved for Her at all while She was dead, She killed and kicked His ass straight down into hell. When the "hero" Gilgamesh refused to marry Her, She sent the apocalyptic Bull of Heaven after him. And when Her father Anu refused to give Her the Bull at first, She threatened to raise all the dead across the earth and send them to feast on the living. She is also said to have an insatiable sex drive, exhausting all of Her various lovers to death.
If you think that sounds bad, Gilgamesh was a king who tyrannized his people, breaking into their homes and raping all the women. He only stopped when the gods created Enkidu to challenge him, giving him something else to do with his time. Gilgamesh then became so obsessed with finding the secret to immortality that he abandoned his people and left them to fend for themselves. (What an asshole!) So it's always seemed weird to me that he is portrayed as the "hero" in this story (despite being a tyrant and a rapist), while Ishtar is framed as the "villain" (even though She is divine and transcends all human understanding). The greatest threat Ishtar poses for this megalomaniac is not to his life, but to his ego.
(If Ishtar appeared and said She wanted to marry me, I'd say, "Okay." Better to be mauled ecstatically by Ishtar's lovely, blood-splattered mouth than to die by the hand of any mortal man!)
Ishtar appears in Babylonian art as a badass Amazon standing on a goddamn lion, getting ready to beat the shit out of some motherfuckers. Assyrian kings prayed for Her to join them on the battlefield like a Valkyrie and slaughter their foes like cattle. (And if their records are to be believed, She answered their prayers…brutally.) As a warrior goddess, Ishtar was very popular with the Hyksos, who called Her Astarte and paired Her with their chief deity, Ba'al Hadad. When the Hyksos ruled Egypt during the Second Intermediate Period, they brought Ishtar's worship into the Land of the Pharaohs. And since Ba'al Hadad was identified with Set by the Egyptians, they came to view Ishtar/Astarte as one of Set's romantic interests as well.
There is a fragmentary Egyptian text from Edfu in which Yamm, a sea monster, demands the hand of Ishtar in marriage. For a moment, it seems the beast will claim its bride; but Set intercedes, and while the rest of the story is uncertain, there is a similar Ugaritic tale in which Ba'al Hadad rescues Astarte from Yamm. Since Hadad's name is substituted for Set's in the Edfu texts, the Egyptian version most likely ends with Set destroying Yamm and marrying Ishtar. Considering Their unruliness and Their shared frustrations with dying-and-rising fertility gods (like Osiris and Tammuz), don't you think Set and Ishtar make a perfect couple?
Ishtar is often vilified for being so "promiscuous." This is due to a complete misunderstanding of hierogamy or hieros gamos, the concept of "sacred marriage." It is a religious rite in which people have sexual intercourse, with at least one of the participants being "possessed" by a deity. Such procedures served a twofold purpose in the ancient world. The practical purpose was to channel the fertility of a god and/or goddess into the crops, livestock, and people of a community. The spiritual purpose was to reach a higher level of consciousness. Under the right circumstances (all of which require CONSENT), a really good orgasm can totally "blow your mind" and make you feel like you're in tune with the rest of the cosmos. It makes total sense why people would consider that ecstatic moment of self-surrender to be supremely magical. From this standpoint, sex can be much more than just some "dirty" animal act; it can be a divine religious experience that is both self-fulfilling and incredibly humbling.
The clergy in ancient religions that practiced hierogamy are often described as "cult prostitutes" by biblical scholars. This is especially true when it comes to the qadishtu or holy women of Ishtar. Sex did in fact play a part in the beliefs of the qadishtu, and they were ostensibly paid by the laity for their clerical services. But the way I see it, there probably wasn't always a direct relation between these two things.
First of all, it is unclear whether Ishtar's holy women actually engaged in hierogamy with everyone who entered their temples, or if just one priestess performed the rite with a king during the annual Akitu spring festival. To be honest, I have my doubts that even the latter case was always true. Many contemporary examples of hierogamy (such as the Great Rite in Wicca) are often performed symbolically (e.g., sticking an athame in a chalice, rather than actually copulating). It is entirely possible that hierogamy wasn't always practiced quite so literally in pre-Christian times, either.
Secondly, it is wrong to assume that every service the qadishtu provided for their society was sexual in nature. In fact, it is very likely that most of what they did had nothing to do with sex at all. The available evidence would seem to suggest they were more like nuns than nymphs, caring for the sick and the orphaned, keeping chaste, and living their day-to-day lives in quiet, contemplative prayer. So the fact that Herodotus and the biblical patriarchs defined the qadishtu in terms of sex says infinitely more about them and their dirty little minds than it does about Ishtar's holy women.
The Mušḫuššu dragon from the Ishtar Gate
Yet another attack on Ishtar is the false claim that She is the alleged "Pagan origin" of Easter. This story goes back to Alexander Hislop, who published a pamphlet called The Two Babylons in 1853. Hislop claimed that Ishtar was originally a mortal Babylonian queen named Semiramis, who single-handedly invented all of polytheism. She then became worshiped as Ishtar—which many Christians claim is pronounced "Easter" for some reason—and created the holiday we now know by that name for herself.
Hislop was partially correct; Easter does in fact have polytheist origins. But its name is actually derived from Eostre, a Teutonic fertility goddess who bears no historical relation to Ishtar whatsoever. The imagery of rabbits and eggs is taken from a myth in which Eostre transformed a bird into a rabbit that could lay eggs (the Easter Bunny). These symbols do not appear anywhere in Ishtar's iconography, which has plenty more to do with bulls, dragons, lions, and owls. Nevertheless, evangelicals continue to repeat Hislop's bullshit at every turn, criticizing Easter as a so-called "satanic" rite to Ishtar.
The Burney Relief, depicting an unknown female figure who could be Ishtar or Ereshkigal (but who likely isn't Lilith)
One thing that really sticks in my craw is when people confuse Ishtar with the succubus, Lilith. In the 1970s, many Pagan writers circulated a claim that Lilith originated not as the "first wife of Adam," but as a "handmaiden" of Ishtar who served the goddess by bringing men to Her temple for worship. Another claim states that Lilith is really a goddess in her own right; she was later demonized, or so the story goes, when biblical patriarchy replaced the goddess religions of old. And some people seem to think Ishtar and Lilith are really just the same person at the end of the day.
There is no evidence to support any of these theories. Even in pre-biblical polytheist cultures, Lilith was a qliphothic entity that ate newborn children and sapped men of their seed at night. She was never worshiped, but was only warded off with apotropaic spells. This was as true when the Epic of Gilgamesh was being written as it was when the Old Testament was being written. I can accept the idea of people believing Lilith is a goddess today, if that is truly how they feel; but they should admit this is a new belief in the grand scheme of things, and not an ancient one. They should also avoid conflating Ishtar with Lilith, because the two are very different figures indeed. At the very least, the former is my Spirit Mama, and the latter is not.
I first met Ishtar in McClennan County, Texas, during the autumn of 1999. I was about to turn 17, and I had been walking with Set for just over two years. I can't really explain what drew me to Ishtar so suddenly that cloudy afternoon; the best I can say is that Set "traded" me with Her, and I walked with Her for the following year. They traded me back after that, and I've been with Set ever since. I never quite understood why this happened until about a decade later, when I met the woman who became my wife. We met in a Pagan discussion forum, and the only reason we did is because I wanted to meet other people who knew about Set, and she wanted to meet other people who knew about Ishtar. Considering this, we've always felt that Set and Ishtar are personally responsible for micromanaging things just so the two of us would meet. And that hiatus I had with Ishtar was the goddess sizing me up as a potential match for one of Her contemporary qadishtu. (I sure am glad I passed the test!)