Thoughts on Nehebukau, the holy Snake God, and the concept of Snake People, with an analysis of their appropriation by modern pop culture and conspiracy theorists.
It's important to understand that snakes are not a universal symbol of "evil" in Kemetic or ancient Egyptian lore. Actually they are more like angels, a special class of preternatural being. There are good snakes like Wadjet and Meretseger who serve Atum-Ra the Creator; and there are also bad snakes that serve Apep and who seek to disintegrate all things. One story of Nehebukau is that He was originally one of the bad snakes; but this was only because of a pinched nerve in His spine that was hurting Him real bad, making Him terribly grouchy. Eventually, Ra healed Nehebukau by touching His back and fixing that nerve, and the latter has been a good and holy snake ever since, working Ma'at and assisting sentient beings through their various kheperu or transformations in life and the afterlife (what might be called a "shedding of skins"). In this way, Nehebukau fits right in with some of the other gods I hold most dear. Like Set and Taweret, He's kind of like a monster that learned to be better, and who is in a very unique position to empathize with humans in our struggles against isfet.
To be clear: when I refer to "the Snake God," I am referring to Nehebukau, and not to the monster Apep. When I refer to "the Chaos Serpent," the situation is reversed. The distinction here is that Nehebukau is a proper god or Netjer, while Apep is more like an "ungod." If it confuses anyone that I would use "snake" and "serpent" in different ways like this, just remember the comparison to angels above. Nehebukau is no mere angel (and neither is Apep for that matter), but one might say Nehebukau is a Snake God in the same way that Gabriel is a "holy angel," while Apep is a Chaos Serpent in the same way that Satan is a "fallen angel." There are additional good male snake gods among the Netjeru as well (e.g., Geb, Mehen, etc.); but as I have not personally interacted with any of them myself, Nehebukau is the particular Netjer I mean to invoke when I write "Snake God" in capital letters.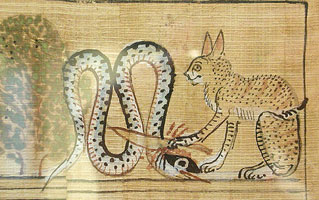 Prior to collaborating with Setken on Hymn To The Soul Serpent (Hymn To Nehebukau), I don't recall actually being that cognizant of Nehebukau before. I recall seeing Him in Egyptian art in His winged, double-headed serpent form from time to time; but it wasn't until my exposure to Setken's artistry that I remember seeing the Snake God depicted in a humanoid form (as exemplified in Setken's Study For The Netjeru!: Nehebukau). Apart from just being really fucking beautiful, Setken's paintings spoke to something buried deep within the furthest regions of my memory. It was not until we were almost ready to release Hymn to the Soul Serpent that I suddenly realized just what these sacred icons were actually reminding me of.
(When Setken first proposed the Hymn to the Soul Serpent project to me, I mistook him for saying "Nekhebet," and I immediately started studying footage of vultures for inspiration. When I realized my mistake, I apologized to to Nehebukau profusely, even though I am reasonably certain He wasn't actually offended. But perhaps some kind of project for Nekhebet might be on the horizon!)
This is probably going to get me into trouble (more on this later), but I've had a fascination with the idea of reptile people for as long as I can remember. I think my first exposure to this was from watching He-Man and the Masters of the Universe. I also collected the dolls (or "action figures," if it really bothers other men so much), and my absolute favorites were the Snake Men. King Hiss looked like a normal dude, but his entire torso came apart to reveal his true form as a writhing mass of vipers. Tung Lashor had a super-long poison tongue that came rocketing out of his mouth when you operated the button on his back. And Rattlor's neck could extend with quite some force, rendering him somewhat hazardous around children's eyeballs. These characters were not featured in the He-Man cartoons, but the dolls came with miniature comic books that explained their background stories and such.
According to the comic that came with King Hiss, the Snake Men are native to He-Man's homeworld, Eternia, and they controlled a powerful empire long before the reign of King Randor. They were banished to some alternate dimension, but the evil wizard Skeletor found a way to bring them back. Thanks to He-Man, Skeletor only succeeded in facilitating the return of three Snake Men: King Hiss, Tung Lashor, and Rattlor. The Snake Men then launched a campaign to return the rest of their kind to Eternia, so they could invade and enslave humanity once more.
Is any of this starting to sound familiar to you yet? In Episode #10 of this series, I discuss one of my least favorite anti-Setian tropes in popular culture: the theme of an "evil snake god" called "Set" who was banished to an alternate dimension, who has legions of "Serpent Men" under his command, and who seeks to return and invade the world of human beings. This theme originates from the short fantasy fiction of Robert E. Howard (creator of Conan the Cimmerian and Kull the Conqueror), and it gained even more traction when Marvel Comics was licensed to adapt Howard's fiction into its own fictional universe in the 1970s. Since then, the "Set and His evil Serpent Men" trope has emerged in countless cartoons, movies, role-playing games, and science fiction TV shows. He-Man and the Masters of the Universe, with its Snake Men and their tyrannical King Hiss, just happens to be the most obvious example of this trend.
One thing I disliked about He-Man was the fact that these Snake Men were bad guys. I have always loved snakes, especially the non-lethal ones like garter snakes, and I always thought it would be neat if these characters could have been heroes instead. I remember imagining my own Saturday morning cartoon shows where the heroes were all benevolent Snake People (with badass edgy names like Queen Hissteria and Big Bad Mamba), and the bad guys were just normal-looking humans. Curiously, the animated He-Man series does feature another race of snake people, the Reptons, who are peaceful and kind. (One of them, Kobra Khan, is one of Skeletor's goons; but the show makes it clear that Khan is just a bad egg, and the rest of the Reptons are cool.) But when it comes to stories that add a little more dimension to this concept than what I usually expect, my life changed forever when I saw Doctor Who.
No, I'm not talking about the newer Who series that's been in production since 2005. I speak to you of those lost long days when the only way you could catch Doctor Who here in the States was by watching PBS and sitting through all those passive aggressive pledge drives they used to do, where they'd threaten us with no Doctor Who ever again if we didn't call in to buy that nifty coffee mug with the disappearing TARDIS. During the Jon Pertwee years, there were two serials that dealt with the theme of reptile people specifically: The Silurians and The Sea Devils, written by Malcolm Hulke. In the first of these adventures, the Doctor (who is currently stuck on earth with an inoperative TARDIS) learns there was another intelligent species that ruled this planet long before humans evolved from apes. These reptile people are not aliens, but native to earth. They went into hibernation deep underground when their advanced astronomy detected the incoming comet that eventually wiped out the dinosaurs. Their machines were supposed to awaken them shortly after the disaster, but a malfunction caused them to remain in suspended animation until they were accidentally revived by human nuclear testing during the 1970s.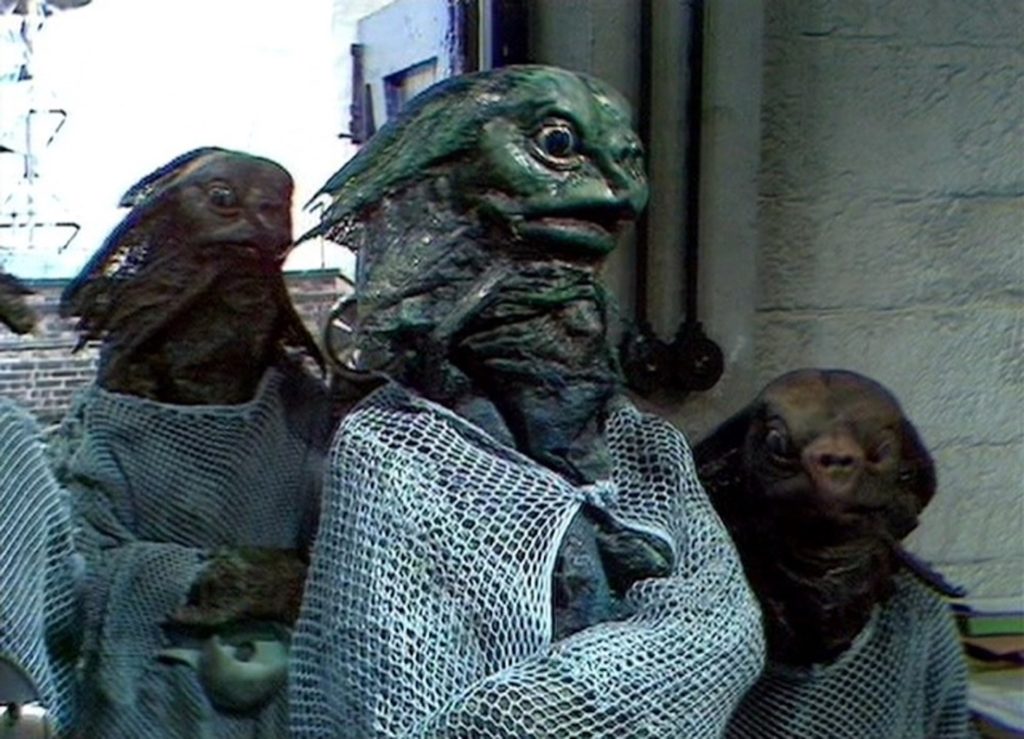 Having resurfaced, the reptile people are understandably distressed to find their planet invaded by ultraviolent hairless apes. Some of them are willing to try and co-exist with us peacefully, and the Doctor tries his best to facilitate an arrangement to this effect. But racists on both the human and reptilian sides of this dispute eventually stifle this hope, with the reptiles unleashing their biological warfare upon us, and the humans bombing all the rest of their hibernation chambers. In the second of these serials, the Doctor encounters another tribe of reptile people who belong to an aquatic subspecies, and the whole thing starts all over again. (Things are made even worse this time by the Master, played by Roger Delgado, who actively seeks to escalate the conflict between humans and reptilians.) Doctor Who lore is curiously divided as to how the reptilian characters in these stories are to be identified, but when I was a kid at least, I always went by the Malcolm Hulke novelizations, which refer to the land-dwelling reptilians as Silurians and their oceanic cousins as Sea Devils.
I remember CRYING a lot whenever I watched these episodes of Doctor Who, to the point that my parents were concerned I was actually scared and would have nightmares. But while I did find this stuff disturbing, it wasn't because it was scary; it was because it was sad. I thought the Silurians and the Sea Devils were cool, and I wanted things to work out so that everybody can share this planet together and get along. I will admit that I was very young at the time, and I didn't yet grasp that this was all just make-believe. But I also remember that when I got a little older and I first learned about some of the colonialist atrocities that have been (and still are) perpetuated against Native Americans, my initial reaction was to reflect back on Malcolm Hulke's stories and the profound emotional reactions they invoked in me. The difference, though, is that THIS WAS FUCKING REAL, it ACTUALLY HAPPENED, it is most certainly NOT make-believe. And learning THAT horrible truth (in addition to others) has kept me awake at night far more than any scary TV show ever could. (Somehow, I sense that if I could ask Malcolm Hulke about this today, he would tell me this was exactly his point in writing these awesome stories.)
Incidentally, the Silurians and Sea Devils return in a few later Doctor Who adventures, but Malcolm Hulke had nothing to do with these serials, and I am not really a fan. In the 1983 episode Warriors of the Deep, the Fifth Doctor (Peter Davison) ends up wiping out two combined tribes of terrestrial and aquatic reptilians all at once. Sure, Davison makes a fantastic Doctor, and he clearly doesn't WANT to commit genocide against the reptilians; but he does it anyway, and it's gross, and there is no text or subtext about colonialism anywhere to be seen. It's just "We gotta kill the people with animal heads so the humans can live." This leaves the whole story feeling way too hollow and mean-spirited for my tastes.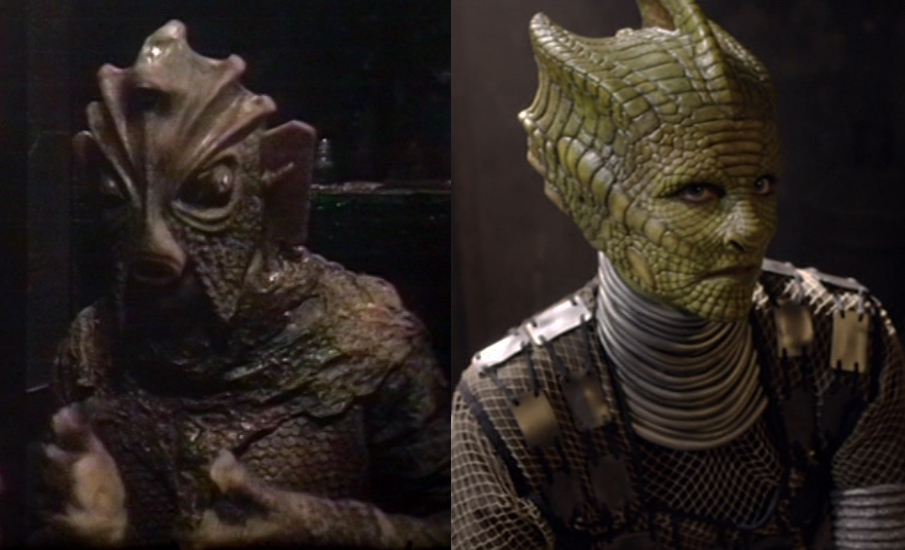 Decades later, the new Doctor Who series re-introduced the Silurians during the Matt Smith era. These episodes deal with Malcolm Hulke's creations much more respectfully, and I really enjoy the idea of a badass lady Silurian living in Victorian England and kicking hiney to help the Doctor save the world and stuff. I believe they even wrote it that at some point in Earth's future history, humans and reptilians really do learn to co-exist. This is definitely a major victory as far as my inner child is concerned; but I just can't stand the new makeup design for the Silurians. Old Silurians (and Sea Devils) actually look like people with reptile heads, much like the Serpent Men from Conan and the Snake Men from Masters of the Universe. The new versions are really just people with reptile skin, and they don't resemble the beloved creatures from my childhood enough to resonate. Still, I do enjoy the fact that Doctor Who's reptile people have at least been vindicated in terms of their collective story arc after all these years.
Another show in which Robert E. Howard's Serpent Men resurface is Hasbro's G.I. Joe: A Real American Hero. In the 1987 animated film adaptation of the popular cartoon series, it is revealed that the international terrorist organization Cobra is really just a front for an ancient civilization called Cobra-La, which of course was populated by Snake People. These reptilians naturally seek to reclaim what they perceive to be their stolen earth, and the entire history of Cobra as a human totalitarian human regime is really just one more phase in their long game.
I don't remember owning any G.I. Joe dolls, but I remember really enjoying the cartoon and its huge ensemble of diverse and fairly well-developed characters (especially my first true love, the Baroness Anastasia Cisarovna). But imagine my surprise when I learned that Cobra wasn't actually created by Hasbro, which launched the toyline. Rather, it was "invented" by Marvel Comics, which was commissioned to write a story for Hasbro when it re-launched its catalogue in the 1980s. The writers at Marvel pointed out that the heroes needed some villains to fight if there were going to be any story worth telling; and for lack of any better alternative, they more or less cloned the concept of Hydra—the terrorist organization battled by superhero teams like the Avengers—and re-named it "Cobra."
Like Cobra, Hydra was originally founded by ancient reptilians, who later infiltrated human governments for their own purposes, including that of Nazi Germany. Then there's the fact that many of Hydra's most infamous members are named after snakes in one way or another, including Viper/Madame Hydra, Gorgon, Anaconda, etc. But there's an extra layer here: the Serpent Men who founded Hydra turn out to be the very same Serpent Men who serve the "evil snake god" Set in Howard's Kull and Conan tales. This bastardization of Set has even appeared throughout Marvel Comics as an actual character for superheroes like the Avengers to fight. This is ironic given that the real Egyptian god Set also makes a personal appearance in an episode of G.I. Joe; but as discussed in Episode #10, G.I. Joe was much much closer to the mark! Its version of Set doesn't appear to be involved with the civilization of Cobra-La, either.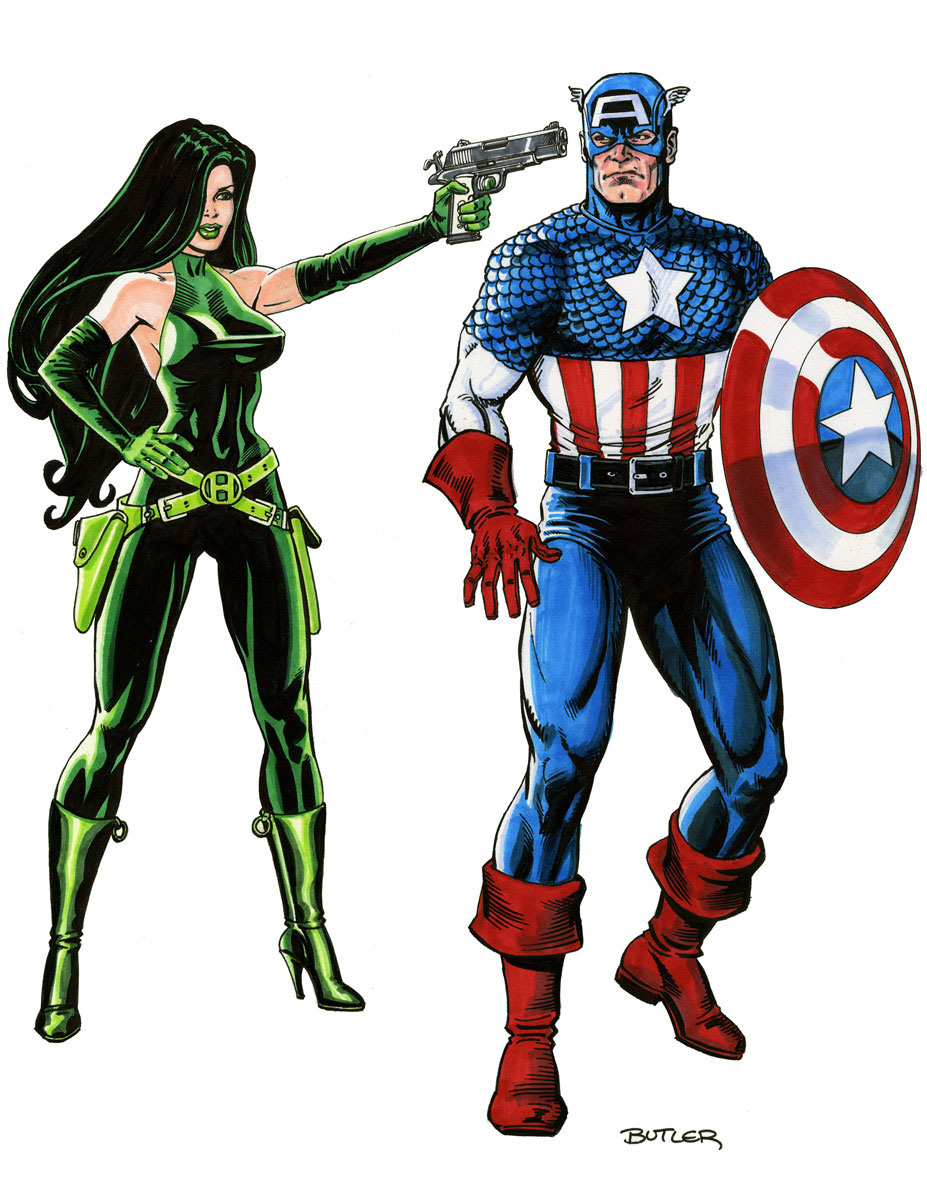 Now I must return to my earlier point about how writing about all of this will probably get me into some trouble with some people. (It's okay, I don't really care—this is all for Nehebukau, to whom I shall return in just a moment!) I am sure readers in the know are already chomping at the bit for me to touch on reptilian humanoid conspiracy theories and the bizarre subcultures they have bred in real life. I'm referring of course to the belief some people have that there are actual reptilians living among us here on earth. These people mostly take their cue from the exact same source: David Icke, a pseudoscientist and total huckster. Since the late 1990's, Icke has popularized this belief that reptilians from a planet orbiting Alpha Draconis invaded our planet way back in ancient times. They were mistakenly worshiped as "gods" by "wayward" people like the ancient Egyptians, and they continue to infiltrate modern human governments (including the entire Bush family, no less). Furthermore, this ancient alien reptile conspiracy is supposed to kidnap little children and drain them of their spinal fluid so it can be fed to Hillary Clinton, who is herself alleged to be a reptilian warlord in disguise. (Icke even manages to tie his evil reptilians together with Nazi Germany somehow, which explains the trope of Adolf Hitler secretly floating around the Arctic in submarines with reptile people.)
There are so many things wrong with David Icke's bullshit, it's impossible for me to address each particular grievance in today's sermon. But my most immediate critiques are that Icke's take on ancient civilizations is hopelessly racist; his encouragement of secularized Satanic Panic nonsense is absolutely deporable; and worst of all, domestic terrorists have adopted his anti-reptilian routine, trying to assassinate politicians they believe are reptilians. Yet there is something else wrong with all of this that should hopefully be CRYSTAL fucking clear by this point, given everything I have already explained above:
It's ALL fiction, and NONE of it is original.
Robert E. Howard made a lot of this crap up back in the 1920s. Then Marvel Comics came along and made up some more in the 1970s. Then a bunch of Saturday morning cartoons boosted the signal for it during the 1980s. And of course there have been countless other science fiction authors and media properties that have played around with the concept in one way or another. David Icke never wrote any of his conspiracy theory bullshit until the late 1990s, by which point the meme had already been well established in popular culture. So it's pretty fucking clear that he plagiarized his entire routine from a bunch of cartoons and comic books. And the assholes who are willing to kill people over this shit are really doing it for nothing.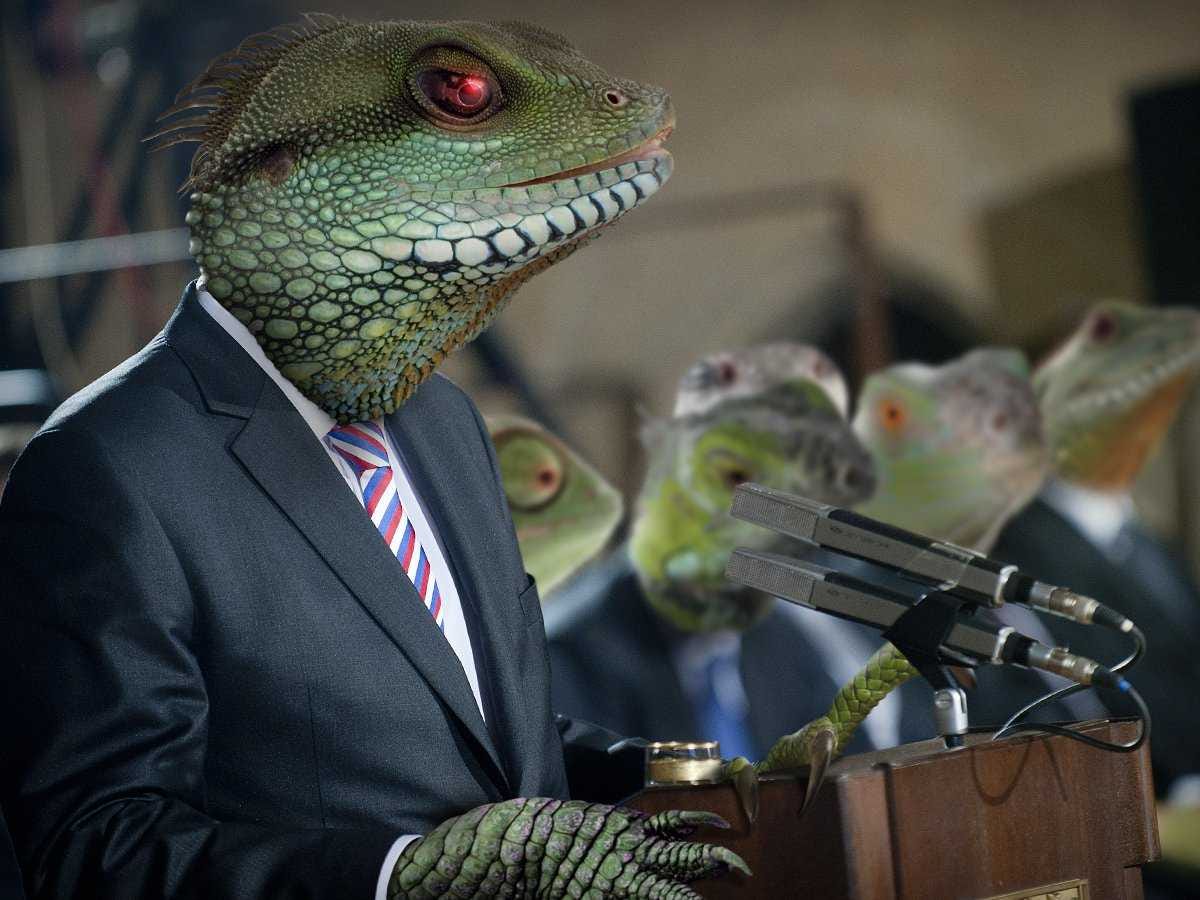 Here's the thing: I do not actively believe there are any reptilian humanoids living on this earth, or at least not in the sense of "ancient aliens" (more on this below). I'm not saying it isn't possible; I just haven't found any evidence to substantiate such an idea. But even if I did, I would quicker assume such entities are just as native to this world as we are, and that they have just as much right to be here as we do. I don't believe any of this nonsense about aliens controlling human governments; human beings are the single most dangerous creatures on this planet, we don't need extraterrestrials to make us any better at wreaking havoc. If there ARE any Snake People around, they're probably HIDING from us because they're fucking SCARED TO DEATH of us!
And to assume that an entire sentient race would be inherently evil simply because it evolved from reptiles is, to call a spade a spade, racist. WE evolved from motherfucking APES, and apes do some pretty fucked-up shit you know. Maybe it's just because I grew up learning important lessons about these things from Captain Jean-Luc Picard; but I see no reason to assume a civilized reptilian people would be any worse at respecting Ma'at or fighting isfet than civilized simian peoples apparently are. (I can already read the emails from Icke's zombie followers, skewering me for being some dumb, deluded PR boy for the Visitors who want to eat me and my family!)
The thing is, there are other people who believe in real reptilians so to speak, and who hold more sensible views about them than anything offered by David Icke. The most prevalent example of this would be Hindu, Buddhist, and other Asian religious belief systems that acknowledge the Nagas. These semi-divine creatures can appear as snakes, people, or any variety of human/serpentine hybrid. They are believed to have pre-existed humans, and while they can be good or evil just like us, most of them appear to be dutiful servants of the Devas (the Hindu gods). They enjoy living in rivers, lakes, oceans and raindrops, and they guard all kinds of ancient knowledge and treasures. Though they are not necessarily gods, the Nagas are often venerated with offerings, which helps to attract good fortune. Much of this is echoed in Chinese folk beliefs about dragons, as well. Lóng or Chinese dragons are also shapeshifters who can appear human and who bring good luck to those who show them the proper gratitude and respect.
I first learned about the Nagas not from a textbook or a cartoon show, but from my best friend in second grade, a boy named Pawan. Pawan and his family were Indian American immigrants and deeply observant Hindus. I remember seeing various images of the Devas whenever I visited their apartment. I do not recall which sect or tradition Pawan and his family might have followed (and being only eight years old or so, I lacked the head space to even formulate such a question at the time). But I remember asking Pawan's mother to tell me about the Nagas, and she seemed really happy to share some stories with me. It must have been crazy to have this weird little white boy from next door take such a genuine interest in her family's culture and heritage!
But then I would go home and tell my parents about this stuff. For some reason, they were only okay with such beliefs as long as it was Pawan and his family practicing them. I received every indication that it is only acceptable for white people to be Christians and believe in one god, even though neither of my parents has ever been a committed religious believer of any kind. Much later I would meet some of David Icke's followers (most of whom are white), who insisted to me that both Naga and Lóng veneration is really just another part of the evil reptilian plot to murder children and keep the world hypnotized. When these people claim that Asians are actually venerating evil demons or aliens—or if they suggest that such religious traditions are "beneath" white people for any reason—they are blatantly endorsing Christian white supremacism; full stop.
Furthermore, neither the Nagas nor the Lóng are space aliens that ride around in spaceships. There are no tales about them eating people or operating any nefarious shadow governments. They are nature spirits and religious figures, not science fiction monsters. The same is true of other Snake People who are acknowledged in other cultures too, including African Mami Wata spirits and Native American horned serpents. This begs the question: could the ancient Egyptians have believed in something similar? There doesn't appear to be any specific term in Egyptian for "serpent man" or "snake person" (or at least not that I have found just yet); but perhaps this would have been redundant. The Egyptians appear to have regarded normal, everyday snakes as sentient creatures with magical powers. How else could serpents be held accountable to Ma'at, with the good snakes serving Ra and the evil snakes following Apep? This distinction makes little sense, at least to me, unless we stop to consider that maybe snakes are actually people too!
Which helps me circle back to the Netjeru. It is curious that I never felt drawn to any particular Egyptian snake deities until Setken first proposed that we collaborate on his Hymn to the Soul Serpent project together. Only then did it occur to me that everything I ever needed to justify my enthusiasm for snakes (whether as animals, sentient beings, or magical anthropoids) is already included in the belief system I already follow. And when I laid eyes on Setken's humanoid portrayals of Nehebukau, I was taken back to those far-off days when I would play with my Snake Men dolls; when I would weep over the Silurians and the Sea Devils; when I secretly rooted for Cobra or Hydra as reptilian freedom fighters; and when I listened to Pawan's mother explain to me about the Nagas. Could it be that Nehebukau was looking in on me even back then, thinking, "This is the kid I want to co-write a song for Me someday"? Could it have been His double-headed wisdom that helped me see through all of David Icke's bullshit when it was first presented to me? Hell; I reckon Set and Nehebukau probably both had all of this arranged somehow before I was even born!
Writing one song isn't all I think I am meant to do, either. I think Nehebukau has probably put all of this stuff into my brain for some kind of purpose, and I mean to put it to use somehow. This very likely means another album will soon be in the works. I always wanted to make movies when I grew up; and failing that, I enjoy adapting some of my old story pitches from childhood into "soundtracks" for films that don't exist (as with Summer's End and His Nocturnal Majesty, with which I am very happy). I've successfully introduced the crimefighting mummy Het-Sem-Peckinpah to the world, as well as the mysterious Knights In Sutekh's Service. Now that my Halloween and apocalypse "movies" have been taken care of, so to speak, perhaps it is time to revisit my old sword-and-sorcery "movie" pitch as well. It could be that Queen Hissteria, Big Bad Mamba, and other Saurian Warriors of Basilisk Basilica will soon be making an appearance…
An interview with the Kemetic and Neo-Pharaonic artist Setken regarding his new film, The Praying Mantis God of Ancient Egypt, in which we meet another of Set's theological colleagues: the Netjer Abyt.
For today's adventure, we have a very special guest: the artist Setken, who creates Neo-Pharaonic art inspired by the ancient Kemetic or Egyptian Netjeru. Setken's artistic range extends beyond painting, even though the latter is his primary focus. This includes singing and writing in a band, physique and physical display escapades, as well as writing and acting. This magnificent servant of the Netjeru has just released a mini-documentary about the praying mantis god of ancient Egypt, which concerns a little-known Netjer by the name of Abyt. Listeners can view the film for free at vimeo.com/setken, and I encourage everyone to check it out!
And now, without any further ado, please welcome Setken!
G.B.: Setken, welcome to the show!

SETKEN: Thanks for having me on, G.B., it's an honor!

G.B.: I just want to say, I'm not just blowing steam up your ass; you really are one of my favorite artists. All of your paintings that you have been producing that I've seen over the past—what has it been, a decade?

SETKEN: Yeah, it's getting close to a decade now.

G.B.: Yes, especially the Winged Set piece. That one has always been my favorite.

SETKEN: It's still one of my favorites, and I was just remarking to a friend tonight that I don't know how I actually created that piece as early on in my painting career as I did, because it was way, way ahead of what I was doing at the time.

G.B.: What year was that?

SETKEN: That was 2013, so it's coming up to its seven year anniversary. But that is still one of my favorite paintings.

G.B.: Well, I guess that opens the door for what we're really here to discuss tonight: a very well-unknown ancient Egyptian deity by the name of ABYT.

SETKEN: Right!

G.B.: A god whom, of whom, or for whom I should probably say, you have just recently directed, produced, and released a short documentary entitled The Praying Mantis God of Ancient Egypt, right? I just want to thank you for making this thing in the first place, because the end product is just amazingly educational and spiritual to watch.

SETKEN: Well, thanks. And thanks for your kind words about my paintings before as well. I didn't quite get that in. This was a first crack at trying to find new ways to show my art, which is part of how the documentary came out. It's just I'm happy with the way it's turned out, you know; there are some rough edges to it. But as a short experimental documentary, I'm happy with how it turned out. I'm glad that you, and now more people, have started to see it as well—that you and others are starting to find some value in it.

G.B.: I'll probably mention this multiple times as we speak; but for the listeners, this video is currently available at Setken's vimeo.com website. Is that correct?

SETKEN: Yeah, if you go to Vimeo.com and search for Setken, all of my public videos are there. Alternatively, you can go to my website, and at the very bottom of the page, all of my social media contacts are there along the social media bar at the bottom. There's like five different socials. You can have a look at it, and that will lead you to the documentary one way or the other, because it's really all I've been raving on about at the moment.

G.B.: Oh SHIT, what was my next question?

[Both speakers laughing.]

SETKEN: You started to ask about Abyt, and because He is unknown and everything, we got distracted.

G.B.: Oh yeah. So, can you talk a little more about this sort of multimedia approach that you are taking?­

SETKEN: Sure. So I gave my one and only exhibition at the beginning of 2018, and we made a documentary about that as well (called Neo-Pharaonic). I should pronounce that right, probably [laughs]. That was the name of the exhibition, and we did a 15-minute documentary about that with thoughts are on that Neo site, if people are keen to see that. And whilst I'm glad that I did it, I came away with a feeling of dissatisfaction that this is the only way to show my art, because it's the accepted way. And that made me think about the history of art and how it's traditionally being used and shown, and all of that stuff that I'm sure you would probably explore by going to art school, which I never did. And I came out of it feeling, it's unacceptable that this should be the only way I get to show you my work—which is representative of, you know, hours and hours of creative time, and you know, is painted from the depths of my souls. So I started to think more and more about how there could be different ways to show what I'm doing, and even perhaps use the paintings as a kind of springboard to move into something else; and that's how it began.

SETKEN: I started to write short film scripts where the paintings were pivotal in the storyline—which you know, was a short five-minute film, so there wasn't that much of a big storyline to go with it—but it was very visual. But then I came up against the thing of, well to fund something like that is going to be, you know, a small fortune just to get it the basics filmed. Having someone to film it, directors, lighting, and all that sort of stuff. So those projects got left on the sidelines; but fast-forward to pandemic times, and I've got the Galaxy Note 10.1 camera phone. It's more of a camera that it is a phone, with a multimedia station, and I've had that for quite a few months and had already worked out that the filming capabilities on this thing. It's pretty amazing because I had been filming my paintings and putting them up on my Patreon for people. Give them, you know, a good look at them whatever. So, I guess that sat in the back of my mind, and then when Abyt mantis documentary came into being, it was almost like, you know, "The gates are open now! Off you go!" And I did pretty well with all the filming for it myself.

SETKEN: I wrote the script; one piece had to be filmed outdoors. So a friend filmed that for me; but apart from that, all of the raw material I had already made; I didn't have to wait for funding or someone else to come in and help me. I got a simple editing suite thing that I downloaded, you know, and went from there. And then to pull the final products together wasn't very difficult at all, because I had yourself, who contributed the music, and my friend Ptahmassu, who contributed the transliterations of the texts. Then I got my friend Christian at Spacetone to do the editing, and it was complete. So the process was a lot smoother and slicker out of necessity, because the other thing is, of course, you can't have too many people around when you're in a Stage Four lockdown helping you to make a film. So that's how that came about.

G.B.: I have to imagine this simpler process is also a little bit more affordable?

SETKEN: Yeah. Yeah, you know I already had the lights—the colored lights that I used in the video. I already had them because I use them in my ritual space. I already had the plinths made up from the Neo-Pharaonic exhibition, you know, the plinths with my cartouche logo on it. I love it. I have a mantis on it.

G.B.: By the way, that was probably my favorite shot in the whole film!

SETKEN: Oh, yeah, it's cool, huh? That particular mantis is really what I use in place of a statue for Abyt on my altar, because there are no statues of Him yet. So I basically got that from a kid's playset, painted it up in this super cool black paint, which I just happened to have sitting here that this guy in England makes. It's meant to be a take on vantablack, which is the black that they use to paint airplanes and things so it looks like you're looking into a black hole.

G.B.: Well you've impressed the hell out of me, because I thought—I thought that was an actual bug in that shot!

SETKEN: Oh, really? Really? Right up to me just saying this now?

G.B.: Yes! Oh my goodness. Either you are really good, or I'm just totally losing my eyesight or something, because I thought it was real!

SETKEN: That particular statue's been on my altar for some time. So there's been a lot of heka around it. And besides that particularly amazing black, I gave it those purple eyes, and there's all kinds of magic associated with that. So it has got a kind of life to it. I'm glad that it had that effect! Maybe everyone else thinks that, as well. That's really cool! That could be the highlight of my day actually!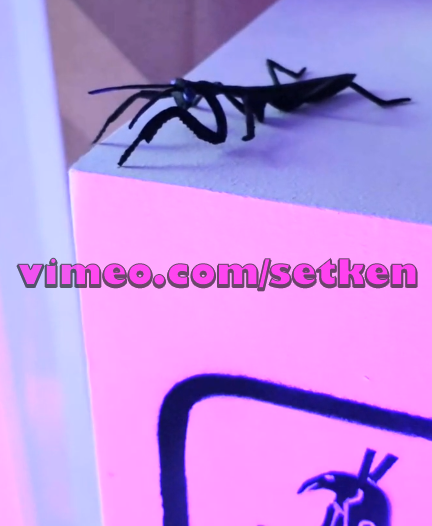 G.B.: Oh good! Well that that opens the door nicely to start discussing just who is Abyt, exactly? So I gotta be honest with you, I didn't even know there were any mantises in Egypt!

SETKEN: Yes. So the Egyptians were very keen observers of nature, and besides wall art, with their depictions of life in the swamps that feature different insects. The Abyt mantis was actually used as a glyph in one place in particular, which was King Seti I's tomb, and it is a piece taken from The Book of Opening the Mouth. It's probably not a surprise that people may not be aware of it, because that tomb—until very, very recently—has been closed for about 50 years, because it's one of the most spectacular tombs as far as tomb decoration goes in Egypt (if not one of the most), and it was deteriorating very badly. So the Ministry of Antiquities closed it permanently, but then they reopened it within the last 18 months—very, very recently they've reopened it. And this particular line that features the mantis—which I've made a sketch of, that goes all the way through the documentary, is on the poster, and is featured in a colorized version at the top of my painting, Kemetery—it is basically that glyph. And it's unusual because they've emphasized the long neck, which I comment about in the documentary, and because of the habits and the way the creature behaves. Some Egyptologists have remarked that it's strange we haven't heard more about the deity [Abyt] than we have, just by its freaky nature alone, and the way it looks like it's praying and looking at you and everything else.

SETKEN: The other two texts where Abyt is mentioned; His name is spelled out with the hieroglyphs and the determinatives that had been used. I'm studying Egyptian hieroglyphs at the moment. So, a determinative is a glyph which will be placed at the end of a sentence to let you know what is being referred to, in case that's unclear. They have the two texts that I have mentioned in the documentary; in one case they actually used the pintail duck, and in another this wingless fly—which doesn't appear very much anywhere else. I believe there are some versions of the text that actually include Abyt Himself, because of course The Book of the Dead was translated over and over inside coffins and things at different stages of Egyptian history. So there would have been scribes who perhaps used different glyphs for different things, rather than translating the exact original over time. But I think this points to the fact that Abyt may not be as easy to "pin down" in one form as, perhaps, some of the other Netjeru. We know that from the glyphs that were used, there are references to Him "flying," to Him being able to "lift up something," to something "going away from the ground," and to something "making its way." And the reason for this is because it's not spelled out in the texts exactly what He is. Egyptologists have argued over who and what He is; are the Egyptians referring to a deity? Is it saying that this creature, in and of itself, is the thing that's showing the person past the king's house and into the realm of the gods?

SETKEN: Well, we know as mystics and people who have an interest in the numinous that the ancients wouldn't have just simply listed something mundane in relation to the Divine, and I think the key text here is the one from King Seti I's tomb—the one from The Opening of the Mouth, where the actual mantis itself is used as the determinative of the word itself in the phrase. And the phrase is, "I have seen my Father in his every form; the form of the Abyt mantis." Well, the king is divine and born of the Divine. So to suggest that he isn't would be, you know, a Kemetic blasphemy!

G.B.: Right!

SETKEN: So I think that text is a qualifier as far as, you know, conservative Egyptology goes. My experiences that have developed with the deity over the years paint a picture of Him and who and what He is that is, you know, entirely related to my experience. But I do find synchronicities here and there that crop up, and I also note that the ǀXam tribe in South Africa had a praying mantis god called ǀKaggen. His primary form was a praying mantis, but He also had many other forms, and they emphasize that with Him.

G.B.: Just going back to the glyphs; so I can see the mantis, the bee and the wingless fly, but then they throw in that duck, and it's like, "Whoa!"

SETKEN: Yeah, I'm still getting to the bottom of the duck thing as well. I'm not sure exactly why the duck is there in that context.

G.B.: This does remind me of another thing, though, that I meant to mention to you earlier, and which would take some further investigation on my part to really delve into it (and I'm not exactly sure how practical that would be). However, I know that Kenneth Grant wrote often about the symbolism of the bee; bees are apparently very significant in the Typhonian Tradition of Thelema for some reason. I'm not the best person to explain why, I'd have to do some further research. I don't know why that suddenly made me remember that, though.

SETKEN: Now that you've given me that thread, I'll investigate it. The bee is definitely one, like when [E.A. Wallis] Budge did the translation of The Opening of the Mouth. After he did the translation or transliteration, he said it is unclear; he said on the one hand it could be read as mantis; on the other hand, it's bee; and hornet is in there as well. They also had glyphs for all three of these creatures, so for some reason it's deliberately unclear. I feel the energy of the bee is much more aligned to Abyt than perhaps the duck, and I've noticed that when I paint Abyt in profile, with His head on the side, you could look at that and think it was a bee. Yeah, so I'll have a look at what Kenneth Grant has written about the bee—which, as I mentioned in the documentary, is pronounced byt. Not Abyt, just byt—and of course, we're speculating about the vowel sounds; we can only guess at that because the language has been lost. But the bee is one of the determinatives that's used whenever the king's name is written. The bee and the reed basically means you are talking about the Pharaoh.

G.B.: Mantises, bees, hornets, wingless flies…and ducks.

SETKEN: Yeah. If you look into the ǀXam tribe (I hope I'm saying that right), [their mantis deity] ǀKaggen is tied up with other creatures as well, like mammals. This isn't the first time a Netjer would have many forms of many creatures associated with it like that. Look at, for example, Set—we would say that the Sha is most likely His most identifiable and predominant form; but then there is, of course, the oryx and the gazelle, the pig, and panthers, etc. I had a lot of fun painting Set in His anthropomorphic oryx form in one of my paintings.

G.B.: Oh, yeah. I remember that! I love that painting! I only just fairly recently made the connection myself on that point—the fact that Set is also kind of another "Horned God."

SETKEN: Yeah, yeah, probably the original one!

G.B.: Back to Abyt though. I'm just curious; do we wonder—do we know if it is a male deity or a female deity, or maybe something different?

SETKEN: I think, because in one of the texts specifically, the male is referenced in that one—"I have seen my Father in His every form." And I sense, when I connect with Him in meditation or whatever, that that He is male. I sense that.

G.B.: When did you first become interested in Abyt, exactly?

SETKEN: So I keep diaries of my dreams, and I will write my dreams down after they happen, and also meditation experiences. And I noticed this praying mantis being, showing up in various contexts. So I was unsure at that stage who and what He was, because I couldn't find Him attested to in the literature that's been uncovered over time from ancient Kemet. So the relationship more or less continued with me not knowing. I think that was the way it had to be in the beginning, and to a large degree, it's the way that it has to be now. I think Abyt is tied up with the higher mysteries of life, and when we get involved with Him, we're looking "under the skirt" of reality and creation and evolution and beingness—and you may not be prepared for what you're going to see.

SETKEN: So the more I was seeing and interacting with Abyt in that state, I guess the more voracious I became in my investigation. The Egyptologist, Linda Evans, is the only one who has written an academic paper about the praying mantis in ancient Egypt, and it's a good paper. I wrote to her about it and didn't get a reply (which, you know, happens). She made reference to a praying mantis coffin being found, an anthropomorphic coffin, with a mummified mantis inside. And I thought, that's weird! Because until very recently—let's say 18 months—we hadn't found any mummified insects. We know that, for example, the scarab is sacred to Khepera. We found them now—they unearthed a tomb where there were mummified scarabs.

G.B.: That is so cool!

SETKEN: It is so cool! So, I went on a quest to try and find pictures of this mantis coffin and mummy, and I couldn't find it anywhere. Since Bernard Bruyère is the Egyptologist who discovered the coffin back in 1929, I wrote to the museums in Brussels—because he's Belgian, and that's where all his work ended up. Could not get an answer. I tried Google Search, I tried everything, and occasionally I would notice things that happened with the phrase I read earlier ("I have seen my Father in His every form"). That finally came about, after years of looking for it, via Ptahmassu. He's got access to the hardcore original translations of these texts as they were found back in the early 1900s. So he was able to come up and find that for me. This is how my research seems to go—I'll have a period of intense looking for something; you let it go, and then all of a sudden, something emerges. And this is what happened with the mantis coffin.

SETKEN: I get this magazine called Nile. And even though their delivery of the magazine is rather random—it seems to show up whenever they feel like sending it out.

G.B.: Oh my goodness! [Laughing.]

SETKEN: It doesn't seem to be what I'd call, erm…

G.B.: A "periodical"?

SETKEN: [Laughs.] It's more like an annual at the moment! This company, a book shop in France called Meretseger Books, advertised in there. I thought, "I'm going to write this guy and see if he knows." His name is Francois, the gentleman who runs the shop, and he wrote back to me. So that was something new, someone writing back is always nice! Unfortunately with academia, if you're writing to academics, they're going to be looking for the letters after your name or the institution you're studying at, and if you don't have those, they probably relegate you to "this is not worthy of my time" or "I don't have time to do it," or whatever.

SETKEN: So anyway, this guy wrote back and said, "Can you give me more information—was this ever published in a periodical?" So I looked and went back to Linda Evans's paper, and it did have references to where [the mummy coffin] was, because academics have to do that. So I sent [this information] back to [Francois], and within a day, he had sent me an image and a PDF of the mantis coffin, which is anthropoid. The head looks mantis-ish and human at the same time, and then inside of it is, you know, a disintegrated mantis mummy. And when I saw that, the Abyt documentary was born at that very moment, and I just had to do something with it. I just had to. I was in a particularly raw creative state because you know, I'm not working at the moment, because we're in Stage 4 lock downs. I've not been working most of the year, and I just had this open space to do what I wanted to do—and that's how it came about.

G.B.: That's such an amazing story; it's really cool that fellow answered you and sent you the photo. I'm still getting over the fact that they mummified mantises, too!

SETKEN: Right! Now we know they mummified other creatures that we don't necessarily associate with deity; but is it because we just haven't associated them with deity yet? Are we waiting for a text that will have the Netjer determinative to say, "Well, this is a deity"? In fact, the Kemetics associated all kinds of creatures with all kinds of gods. So perhaps we need to rethink how the ancients were thinking about deity per se; that's my take on it.

G.B.: Well it makes sense, and it seems only logical. I mean, a religion in which so much of nature is considered divine; why would they draw the line at mantises, you know? Like there are cats and cows and falcons and ibises and jackals. Why not mantises too, right?

SETKEN: Right. It just doesn't make sense. Well, I think further down the track, because they are making more discoveries in Egypt. According to archaeology and Egyptology, they've only uncovered not even a third of what they know is there. And as ground-penetrating radar gets more and more sophisticated, we're likely to get a much larger picture of ancient Egypt. And as that emerges, I guess the question is going to be, will Egyptology as a science be able to keep up? Because it's not changed a lot in the 200 years that it's been around, and they've got some pretty set ideas about how they look at that part of our ancient history. I'm not saying [their ideas are] necessarily wrong; but when a cross-disciplined scientist comes into the fold, I guess like all the disciplines they don't want to share their work with anyone else that's going to perhaps challenge their own findings, as we're talking tenure and publications that need to be changed, et cetera.

SETKEN: But we all know the story of John Anthony West's friend Robert M. Schoch, who just happened to accompany him on a trip to Egypt and, as I understand it, didn't have a particularly big interest in Egyptology itself (apart from the general fascination of it that most people have got). He's standing at the Sphinx enclosure, and he's a geologist, and he just happens to look at the walls and realize that the dating of the Sphinx is quite likely wrong. It's thousands of years older than what was thought. So they did test it, they went and tested the enclosure and the Sphinx itself. And the conclusions (according to geology) is that that thing was carved originally about 10,000 years ago. Traditionally, Egyptology will not accept that—they want to align the Sphinx with the reign of King Khufu. So that's an interesting case in point.

G.B.: So earlier you mentioned ritual space, and I believe that this is the same space in which you filmed the artistic sequences of your film. Is that correct?

SETKEN: So I recreated my ritual space in my outdoor shed, because it's larger and I could set it up to look more visually appealing. But I used the plinths, the incense, and the lights to get the same kind of feeling that I get in my shrine room. I basically converted my shed into a studio to get those ritual sequences.

G.B.: That is amazing—and also something that I really kind of want to do! [Laughs.]

SETKEN: Yeah, you'd be good at it!

G.B.: So what's next? What kind of projects are you thinking about exploring next?

SETKEN: Most of the paintings I've done this year are studies, which means they are preparations for the final version of that work. So the three studies I've created so far—and there's a fourth one coming—will eventually go into their final painting form. So that's the next step. There's more paintings coming featuring sacred texts—they tend to generate paintings on their own. I'm thinking about recreating two of my earlier paintings that, for some reason, I'm either unhappy with (in the case of one), and just that I think that I can tell more of a story in the case of the second (by doing another version of it). So that more on the painting side as far as video projects go.

SETKEN: I'm doing a new video project for Nehebukau, who is one of the snake gods of the Kemetic pantheon. Your listeners will be interested to know that you've done the music for that as well! We've not really mentioned this, you did the music for the Praying Mantis God of Ancient Egypt documentary.

G.B.: Oh shit! Yeah, I forgot this whole time. [Laughing.]

SETKEN: I didn't even think about that, but it will be a video project about Nehebukau, rather than a documentary. It's something a bit different. Then, I am revisiting my painting, Winged Set, which is turning seven years old this year. So there's a project related to that.

G.B.: Lucky number seven, huh?

SETKEN: Yeah, lucky seven, right? I want to put The Praying Mantis God of Ancient Egypt onto a DVD, with all the uncut ritual sequences. This will be special, just for patrons. So I'll put that on the same DVD, and that will be something to give to future patrons, you know, who join up whenever, and you get sent that. I also want to go back to Egypt.

G.B.: To revisit some favorite places, or to explore something new?

SETKEN: To explore something new. They've reopened Seti I's tomb, of course, so I've got to go there. I want to go back inside the Red Pyramid, just because I have to do that. But I'm also interested in creating a new painting of a mausoleum in Cairo of one of their famous politicians, whose name is Saad Zaghloul; I'd like to paint him and his mausoleum. So they're the reasons I'd like to return to Egypt.

G.B.: That'll be a trip!

SETKEN: Yeah, and I guess I want to do a painting about Charles Musès, who created this thing called the Lion Path, and who is famously known as discovering a branch of mathematics. He was also an Egyptologist, and he discovered the Pyramid of King Ameny Qemau (whose name has come up a couple of times recently in Egyptology because they discovered a stele that references him). There was a collapsed pyramid that was unopened—that belonged to someone who they're pretty sure was his daughter.

G.B.: Yeah, all these new discoveries and stuff. Going back to what you were mentioning earlier, just real quick, about Egyptology changing and what-not. That is one of the things I've always loved about Egypt, is that it just seems like for every one thing we reasonably know for sure about what they believed and did, there are countless other things that we don't. And with new information coming in every couple of decades or whatever, and we're going to have some new information.

SETKEN: Yes, because new discoveries happen. You would think this would add to our library of how we think about the ancient Kemetic world; but if that library is constantly filtered through an academic lens, but only wants to see something one particular way—or if it's being filtered through the lens of Victorian England, or if it's being filtered through the lens of another religion—where they are going to get the same kind of answer? I guess the point I was making back then is, bring on all the new discoveries! But let's also look at them as ways that we can expand how we're thinking about the ancients, rather than drawing a conclusion that is just more of the same to bolster up what we originally thought about them. [Kemetic] culture is so rich, it has a much richer yield than perhaps we're currently paying full attention to anyway.

G.B.: I agree with you completely. Well, I suppose it's only right I should mention a little bit of my process of how I composed the music for your film real quick!

SETKEN: I don't think "real quick," I mean it's an important part of the documentary! So please, tell us about it!

G.B.: Not too much to it, really; it's kind of like how you were mentioning earlier with your Galaxy phone. I have a Samsung something or other—I don't know, I'm no good with this shit. But it's also got like some pretty nifty apps on it and stuff. I found a variety of voice changers, a variety of synthesizer apps. Earlier this summer, when I first put together the Dua Sutekh EP; well first of all, that whole thing was the result of pandemic-mania. Living in quarantine and not having enough shit to do, and one day playing around with voice changers and changing my voice over and over again. And that's all [Dua Sutekh] really is, just my voice over and over again on each layer, manipulated to sound like it's not.

SETKEN: I didn't know that!

G.B.: And with Mantis Religiosa, the piece I did for your film, I didn't quite keep it that "pure." I used a couple of different synthesizer apps that I found that replicate old-school sequencers, like the kind of shit where they don't even have any keys on the instruments, you're just playing with dials and everything, you know? I started with that to create the two basic structures of the piece, because it really ended up being divided into two. I'm not quite sure why, it just ended up that way. That was the baseline for the piece, and then I went over that with my voice changer technique to make it a little bit, you know, rawer and fuzzier. I really wanted to capture the idea of fluttering insect wings, but couldn't quite find the right noise samples. So I just had to kind of get creative and make it myself. But that's not to say that there is no sampling at all, because I did decide to sample from one of my very favorite horror movies: Quatermass and the Pit from 1964. A fantastic British horror movie about—you guessed it—mantises from outer space! Mantises that genetically modified our primate ancestors to produce the witches and warlocks that roam this planet today. That's some pretty heavy shit!
SETKEN: I love that film, and I only recently watched it because of your reference to it on In the Desert of Set. I really liked that film, and I know it's very much the era of crappy BBC effects and everything, right?

G.B.: But still a great story.

SETKEN: It was a great story, and I liked what they did with that sequence where they hooked up whatever that device was that could go back in time, and there was that mass of insect people overcoming the planet and all that stuff flying on the sand coming to Earth; I think it was genius. But what you did with that; I was going to ask you. The very beginning of the track, where the words Mantis Religiosa are spoken—I didn't know that was you, and I actually thought it sounds like Vincent Price. Is that what you're going for?

G.B.: With a lot of help from the voice changers!! [Laughter.]. Thank you! It's sort of like a little homage to Alice Cooper's Welcome To My Nightmare, the sequence with the Black Widow and Vincent Price showing off his spider collection. Which, by the way, if you ever find a mummified—if you ever find evidence of mummified spiders, don't tell me, okay? Let's just draw the line there!

SETKEN: [Laughing.] Okay. I'm pretty sure there is a spider glyph.

G.B.: There would have to be, I'm sure; I know there's scorpions.

SETKEN: Definitely, and there is a scorpion goddess, who is a rather powerful being. But yeah, I'll find out if there's a spider glyph, just for you.

G.B.: Oh God. [Laughing.] Okay, last question. so I'm sure that there are relatives of my family—or somebody's family—watching this documentary at home, and they're wondering, "What the fuck is there a mummy stripping? What's with that stripping mummy?"

SETKEN: That's a very good question. So I referenced earlier that I'd made some short film scripts because I was looking at ways of trying to tell the story of paintings in a more creative way, and I have a mummy costume in my repertoire of costumes that I've held onto—from when I used to be a stripper. And the mummy costume was a particularly good one that didn't get a lot of use because in fact it was part of—I did this mini Rocky Horror Show version, okay, and the idea was that I would do two characters from The Rocky Horror Show and two or three songs. From that, whilst hosting an event—and I did actually have a Halloween event that I got hired for years ago when I was living overseas; I think I've actually got that on my Vimeo and I tried to make it private, but I've got it as part of my profile for Star now, which is an actor's website—because you know, we need to think of all of our skills and different ways of making money when you're not allowed to work in a gym because the chief medical officer thinks it's a breeding ground for bugs.
SETKEN: So anyway, I digress; I had the mummy costume as part of Rocky's costume for The Rocky Horror Show, and I thought I could use that mummy because the concept has not been lost on me—looking deeply into the symbolism of ancient Egypt as a cocoon for the soul to rise out of. So I've used it as something along those lines in the documentary. And the idea of projecting alternating pictures of the coffin and the mummified mantis because you realize that's what's going on while all of that is happening right now. Having that projected onto my body onto the mummy wrappings as I go emerging into something else.

SETKEN: I'm interested in a era of photography and video from the 50s and 60s called the Athletic Model Guild, and it was the beginning or perhaps the precursor to bodybuilding. Bob Mizer, the guy who created it, was interested in the male physique as I am—not only as an artist, but as an amateur bodybuilder, I guess, even though I have professionally competed and stuff like that. I still consider myself an amateur, because I've only recently got back into some sort of shape. And I guess wanted to show it off, and was able to weave that into the artistic interpretation of what I was doing with the documentary. And so I think people will definitely look at that thing—What the fuck is this? What's going on with this? But I think I've weaved it in a way that is kind of interesting certainly. It was fun for me to do. But if you're looking for the inspiration for it, look up Athletic Model Guild, and that should answer some of some of those questions! Of course, I've used my makeup and stuff that I use whenever I'm public as Setken, so that of course was in there too. That wouldn't be used in a legit AMG shoot if I was ever to recreate one. But anyway, these are the things we do with artists to take, you know, different takes on things.

G.B.: That's really fascinating. As you know, I've been working with all kinds of public domain footage from yesteryear. I have like a curious fascination with old footage I guess. Not sure if "industrial films" is like the right term, but like, films that were made not necessarily as like to tell a story or whatever, they're just showing some aspect of culture or whatever that you don't really see much anymore, or at least not everywhere today. Is that something that still happens today with the Guild?

SETKEN: Bob Mizer passed away some time ago, and he left all of his work—a considerable library of negatives and prints and film—and that's created the Bob Mizer Foundation, which you contribute to so they can hire people to catalog and preserve these negatives and films and prints because they really are telling an interesting story about the male physique. And what we now know as bodybuilding was starting to emerge into Western society and culture after perhaps not being considered for thousands of years. The Greeks were really the last ones to really look at, and specialize in, the male form to the degree that they did. So it's interesting to look at it through that lens. There's also the looking at it through the lens of homoerotic male art and looking at the male body in a sexual context, which of course was taboo then, and is to a degree now, as well as how we consider the male body in the current context and the sexualizing of it. So all of that was there in what he was doing, and there is some sordid stuff because the models that he had—he had this system of "hieroglyphics," for want of a better word, that he used to make notes to himself about who the model was and whether or not they might they may be interested in sexual persuasions that were considered illegal at the time. So there's that stream as well, which is interesting.

G.B.: What a horrible way to live.

SETKEN: Yeah, he was fascinating, and his is an art form in and of itself. You look at his art and you say that's Bob Mizer photography, the same way that you might recognize a [Robert] Mapplethorpe painting. He had a style happening, you know, right from the get-go.

G.B.: That's really cool that you were able to work that influence into this. Quatermass, mantises, the male physique, and the—say it again? The AMG?

SETKEN: Yes that's right, the Athletic Model Guild.

G.B.: This is such an eclectic web of ingredients!

SETKEN: I think so! I very much got told earlier this year by one of the Netjeru that it's time to get your stuff out there. Like do it, do it, and I've held back on a lot of artistic stuff at my own over the years for whatever reason. So this documentary was in some ways a crude manifestation of a lot of things coming together in one. I'm happy with the way it turned out.

G.B.: Well, thank you so much once again for joining me here tonight, Setken it's been a real treat to have you onboard. Thank you for being my first and only guest on the podcast so far! And thank you so much for the opportunity to contribute to your project. I just really loved the film, and I hope that everyone out there listening will go watch it on Vimeo.com and perhaps give some consideration to visiting your Patreon account as well!

SETKEN: Yes, that would be cool! Every bit helps. I do keep Patreon-only content for people; you want to reward the people that have gone that little bit step further to invest in what you're doing. I'm very grateful for my patrons, I'm very grateful you asked me to do this podcast, and I'm grateful for your amazing contribution to the documentary.

G.B.: Thank you! And on that note, Dua Abyt, and SET BLESS!

SETKEN: Dua Abyt! Dua Sutekh!
And to close out today's adventure, here is the aforementioned track—Mantis Religiosa—that I composed for Setken's film. Again, listeners can view The Praying Mantis God of Ancient Egypt at https://vimeo.com/setken, and if you enjoy this little tune I've cooked up as an offering to Lord Abyt, you can stream and download Mantis Religiosa for free at gbmarian.bandcamp.com.