Forget what you think you "learned" from The Exorcist (1973) about Pazuzu, and join this mighty deity as He quests against both human and spiritual cruelty.
The last several months of my life have been quite painful, and I imagine I am not alone in this respect. Yet the gods are merciful and good, and one of them in particular saw fit to help me just recently, even though I have never specifically reached out to Him before.
Pazuzu
is another ancient god who, like Set, has an extremely bad reputation today, thanks largely to William Peter Blatty and his novel, The Exorcist (i.e., the source material for the 1973 movie). It is interesting that Blatty would choose an explicitly Pagan deity for his novel's antagonist, rather than one of the fallen angels from his own religious lore.
Far from possessing little girls and making them vomit pea soup or spider-walk up and down staircases, Pazuzu was commonly invoked in ancient times to protect pregnant mothers and newborn children from horrific monsters, most especially the night demon Lamashtu. Sure, He's creepy and He's kooky (again, much like Set), and He ain't much for sunshine and rainbows. But no matter how "evil" people think Pazuzu might be, He clearly hates bullies who harm the defenseless; and though the identity of His mother in Assyro-Babylonian mythology seems unclear, I get a strong feeling that Pazuzu loves His mother very much indeed.
Last week, Pazuzu "possessed" me to record a new album in His honor (ha ha). I could barely sleep or even take any breaks while I put this puppy together. It HAD to be finished last week for some reason; imagine my surprise when I suddenly remembered that Friday was Walpurgis Night!
Anyway, this is my attempt at setting the record straight about Pazuzu, and at providing something good and helpful for His worshipers who live today. Working on this has been an incredibly healing experience; I pray that Pazuzu enjoys it, and that others will too.
Rare photographic evidence of the Great Reconciliation between Horus and Set. (All Horus had to do was put on the magic glasses!)
Thoughts on Nehebukau, the holy Snake God, and the concept of Snake People, with an analysis of their appropriation by modern pop culture and conspiracy theorists.
It's important to understand that snakes are not a universal symbol of "evil" in Kemetic or ancient Egyptian lore. Actually they are more like angels, a special class of preternatural being. There are good snakes like Wadjet and Meretseger who serve Atum-Ra the Creator; and there are also bad snakes that serve Apep and who seek to disintegrate all things. One story of Nehebukau is that He was originally one of the bad snakes; but this was only because of a pinched nerve in His spine that was hurting Him real bad, making Him terribly grouchy. Eventually, Ra healed Nehebukau by touching His back and fixing that nerve, and the latter has been a good and holy snake ever since, working Ma'at and assisting sentient beings through their various kheperu or transformations in life and the afterlife (what might be called a "shedding of skins"). In this way, Nehebukau fits right in with some of the other gods I hold most dear. Like Set and Taweret, He's kind of like a monster that learned to be better, and who is in a very unique position to empathize with humans in our struggles against isfet.
To be clear: when I refer to "the Snake God," I am referring to Nehebukau, and not to the monster Apep. When I refer to "the Chaos Serpent," the situation is reversed. The distinction here is that Nehebukau is a proper god or Netjer, while Apep is more like an "ungod." If it confuses anyone that I would use "snake" and "serpent" in different ways like this, just remember the comparison to angels above. Nehebukau is no mere angel (and neither is Apep for that matter), but one might say Nehebukau is a Snake God in the same way that Gabriel is a "holy angel," while Apep is a Chaos Serpent in the same way that Satan is a "fallen angel." There are additional good male snake gods among the Netjeru as well (e.g., Geb, Mehen, etc.); but as I have not personally interacted with any of them myself, Nehebukau is the particular Netjer I mean to invoke when I write "Snake God" in capital letters.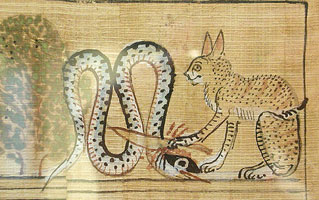 Prior to collaborating with Setken on Hymn To The Soul Serpent (Hymn To Nehebukau), I don't recall actually being that cognizant of Nehebukau before. I recall seeing Him in Egyptian art in His winged, double-headed serpent form from time to time; but it wasn't until my exposure to Setken's artistry that I remember seeing the Snake God depicted in a humanoid form (as exemplified in Setken's Study For The Netjeru!: Nehebukau). Apart from just being really fucking beautiful, Setken's paintings spoke to something buried deep within the furthest regions of my memory. It was not until we were almost ready to release Hymn to the Soul Serpent that I suddenly realized just what these sacred icons were actually reminding me of.
(When Setken first proposed the Hymn to the Soul Serpent project to me, I mistook him for saying "Nekhebet," and I immediately started studying footage of vultures for inspiration. When I realized my mistake, I apologized to to Nehebukau profusely, even though I am reasonably certain He wasn't actually offended. But perhaps some kind of project for Nekhebet might be on the horizon!)
This is probably going to get me into trouble (more on this later), but I've had a fascination with the idea of reptile people for as long as I can remember. I think my first exposure to this was from watching He-Man and the Masters of the Universe. I also collected the dolls (or "action figures," if it really bothers other men so much), and my absolute favorites were the Snake Men. King Hiss looked like a normal dude, but his entire torso came apart to reveal his true form as a writhing mass of vipers. Tung Lashor had a super-long poison tongue that came rocketing out of his mouth when you operated the button on his back. And Rattlor's neck could extend with quite some force, rendering him somewhat hazardous around children's eyeballs. These characters were not featured in the He-Man cartoons, but the dolls came with miniature comic books that explained their background stories and such.
According to the comic that came with King Hiss, the Snake Men are native to He-Man's homeworld, Eternia, and they controlled a powerful empire long before the reign of King Randor. They were banished to some alternate dimension, but the evil wizard Skeletor found a way to bring them back. Thanks to He-Man, Skeletor only succeeded in facilitating the return of three Snake Men: King Hiss, Tung Lashor, and Rattlor. The Snake Men then launched a campaign to return the rest of their kind to Eternia, so they could invade and enslave humanity once more.
Is any of this starting to sound familiar to you yet? In Episode #10 of this series, I discuss one of my least favorite anti-Setian tropes in popular culture: the theme of an "evil snake god" called "Set" who was banished to an alternate dimension, who has legions of "Serpent Men" under his command, and who seeks to return and invade the world of human beings. This theme originates from the short fantasy fiction of Robert E. Howard (creator of Conan the Cimmerian and Kull the Conqueror), and it gained even more traction when Marvel Comics was licensed to adapt Howard's fiction into its own fictional universe in the 1970s. Since then, the "Set and His evil Serpent Men" trope has emerged in countless cartoons, movies, role-playing games, and science fiction TV shows. He-Man and the Masters of the Universe, with its Snake Men and their tyrannical King Hiss, just happens to be the most obvious example of this trend.
One thing I disliked about He-Man was the fact that these Snake Men were bad guys. I have always loved snakes, especially the non-lethal ones like garter snakes, and I always thought it would be neat if these characters could have been heroes instead. I remember imagining my own Saturday morning cartoon shows where the heroes were all benevolent Snake People (with badass edgy names like Queen Hissteria and Big Bad Mamba), and the bad guys were just normal-looking humans. Curiously, the animated He-Man series does feature another race of snake people, the Reptons, who are peaceful and kind. (One of them, Kobra Khan, is one of Skeletor's goons; but the show makes it clear that Khan is just a bad egg, and the rest of the Reptons are cool.) But when it comes to stories that add a little more dimension to this concept than what I usually expect, my life changed forever when I saw Doctor Who.
No, I'm not talking about the newer Who series that's been in production since 2005. I speak to you of those lost long days when the only way you could catch Doctor Who here in the States was by watching PBS and sitting through all those passive aggressive pledge drives they used to do, where they'd threaten us with no Doctor Who ever again if we didn't call in to buy that nifty coffee mug with the disappearing TARDIS. During the Jon Pertwee years, there were two serials that dealt with the theme of reptile people specifically: The Silurians and The Sea Devils, written by Malcolm Hulke. In the first of these adventures, the Doctor (who is currently stuck on earth with an inoperative TARDIS) learns there was another intelligent species that ruled this planet long before humans evolved from apes. These reptile people are not aliens, but native to earth. They went into hibernation deep underground when their advanced astronomy detected the incoming comet that eventually wiped out the dinosaurs. Their machines were supposed to awaken them shortly after the disaster, but a malfunction caused them to remain in suspended animation until they were accidentally revived by human nuclear testing during the 1970s.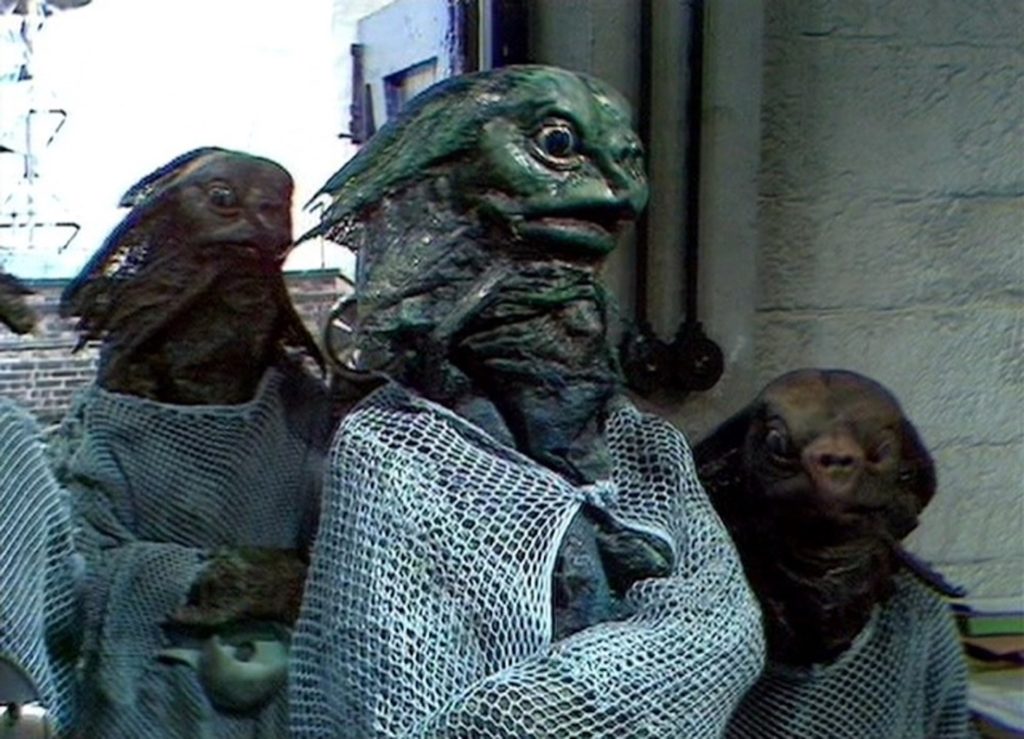 Having resurfaced, the reptile people are understandably distressed to find their planet invaded by ultraviolent hairless apes. Some of them are willing to try and co-exist with us peacefully, and the Doctor tries his best to facilitate an arrangement to this effect. But racists on both the human and reptilian sides of this dispute eventually stifle this hope, with the reptiles unleashing their biological warfare upon us, and the humans bombing all the rest of their hibernation chambers. In the second of these serials, the Doctor encounters another tribe of reptile people who belong to an aquatic subspecies, and the whole thing starts all over again. (Things are made even worse this time by the Master, played by Roger Delgado, who actively seeks to escalate the conflict between humans and reptilians.) Doctor Who lore is curiously divided as to how the reptilian characters in these stories are to be identified, but when I was a kid at least, I always went by the Malcolm Hulke novelizations, which refer to the land-dwelling reptilians as Silurians and their oceanic cousins as Sea Devils.
I remember CRYING a lot whenever I watched these episodes of Doctor Who, to the point that my parents were concerned I was actually scared and would have nightmares. But while I did find this stuff disturbing, it wasn't because it was scary; it was because it was sad. I thought the Silurians and the Sea Devils were cool, and I wanted things to work out so that everybody can share this planet together and get along. I will admit that I was very young at the time, and I didn't yet grasp that this was all just make-believe. But I also remember that when I got a little older and I first learned about some of the colonialist atrocities that have been (and still are) perpetuated against Native Americans, my initial reaction was to reflect back on Malcolm Hulke's stories and the profound emotional reactions they invoked in me. The difference, though, is that THIS WAS FUCKING REAL, it ACTUALLY HAPPENED, it is most certainly NOT make-believe. And learning THAT horrible truth (in addition to others) has kept me awake at night far more than any scary TV show ever could. (Somehow, I sense that if I could ask Malcolm Hulke about this today, he would tell me this was exactly his point in writing these awesome stories.)
Incidentally, the Silurians and Sea Devils return in a few later Doctor Who adventures, but Malcolm Hulke had nothing to do with these serials, and I am not really a fan. In the 1983 episode Warriors of the Deep, the Fifth Doctor (Peter Davison) ends up wiping out two combined tribes of terrestrial and aquatic reptilians all at once. Sure, Davison makes a fantastic Doctor, and he clearly doesn't WANT to commit genocide against the reptilians; but he does it anyway, and it's gross, and there is no text or subtext about colonialism anywhere to be seen. It's just "We gotta kill the people with animal heads so the humans can live." This leaves the whole story feeling way too hollow and mean-spirited for my tastes.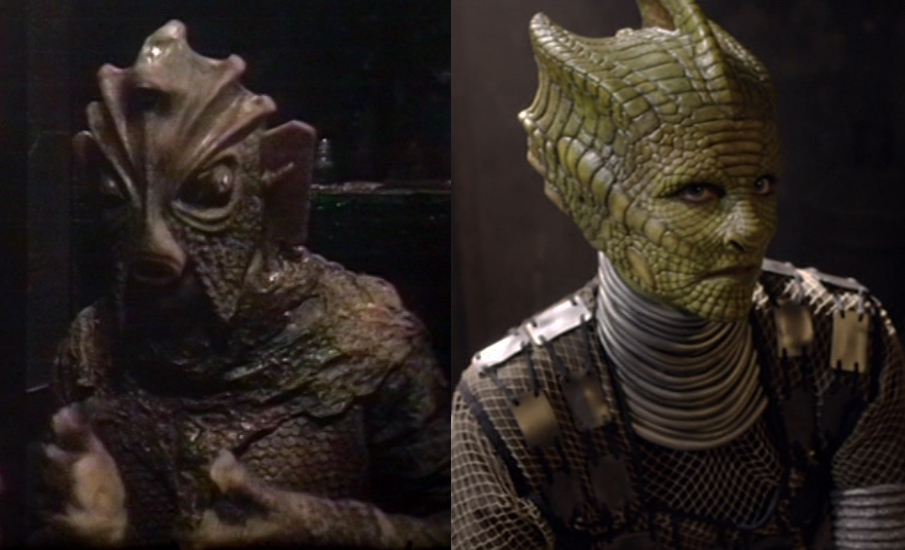 Decades later, the new Doctor Who series re-introduced the Silurians during the Matt Smith era. These episodes deal with Malcolm Hulke's creations much more respectfully, and I really enjoy the idea of a badass lady Silurian living in Victorian England and kicking hiney to help the Doctor save the world and stuff. I believe they even wrote it that at some point in Earth's future history, humans and reptilians really do learn to co-exist. This is definitely a major victory as far as my inner child is concerned; but I just can't stand the new makeup design for the Silurians. Old Silurians (and Sea Devils) actually look like people with reptile heads, much like the Serpent Men from Conan and the Snake Men from Masters of the Universe. The new versions are really just people with reptile skin, and they don't resemble the beloved creatures from my childhood enough to resonate. Still, I do enjoy the fact that Doctor Who's reptile people have at least been vindicated in terms of their collective story arc after all these years.
Another show in which Robert E. Howard's Serpent Men resurface is Hasbro's G.I. Joe: A Real American Hero. In the 1987 animated film adaptation of the popular cartoon series, it is revealed that the international terrorist organization Cobra is really just a front for an ancient civilization called Cobra-La, which of course was populated by Snake People. These reptilians naturally seek to reclaim what they perceive to be their stolen earth, and the entire history of Cobra as a human totalitarian human regime is really just one more phase in their long game.
I don't remember owning any G.I. Joe dolls, but I remember really enjoying the cartoon and its huge ensemble of diverse and fairly well-developed characters (especially my first true love, the Baroness Anastasia Cisarovna). But imagine my surprise when I learned that Cobra wasn't actually created by Hasbro, which launched the toyline. Rather, it was "invented" by Marvel Comics, which was commissioned to write a story for Hasbro when it re-launched its catalogue in the 1980s. The writers at Marvel pointed out that the heroes needed some villains to fight if there were going to be any story worth telling; and for lack of any better alternative, they more or less cloned the concept of Hydra—the terrorist organization battled by superhero teams like the Avengers—and re-named it "Cobra."
Like Cobra, Hydra was originally founded by ancient reptilians, who later infiltrated human governments for their own purposes, including that of Nazi Germany. Then there's the fact that many of Hydra's most infamous members are named after snakes in one way or another, including Viper/Madame Hydra, Gorgon, Anaconda, etc. But there's an extra layer here: the Serpent Men who founded Hydra turn out to be the very same Serpent Men who serve the "evil snake god" Set in Howard's Kull and Conan tales. This bastardization of Set has even appeared throughout Marvel Comics as an actual character for superheroes like the Avengers to fight. This is ironic given that the real Egyptian god Set also makes a personal appearance in an episode of G.I. Joe; but as discussed in Episode #10, G.I. Joe was much much closer to the mark! Its version of Set doesn't appear to be involved with the civilization of Cobra-La, either.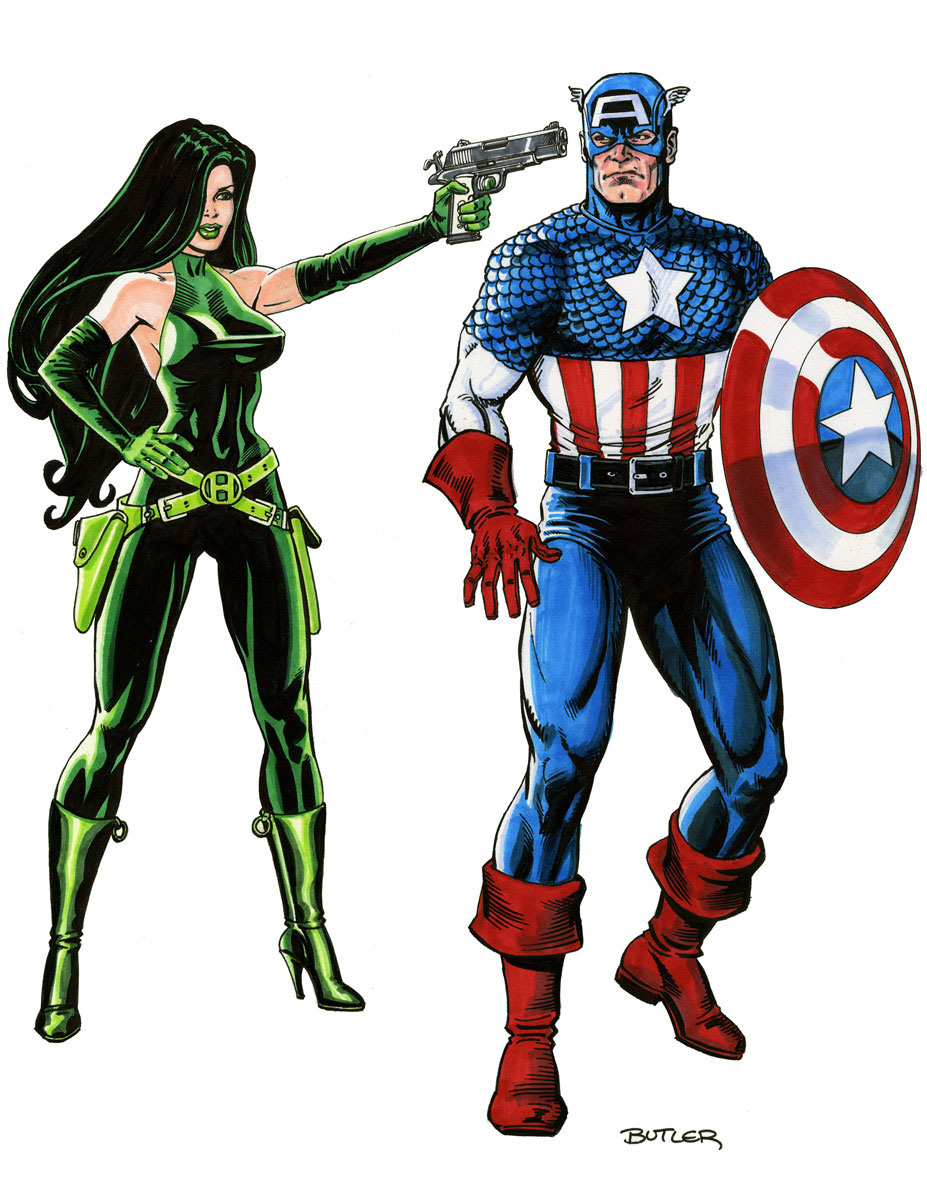 Now I must return to my earlier point about how writing about all of this will probably get me into some trouble with some people. (It's okay, I don't really care—this is all for Nehebukau, to whom I shall return in just a moment!) I am sure readers in the know are already chomping at the bit for me to touch on reptilian humanoid conspiracy theories and the bizarre subcultures they have bred in real life. I'm referring of course to the belief some people have that there are actual reptilians living among us here on earth. These people mostly take their cue from the exact same source: David Icke, a pseudoscientist and total huckster. Since the late 1990's, Icke has popularized this belief that reptilians from a planet orbiting Alpha Draconis invaded our planet way back in ancient times. They were mistakenly worshiped as "gods" by "wayward" people like the ancient Egyptians, and they continue to infiltrate modern human governments (including the entire Bush family, no less). Furthermore, this ancient alien reptile conspiracy is supposed to kidnap little children and drain them of their spinal fluid so it can be fed to Hillary Clinton, who is herself alleged to be a reptilian warlord in disguise. (Icke even manages to tie his evil reptilians together with Nazi Germany somehow, which explains the trope of Adolf Hitler secretly floating around the Arctic in submarines with reptile people.)
There are so many things wrong with David Icke's bullshit, it's impossible for me to address each particular grievance in today's sermon. But my most immediate critiques are that Icke's take on ancient civilizations is hopelessly racist; his encouragement of secularized Satanic Panic nonsense is absolutely deporable; and worst of all, domestic terrorists have adopted his anti-reptilian routine, trying to assassinate politicians they believe are reptilians. Yet there is something else wrong with all of this that should hopefully be CRYSTAL fucking clear by this point, given everything I have already explained above:
It's ALL fiction, and NONE of it is original.
Robert E. Howard made a lot of this crap up back in the 1920s. Then Marvel Comics came along and made up some more in the 1970s. Then a bunch of Saturday morning cartoons boosted the signal for it during the 1980s. And of course there have been countless other science fiction authors and media properties that have played around with the concept in one way or another. David Icke never wrote any of his conspiracy theory bullshit until the late 1990s, by which point the meme had already been well established in popular culture. So it's pretty fucking clear that he plagiarized his entire routine from a bunch of cartoons and comic books. And the assholes who are willing to kill people over this shit are really doing it for nothing.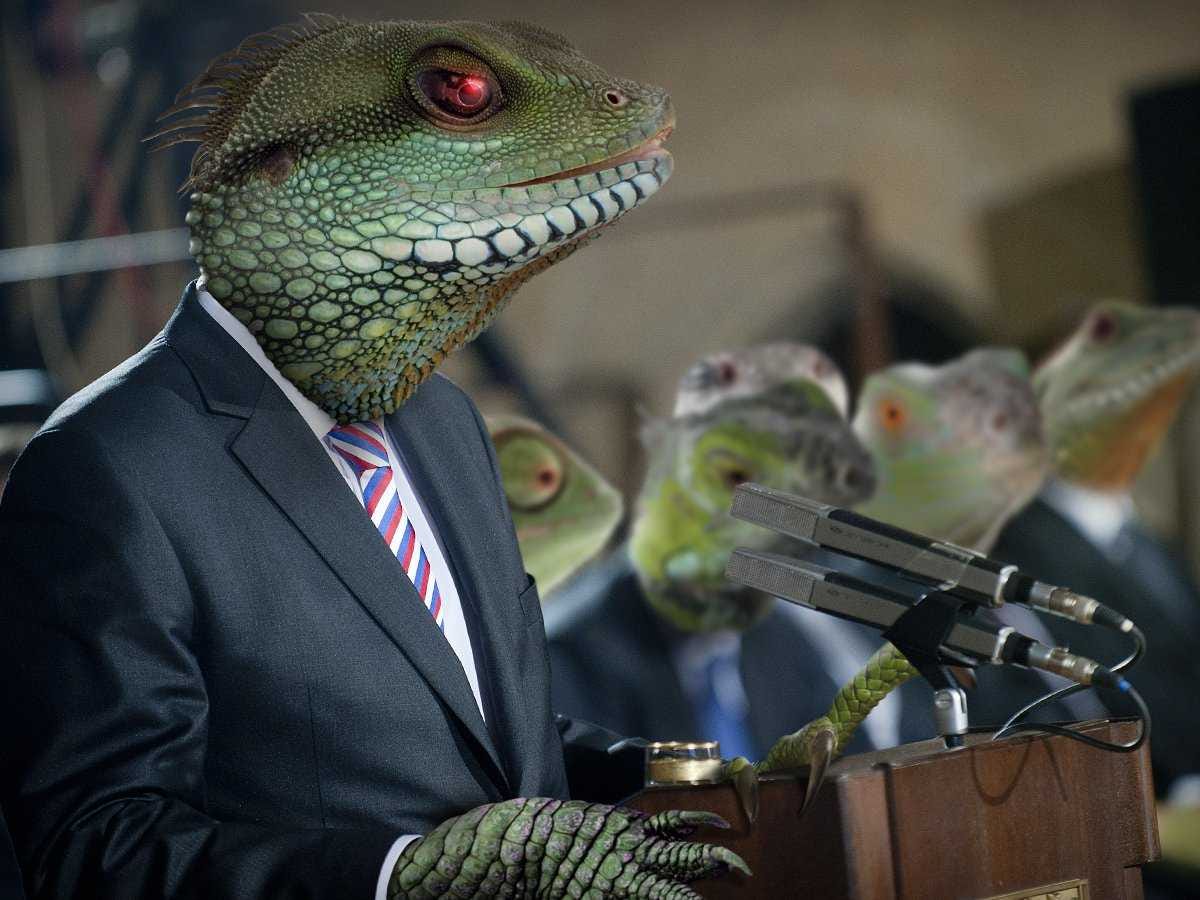 Here's the thing: I do not actively believe there are any reptilian humanoids living on this earth, or at least not in the sense of "ancient aliens" (more on this below). I'm not saying it isn't possible; I just haven't found any evidence to substantiate such an idea. But even if I did, I would quicker assume such entities are just as native to this world as we are, and that they have just as much right to be here as we do. I don't believe any of this nonsense about aliens controlling human governments; human beings are the single most dangerous creatures on this planet, we don't need extraterrestrials to make us any better at wreaking havoc. If there ARE any Snake People around, they're probably HIDING from us because they're fucking SCARED TO DEATH of us!
And to assume that an entire sentient race would be inherently evil simply because it evolved from reptiles is, to call a spade a spade, racist. WE evolved from motherfucking APES, and apes do some pretty fucked-up shit you know. Maybe it's just because I grew up learning important lessons about these things from Captain Jean-Luc Picard; but I see no reason to assume a civilized reptilian people would be any worse at respecting Ma'at or fighting isfet than civilized simian peoples apparently are. (I can already read the emails from Icke's zombie followers, skewering me for being some dumb, deluded PR boy for the Visitors who want to eat me and my family!)
The thing is, there are other people who believe in real reptilians so to speak, and who hold more sensible views about them than anything offered by David Icke. The most prevalent example of this would be Hindu, Buddhist, and other Asian religious belief systems that acknowledge the Nagas. These semi-divine creatures can appear as snakes, people, or any variety of human/serpentine hybrid. They are believed to have pre-existed humans, and while they can be good or evil just like us, most of them appear to be dutiful servants of the Devas (the Hindu gods). They enjoy living in rivers, lakes, oceans and raindrops, and they guard all kinds of ancient knowledge and treasures. Though they are not necessarily gods, the Nagas are often venerated with offerings, which helps to attract good fortune. Much of this is echoed in Chinese folk beliefs about dragons, as well. Lóng or Chinese dragons are also shapeshifters who can appear human and who bring good luck to those who show them the proper gratitude and respect.
I first learned about the Nagas not from a textbook or a cartoon show, but from my best friend in second grade, a boy named Pawan. Pawan and his family were Indian American immigrants and deeply observant Hindus. I remember seeing various images of the Devas whenever I visited their apartment. I do not recall which sect or tradition Pawan and his family might have followed (and being only eight years old or so, I lacked the head space to even formulate such a question at the time). But I remember asking Pawan's mother to tell me about the Nagas, and she seemed really happy to share some stories with me. It must have been crazy to have this weird little white boy from next door take such a genuine interest in her family's culture and heritage!
But then I would go home and tell my parents about this stuff. For some reason, they were only okay with such beliefs as long as it was Pawan and his family practicing them. I received every indication that it is only acceptable for white people to be Christians and believe in one god, even though neither of my parents has ever been a committed religious believer of any kind. Much later I would meet some of David Icke's followers (most of whom are white), who insisted to me that both Naga and Lóng veneration is really just another part of the evil reptilian plot to murder children and keep the world hypnotized. When these people claim that Asians are actually venerating evil demons or aliens—or if they suggest that such religious traditions are "beneath" white people for any reason—they are blatantly endorsing Christian white supremacism; full stop.
Furthermore, neither the Nagas nor the Lóng are space aliens that ride around in spaceships. There are no tales about them eating people or operating any nefarious shadow governments. They are nature spirits and religious figures, not science fiction monsters. The same is true of other Snake People who are acknowledged in other cultures too, including African Mami Wata spirits and Native American horned serpents. This begs the question: could the ancient Egyptians have believed in something similar? There doesn't appear to be any specific term in Egyptian for "serpent man" or "snake person" (or at least not that I have found just yet); but perhaps this would have been redundant. The Egyptians appear to have regarded normal, everyday snakes as sentient creatures with magical powers. How else could serpents be held accountable to Ma'at, with the good snakes serving Ra and the evil snakes following Apep? This distinction makes little sense, at least to me, unless we stop to consider that maybe snakes are actually people too!
Which helps me circle back to the Netjeru. It is curious that I never felt drawn to any particular Egyptian snake deities until Setken first proposed that we collaborate on his Hymn to the Soul Serpent project together. Only then did it occur to me that everything I ever needed to justify my enthusiasm for snakes (whether as animals, sentient beings, or magical anthropoids) is already included in the belief system I already follow. And when I laid eyes on Setken's humanoid portrayals of Nehebukau, I was taken back to those far-off days when I would play with my Snake Men dolls; when I would weep over the Silurians and the Sea Devils; when I secretly rooted for Cobra or Hydra as reptilian freedom fighters; and when I listened to Pawan's mother explain to me about the Nagas. Could it be that Nehebukau was looking in on me even back then, thinking, "This is the kid I want to co-write a song for Me someday"? Could it have been His double-headed wisdom that helped me see through all of David Icke's bullshit when it was first presented to me? Hell; I reckon Set and Nehebukau probably both had all of this arranged somehow before I was even born!
Writing one song isn't all I think I am meant to do, either. I think Nehebukau has probably put all of this stuff into my brain for some kind of purpose, and I mean to put it to use somehow. This very likely means another album will soon be in the works. I always wanted to make movies when I grew up; and failing that, I enjoy adapting some of my old story pitches from childhood into "soundtracks" for films that don't exist (as with Summer's End and His Nocturnal Majesty, with which I am very happy). I've successfully introduced the crimefighting mummy Het-Sem-Peckinpah to the world, as well as the mysterious Knights In Sutekh's Service. Now that my Halloween and apocalypse "movies" have been taken care of, so to speak, perhaps it is time to revisit my old sword-and-sorcery "movie" pitch as well. It could be that Queen Hissteria, Big Bad Mamba, and other Saurian Warriors of Basilisk Basilica will soon be making an appearance…
Jesus is a dead alien; Satan is a prehistoric sentient ooze; and "God" is the greatest supervillain of all time. This unique fictional theology helped me think outside the box, for sure!
It probably isn't fair that so many of my favorite films are John Carpenter (or Carpenter-related) movies; but it happens to be true, and I'm sure no one is surprised by this. I've already discussed three of these flicks—Halloween (1978), The Thing (1982), and Halloween III: Season of the Witch (1982)—but one of Carpenter's lesser known masterpieces is Prince of Darkness (1987), in which the creator of Michael Myers gives us his version of "the devil." And it is the single most original and engaging take on the subject I have ever seen. If you're expecting to see anything like Tim Curry with big ass goat horns, or even Al Pacino leading a law firm, think again. In Carpenter's Prince of Darkness, everything we think we know about "Satan" is thrown out the window, and what turns out to be true about him is far more terrible than anything conjured by biblical scholars or Christian theologians.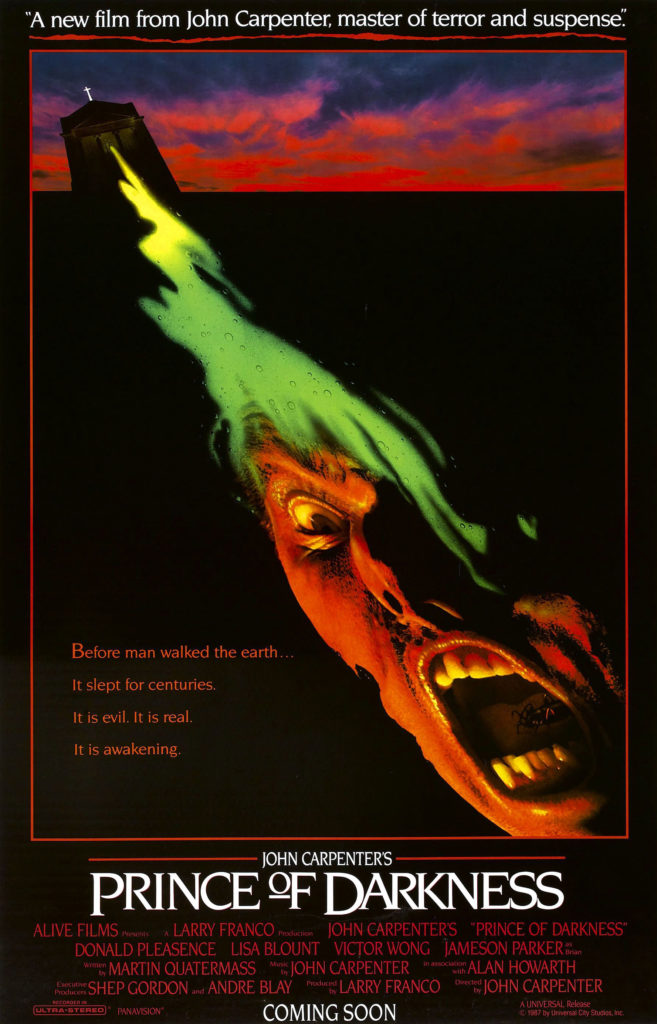 Professor Howard Birack (Victor Wong) is a world-renowned quantum physics lecturer at Kneale University, and his graduate students are some of the best and brightest young minds in his field. There's Brian (Jameson Parker, who resembles a younger version of Tom Atkins in Halloween III); Catherine (Lisa Blount, a mathematician); and Walter (Dennis Dun, a total wisecracker), among others. These up-and-coming scientists are all bewildered by their instructor, who creeps them out with tales of how our human notions of "common sense" break down at the subatomic level, evaporating into "ghosts and shadows." Perhaps it wouldn't be so spooky to hear such things if there weren't so many weird astronomical phenomena happening lately. Something about the lunar cycle seems different, and there's also a newly discovered supernova being reported on TV. Some distant star died countless eons ago, and the particles from that explosion are only just now reaching our galaxy.
Then a Catholic priest (the magnificent Donald Pleasence) requests to meet with Professor Birack. The Priest claims he has made a terrible discovery, and he asks for Birack's help in doing something about it. Birack accompanies the Priest to an abandoned derelict church called St. Goddard's. As they descend into the church's labyrinthine cellar, the Priest explains that he was on his way to visit another clergyman, who unfortunately died before the Priest could arrive. After reading his departed colleague's diary, the Priest learned he had been living alone at St. Goddard's, keeping something hidden in the basement. The clergyman was part of a sect so secret and powerful that even the Vatican doesn't question its actions. Known only as "the Brotherhood of Sleep," the sect has protected whatever the clergyman has been hiding at St. Goddard's all this time. The clergyman was the last remaining member of the sect, and now that he has passed away, the Priest feels it is his duty to continue the Brotherhood's work somehow.
When Birack and the Priest reach the center of the basement, they find a shrine decorated with countless crucifixes, all of which surround an object that stops Birack cold in his tracks. It's a huge container filled with a swirling, glowing green ooze, and something about that ooze makes both men feel like they are being WATCHED. When Birack asks the Priest what this object might be, the Priest refers to it with masculine pronouns ("he/him"), as if it were a sentient entity. He also suggests it might have something to do with the moon and the supernova, and that some even crazier bullshit might be ahead. Is there anything Birack can do to help get rid of this fucking thing?
After coming to terms with this encounter, Birack approaches his students with a one-time offer: a unique opportunity to study this crazy discovery and write a whole bunch of academic papers from it. He also wrangles a few other professors and their students into this plan as well. The team assembles one Friday afternoon at St. Goddard's, where everyone gets a good look at the strange container in the basement. Suddenly no one wants to be there anymore, but they stick around just the same, working and gathering data from the artifact into the wee hours of the night. As they do, some homeless people who have been hanging around the church start behaving like Michael Myers, standing unnaturally still and staring in hostile silence. (One of them is even played by Alice Cooper, who wrote "Prince of Darkness" [from his 1987 album, Raise Your Fist and Yell] for the soundtrack.)
The scientists take turns napping through the night, and whenever they sleep, they each have the exact same dream: a vision of a TV recording someone has made. The footage shows a hideous figure lurking in front of the church in which they are now sleeping. There is also a distorted voice in the nightmare that says:
"We are using your brain's electrical system as a receiver. We are unable to transmit through conscious neural interference. You are receiving this broadcast as a dream. We are transmitting from the year 1-9-9-9. You are receiving this broadcast to alter the events you are seeing. Our technology has not developed a transmitter strong enough to reach your conscious state of awareness. But this is not a dream. You are seeing what is actually occurring. This is not a dream."
When the scientists carbon date the container downstairs, they learn that its mineral content is over seven million years old, and that it came from outer space a well. There is an opening mechanism at the top, but strangely the lid can only be opened FROM THE INSIDE. No analysis of the glowing green ooze can be made, but everyone starts to feel it is ALIVE and WATCHING them somehow.
The team also finds an ancient Brotherhood of Sleep manuscript that appears to contain differential equations—several centuries before such mathematics were previously thought to have been invented! According to this text (which also appears to pre-date the New Testament), Jesus Christ was not a supernatural being, but an extraterrestrial from another planet in some distant galaxy. Jesus escaped from his homeworld when the sun of his solar system went supernova, and he reached our earth thousands of years later, landing in Roman-occupied Judea. There, Christ went around using his advanced alien medical science to heal people. He also tried to warn everyone about what destroyed his home planet. The aliens from Jesus' homeworld discovered there is indeed a Universal Mind that can control the behavior of subatomic particles across all of time and space. But rather than a loving Creator, this Supreme Being is a wrathful Destroyer, seeking not to sustain but to annihilate all things.
This all-powerful Anti-God was somehow "banished" to the realm of anti-matter by Jesus and his people with their incredible technology; but this process required destroying their own sun for some reason (hence the supernova). Unfortunately, the Anti-God knew what was going to happen and created a "son"—Satan—which it buried in suspended animation on our planet, somewhere in the Middle East. Christ came to Earth specifically to find Satan and help the human race get rid of him; for when the devil wakes up, he will cause reality to unravel, allowing the Anti-God to slither back into our universe. But then Jesus was crucified, and the responsibility for all of this fell to the Brotherhood of Sleep. They found Satan and kept him hidden for all these centuries, hoping he would stay asleep until humans could develop a science sophisticated enough to destroy him. They eventually transported him here to St. Goddard's, where the devil has been buried ever since.
No one really wants to come out and say it; but after hearing all of this, everyone knows exactly what—and more importantly, WHO—it is that's watching them from inside that container down in the basement.
Then the scientists realize they have each been having the same nightmare. The Priest explains that historically, everyone who encounters the Brotherhood of Sleep starts to have this dream every night for the rest of their life. Brian and Catherine theorize that the dream might actually be a real message from the future, sent backward in time by scientists via "tachyon beam" signals that our brains can only receive as dreams. The message makes it clear that if something isn't done about the entity trapped downstairs, the world will somehow end in 1999.
And it's at this point in the movie when the glowing green ooze OPENS ITS OWN CONTAINER and starts spraying itself at people, right into their mouths. After they choke on the slime for a while, it takes complete control of their bodies, effectively "possessing" them. This explains what happened to all the zombified homeless people lurking outside the church, and why they butcher anyone who tries to leave. Being dead does not prohibit the slime from possessing its hosts either, for several of the scientists' mangled corpses are converted into zombies as well. Most of the ooze absorbs itself into one scientist in particular, sending the poor lady into a coma. The remaining survivors are trapped inside the church for the entire following day, unable to call or send anyone out for help.
As night falls on the second day at St. Goddard's, Satan's primary host—who is now horribly disfigured and equipped with fierce telekinetic powers—awakens from her coma. The Prince of Darkness then transforms every mirror in the building into some kind of interdimensional gateway. On the other side of each gateway lurks the Anti-God, which is anxious to step back into this world and start the apocalypse. Just what the hell can Brian, Catherine, Walter, Birack, or the Priest do to stop any of this insanity? I ain't gonna tell you; go watch the movie to see!
Without a doubt, Prince of Darkness is the most inventive and thought-provoking "devil movie" I have ever seen. Carpenter wrote the script under the pen name "Martin Quatermass," which is an obvious homage to Nigel Kneale. (He even named the fictional college after his hero, calling it Kneale University.) The premise is very similar to Quatermass and the Pit (1967), in which another team of scientists battles a similar alien force that is likewise revealed to be "the scientific reality" behind a supernatural force. I think the concept for Prince of Darkness might have originated from when Carpenter was still involved with Halloween 4 (1988) during its pre-production phase. He had pitched a script by Dennis Etchinson in which Michael Myers returns as some kind of reality-bending ghost. When this premise for Halloween 4 was rejected, Carpenter reworked it into the script that later became Prince of Darkness. (He even wrote in a character named "Etchinson," who is clearly named after the horror novelist.) Carpenter was also reading tons of shit about quantum mechanics at the time, and all of this stuff collided together in his brain to form the idea of a cosmic supervillain: the all-powerful Anti-God.
If it seems unlikely that Prince of Darkness came from a rejected pitch for a Halloween sequel, just look at the Priest. He is functionally similar to Dr. Loomis from Halloween (1978) in almost every way; the Wise Elder who knows about the Evil, and who tries to do something about it. He even refers to Satan as his "prisoner" at various points, as if he were Dr. Loomis referring to Michael Myers. It also seems relevant that Carpenter chose not to give this character a name. When you watch Prince of Darkness with subtitles, the captions identify the Priest as "Father Loomis" for some reason (even though he is never addressed by name, not even in the end credits). Based on Pleasence's performance here, I almost think Prince of Darkness is actually a direct sequel to Halloween from some alternate timeline. Perhaps in this cinematic universe, Dr. Loomis gave up on psychiatry after shooting the Shape at the end of Halloween, then launched a new career for himself in the Catholic Church. But now he is tasked with handling yet another unstoppable prisoner, and this one is even worse than the last!
Pleasence gives one of his very best performances here. When the truth about Satan is revealed, the Priest quickly accepts that the Catholic Church and its teachings are all a sham. But we can also see the terrible strain this knowledge puts on him. When the Priest hides from one of Satan's hosts, he stands there quietly, whispering desperate prayers to his god. You can see on his face that he doesn't really believe in who he's praying to anymore. Something about Pleasence's voice during that scene always makes me want to reach through the TV and tell him, "It's gonna be all right, Father; let's invoke SET into ourselves and BLUDGEON these slimy zombie fuckers SIX WAYS FROM SUNDAY!" Yet the Priest never becomes a problem or a liability for the other characters; he is nothing like Blair from The Thing (1982), who just totally loses his shit and tries to kill everybody. The Priest clearly isn't having an easy time with any of this "Space Jesus" stuff; but his heart is still in the right place, and he does his best to stay useful and sane.
Another actor who is truly fantastic in this film is Victor Wong. You've probably seen this guy in tons of movies, but he also appears in John Carpenter's Big Trouble in Little China (1986) as the benevolent kung-fu wizard, Egg Shen. Wong is another character actor who was generally cast to play the exact same role in everything he did, usually appearing as a monk, seer, or martial arts master (as seen in films like The Golden Child from 1986 and Three Ninjas from 1992). But Prince of Darkness is one of the few films I've ever seen in which Wong is not typecast in this way at all. Here he gets to be a goddamn quantum physicist, a role that would have normally been reserved for a white male back in 1987. Professor Birack is also one of the main characters, which is especially meaningful since Wong was typically cast only for supporting roles. As a matter of fact, Prince of Darkness features not one but two Wise Elders who know about the Evil and are trying to stop it: Birack and the Priest.
As a Pagan, one of my biggest pet peeves in science fiction is the conflation of Pagan deities with "ancient astronauts." We see this trope again and again in things like Doctor Who, Stargate, and any number of other media fandoms. This notion stems from the white colonialist belief that other cultures simply "couldn't" have accomplished their own achievements by themselves. To claim the pyramids were built by aliens rather than the ancient Egyptians, for example, is to claim the Egyptians were not as smart or resourceful as the Greeks or Romans (who are almost never accused of having anything "provided" for them by aliens, likely because they were white). The Egyptians were a highly advanced people and they did not need any help from extraterrestrials to develop their religion, their art, their fantastic monuments, or anything else.
Almost no one EVER writes this kind of bullshit about Jesus Christ, and we know exactly why that is, don't we? Because if anyone did, Christians would get all butt-hurt about people dehumanizing their beliefs and traditions. For some reason, this never seems to apply to other deities and religions; writers dehumanize Pagan beliefs and traditions ALL THE FUCKING TIME. But John Carpenter's Prince of Darkness gets revenge for this by unabashedly "alienizing" Christianity, giving Jesus and Yahweh the exact same treatment that things like Doctor Who give to Set!
(Incidentally, there are at least two other films I know of that "alienize" Jesus like this. One is Giulio Paradisi's The Visitor [1980], which is just awful, and another is Larry Cohen's God Told Me To [1976], which is actually pretty terrific. But neither of these films holds a candle to Prince of Darkness.)
I enjoy the fact that Carpenter completely deconstructs Christian mythology here. Compare Prince of Darkness to End of Days (1999), for example. The latter is an A-list, big budget exploitation movie that only exists to satisfy the demand for sex and violence. There's nothing wrong with this in principle, but End of Days also tries to pass itself off as a "religious" movie that wants to "scare you back into church." In Prince of Darkness, no sanctimonious lip service is paid to Christianity whatsoever; the entire religion is written off as simply being false. Absolutely none of the traditional Christian weapons against Satan (crucifixes, exorcisms, etc.) will work. The message I take from this film is, "God is EVIL, and the only way to stop him is with SCIENCE!" If End of Days wants you to get your ass to church, Prince of Darkness wants you to get your ass to a quantum physics classroom.
As a Setian, this film speaks to me very deeply, and in at least two different ways. It's intriguing to think that Satan himself is not the true source of evil here, but just a facilitator for an even greater and more powerful villain. The Anti-God might as well be Apep from Kemetic mythology: an unstoppable disintegrator of reality that can be repelled, but which can never be completely defeated. It's very easy for me to imagine the Brotherhood of Sleep and its new recruits (the Priest and the scientists) as a constellation of souls chosen by Set to try and cast this monster back into the void. On the other hand, the film also speaks to me in terms of my own religious conversion, in which I realized:
There is this thing in my life that I would call a God.
This God I experience defies everything I was told about "God" as a child.
Conventional religion just can't seem to handle this God, because He scares most religious people too much.
So watching Prince of Darkness, in which the characters make these exact same discoveries about the Anti-God, really made an impression on me. The movie seemed to tell me, "Yes, G.B., it's totally okay for you to THINK BEYOND CHRISTIAN IDEOLOGY!" When people around me learned of my love for Set, many of them insisted I was "worshiping the devil" and would "burn in hell." (Some people still tell me this today.) Prince of Darkness helped me break out of this mental trap by reinforcing the idea that there CAN be higher cosmic realities that defy conventional religious expectations. This helped me come to terms with Set's true identity as a Kemetic Netjer and understand that He is not, in fact, "the devil." It also helped me understand that I am a Setian and a Kemetic polytheist, not a Satanist or a devil worshiper.
As a final note, John Carpenter typically scores most of his own films, and Prince of Darkness is no exception. The movie features 50 minutes or so of eerie electronic music by Carpenter and his frequent collaborator at the time, Alan Howarth. This score is haunting and beautiful, perfectly capturing the threat of total cosmic decay. Before I started composing my own tunes, this was one of my favorite albums to play during my rituals to Set. It has definitely been a major influence on my latest release, His Nocturnal Majesty, and I highly recommend it to anyone who enjoys my work.
How a really terrible Arnold Schwarzenegger movie influenced my spirituality and art.
Previously I discussed the television series Millennium, a brilliant show that made a huge impression on me as a Setian teenager back in the 1990s. There was another apocalyptic-themed horror romp from that era which made a huge impression on me too, but it was not nearly so remarkable. In fact, it's really a terrible production most any way you look at it. But in those crazy days just before January 1, 2000, when lots of people were kinda worried the world might actually fall apart on New Year's Eve, there was one theatrical film that dared to exploit all that juicy endtime paranoia. And shitty as it was, I'd be remiss if I didn't address some of the influence it has had on me.
That's right, I'm talking about the one and only End of Days (1999), that magnificent shit show in which Arnold Schwarzenegger squares off against Satan himself, who's prowling the streets of New York City in Gabriel Byrne's body. Oh gods, where do I even START with this fucker?
Okay, so the story begins with a bunch of clergymen at the Vatican freaking out about a comet and some prophecy about a "satanic" child being born somewhere. Then, in New York City, Udo Kier kills a snake and baptizes a newborn baby girl with its blood. The girl just happens to be born with a birthmark that resembles some kind of glyph. Then, confusingly, we fast forward to December 1999, when a semi-invisible creature rises up from the sewers of NYC to possess some random business dude (Gabriel Byrne) so it can grab some poor lady by her bosom, then blow up a restaurant. Then we meet Jericho (Arnold Schwarzenegger), some kind of private security guy whose family was murdered and who is just one stone's throw away from killing himself. Jericho is hired to protect the dude who's possessed by Satan, which comes in handy when a crazy Catholic priest with no tongue tries to assassinate the guy.
Jericho does his job, but he doesn't like the way things add up. So he decides to investigate the priest, which somehow leads him to track down Christine (Robin Tunney), the woman who was born and baptized at the beginning of the movie by Satanists. This is convenient too, because it turns out Satan is searching for her. Apparently, Christine was bred to be his bride at the End of Days. If the devil succeeds in raping Christine at the stroke of midnight on New Year's Eve, it will somehow allow him to take over the world and burn the whole thing down to a crisp. This is all explained to us by another Catholic priest (played by Rod Steiger) who leads an underground movement to find Christine and keep her safe. But at the same time, a rival sect within the Church has sent an army of assassins to kill Christine before Satan can get to her. Any way you slice it, Arnold—er, I mean Jericho—feels compelled to get Christine the hell away from everyone. The whole thing leads to a midnight black mass in the sewers, a subway chase scene, and then a final confrontation in some random church. Satan possesses Jericho at the last minute before midnight, and all seems lost; but Jericho resists the devil's will to rape Christine and commits suicide instead, thereby saving the poor lady and canceling the apocalypse.
(Are you keeping up with all of this? Fascinating how much plot they managed to cram into this movie, especially considering how shallow and empty the film actually is!)
End of Days clearly wasn't made by dogmatic Christians; otherwise the writers would have adapted the book of Revelation much more faithfully (pun intended). It is the pinnacle of absurdity when Rod Steiger rants about how Jericho should "read the Bible" to understand what's going on, given the absence of any real biblical content in this story. The fact that Steiger comes across as angry and scolding while he does this is definitely a turn-off, too. The film presents itself as trying to "scare audiences back into church," but it doesn't care enough to get any of its own bullshit right! Instead of actually adapting the book of Revelation or anything like that, this is basically just a Terminator movie that swaps the supernatural for science fiction.
Consider this film's version of the devil, for instance. Other cinematic adversaries of the time were quite a bit more interesting, such as Al Pacino's take on Lucifer in The Devil's Advocate (1997) and Denzel Washington's face-off against Azazel in Fallen (1998). Gabriel Byrne's devil, however, is little more than a two-dimensional slasher movie villain who stalks and slashes people. This is quite a shame too, because Byrne is a magnificent actor and could have really owned this role if he had been allowed to do so. As it is, he just stands there, says a few cliches, and gets shot at. I suspect the director, Peter Hyams, is the real reason why Byrne's performance in End of Days seems so forgettable. Maybe it's just because I'm a Setian and I actually know the complex history of where "the devil" came from; but I personally prefer my satanic horror movies to be a little more innovative, thought-provoking, and weird. (Just wait for my NEXT sermon, in which I will give a most excellent example of what I mean!)
I also have two very serious objections to the plot. First, I don't appreciate the fact that this entire story hinges on the threat of Christine being raped. And yes, I'm aware that she says, "I'm scared I might WANT to sleep with him" at some point; but I don't care. Being hypnotized into having sex with someone STILL COUNTS AS RAPE. (In fact, there are other lady characters in the film who are raped in this manner.) And since there is no mention of the devil actually raping anybody in the book of Revelation, a decision was clearly made to capitalize on Satanic Panic hysteria here. I not only find this distasteful; I find it disgusting. They could have just as easily written it so that Satan has to eat a ham sandwich on New Year's Eve to start the apocalypse (which would have been much more entertaining, actually!)
My second objection relates to the main character, Jericho. Let's be honest here: Arnold Schwarzenegger isn't exactly the greatest actor who ever lived. But his acting ability isn't a problem for me; I enjoy him in many of his films just for his charisma. No, the problem here is that Jericho is written as a suicidal person who eventually HAS to take his own life (and at the Christian god's behest, in fact). He has no character arc to speak of; he never grows or learns anything, he just stays exactly the same all the way through. So when Jericho has to kill himself at the end, it's not like he says, "But wait, I'm not suicidal anymore!" or anything like that. No, far be it from End of Days to offer us any sort of character development. It's more like Jericho has been waiting to kill himself this whole time, and now he can finally get it over with. The message I take from this is incredibly ugly, toxic, and mean-spirited. It feels like End of Days is saying, "Suicidal feelings are GOOD because they make men MANLY, and they make us better suited to serve God's will!" And that is not a message I can ever agree with.
By now, you must be wondering how on earth End of Days could have influenced my spirituality or my art so much, given that I am so hyper-critical of this film. Well, the answer lies partly in my criticisms, which I will explain further in just a moment; but it also partly lies in the soundtrack. And no, I am not referring to the compilation album with the Rob Zombie and Guns N' Roses songs. I'm talking about the instrumental movie score by John Debney, which features a lovely fusion of choral, orchestral, and electronic music. As soon as I heard this stuff while watching the film at the theater, I knew I had to purchase it on CD. I fucking hated End of Days as a movie, but the Debney score continues to be one of my all-time favorite records, even today. I listened to it every day for a while in high school, and it inspired me to try and come up with my own crazy apocalypse movie. I tried writing this as a script or a novel for years, but I could never quite hammer out the details in a way that satisfied me. All I knew was that I wanted it to be a Setian take on Armageddon, rather than a Christian (or quasi-Christian) one. And now, twenty full years later, I have finally actualized this dark dream in a form that others can enjoy: the album, His Nocturnal Majesty (2020).
But while I despised End of Days upon my initial viewing, something about the movie kept making me want to re-watch it over the years. I still think it is an egregiously stupid movie, and I would never recommend it to anyone. But at least now I can appreciate the film for a few reasons. I do rather enjoy the action sequences; Byrne's devil is boring, but it is fun to watch Schwarzenegger launch grenades at the bastard. (I really enjoy the subway sequence in particular, for some reason.) I also enjoy the fact that whenever I watch End of Days, it takes me back to December 1999. I remember being skeptical of the Y2K bug and all that stuff; but there was still a tiny little part of my brain that wondered, "What if the world really does end tonight?" on New Year's Eve that year. End of Days is not really a "religious" movie at all, for it has nothing of any real spiritual value to offer. It is instead an A-list, big budget exploitation movie. The real point was to exploit all that apocalyptic fear everyone was feeling, and to show us as much gore and sleaze in the process as possible. While I would much prefer the story to have been written without any rape or romanticization of suicide, I do have to admire the filmmakers for being so damn eager to deconstruct Christian apocalypticism in this manner.
One thing I absolutely adore about End of Days, however, is Arnold Schwarzenegger's attitude toward Satan throughout the entire movie. I mean, he actually tells the devil "YOU'RE A FUCKING CHOIR BOY COMPARED TO ME!" at one point. And cheesy as it might sound, I love it! I think it perfectly exemplifies what Set probably thinks and feels whenever He locks eyes with Apep!
How my favorite TV show—a 1990s police procedural with apocalyptic overtones—influenced my walk with Set.
Millennium is one of my favorite TV shows ever made. It was created by Chris Carter, who also created The X-Files, and certain characters have appeared in both shows. But Millennium is no mere "X–Files spin-off"; it features a completely different cast of characters dealing with entirely different problems. While Special Agents Fox Mulder and Dana Scully track down weird monsters and alien conspiracies, retired FBI profiler Frank Black (played by genre favorite, Lance Henriksen) gets sucked back out of retirement to track down some of the most evil human beings imaginable. This is because Frank has a preternatural knack at seeing into the mind of every rapist, serial killer, or terrorist he targets his attention on. He can read about a murder in the paper and start getting random flashes of whatever the perpetrator is thinking and feeling. Much of this is due to Frank just being really good at his former job; yet he also clearly has "the second sight," even catching glimpses of ghosts, angels, and demons from time to time. And as much as he wants to stay home with his wife and daughter and pretend "the bad men" aren't really out there, Frank just can't help himself; he's driven to track down every evil thing he can pick up on his psychic radar, no matter what.
Frank is approached by a private investigation firm called the Millennium Group, which consists of various ex-law enforcement personnel who've drawn some terrifying conclusions from all the horrific cases they've worked. For them, evil isn't just a human ethical failing; it's a real supernatural force that actively seeks to destroy our world (and which gets closer to achieving this goal every day). Every single rape or murder that happens is really a part of this gigantic plot, whether the human perpetrators fully understand what they're doing or not. The Millennium Group also worries that the world might actually end in the year 2000, or perhaps not too long afterwards. Even though many members are deeply religious Christians who look forward to an eventual Second Coming, they nevertheless believe we can't just sit back and "hope for a happy ending." If something isn't done about the state of things right fucking now, there may not be any human civilization left for Jesus to save when he comes back. So the Group uses a wide variety of resources to apprehend the human monsters that live among us, trying to save the world one case at a time. These resources include everything from all the best forensic science units to vast libraries of astrological, theological, and magical texts. And the Millennium Group is especially interested in Frank Black since he's not only a total wizard at criminal profiling, but apparently an actual seer or oracle of sorts as well.
This show was inspired by many of the apocalyptic fears that ran rampant toward the end of the 1990s. (Does anyone else remember the Y2K scare?). This leads some people to think its subject matter is no longer relevant today. Let me just say, I beg to fucking differ. If there is one horrible truth that Millennium taps into, it's the fact that people will always have apocalyptic fears that drive them to do terrible things. Even more terrifying, certain people actually want the world to end and will do everything they can to ensure that it does. This is every bit as true today in 2020 as it was back in 1996, and I would go so far as to say that Millennium is actually far more frightening and disturbing now than it was back then. I always found it much scarier than The X-Files because it was willing to take so many more risks. This is a show in which literally anyone can die at any time, and the fact that it lasted for three seasons (in the era of more popular shows like Angel and Buffy the Vampire Slayer) is nothing short of amazing.
In the very first episode, Frank picks up his newspaper and learns that a local stripper has been horribly butchered. He then starts having visions of how (and, more importantly, why) this happened. That's when Frank realizes he can't just stay home and be with his family; he has to go back to work. (And the look that crosses Lance Henriksen's face at that pivotal moment always makes me tear up and cry a little). So he approaches some old pals in the Seattle PD and offers to help them investigate the case. They eventually catch the killer, who thinks he's the Messiah and is "passing judgment" on people by doing things to them that would have made Josef Mengele proud. But not before we see two of the most disturbing things that were ever shown on TV in the 1990s. First, Frank's gift allows us to see just how Mr. Serial Killer sees the world, and it might as well be called "Hellraiser in the Park." Then we get a scene where Frank and the cops uncover a man who's been buried alive…and whose bodily orifices have all been stitched shut. They don't just refer to this stuff off-camera, either; they fucking show it to us, clear as you please. That might not seem too impressive in today's post-CSI world of gory police procedurals; but this was in 1996, and nothing like that had ever been seen on prime-time network TV before. Not even Law & Order or NYPD Blue went that far at the time, and this was all in the very first episode of Millennium, to boot! It scared me to death when it first aired back in October 1996, and it still gives me the shivers today.
The three seasons of Millennium are drastically different from each other, as well. Apart from Frank Black's psychic gift, there is almost nothing of the supernatural to be seen in the first season at all; the show is mostly just a police procedural at first, with our heroes chasing a different serial killer or terrorist each week. But as the season progresses, more explicitly supernatural things begin to happen. I will never forget the episode, "Lamentations," in which Frank and the Millennium Group realize the killer they're chasing is really a shapeshifting demon. The episode "Maranatha" is also terrific, featuring a Russian dignitary and mob boss who might actually be the Antichrist. These episodes were so brilliantly written, they completely caught audiences off guard at the time. Here we were, thinking this was just a police procedural with entirely human antagonists to be defeated; and then all of a sudden Chris Carter changes the rules on us and turns things up to 11. I remember being scared shitless by the scene in "Lamentations" when "Lucy Butler" walks down the staircase, showing us her real face between lightning strikes.
The second season of Millennium is my personal favorite; we get into some really crazy stuff here. Frank's psychic powers become much stronger, he becomes more involved in the Millennium Group's internal affairs, and he meets a lady named Lara Means (played by Kristen Cloke) who can see angels. (Whenever she sees the angels, it means something real fucked up is about to happen.) Frank also learns the Millennium Group consists of different factions that are bitterly opposed to each other, and that some high-level members are every bit as evil as all the serial killers and terrorists they help to catch. This leads to some truly remarkable stuff, including a civil war within the Millennium Group, a battle against Nazis for the Cross of the Crucifixion, and even the outbreak of a deadly supervirus! In some ways, Millennium Season Two almost feels like a totally different show; but the changes all worked, and every Millennium fan I know considers this era of the series to have been the very best.
Unfortunately things did not turn out quite so well for Millennium Season Three. I remember waiting patiently through the entire summer of 1998 to see how Frank and his daughter Jordan (played by Brittany Tiplady) were going to escape a plague-infested Seattle. But when Season 3 begins, Frank and Jordan are suddenly living in Virginia with Jordan's grandparents. We are told the outbreak in Seattle "wasn't actually as bad as it seemed," and nobody but Frank even seems to remember that it happened. Meanwhile, Frank teams up with FBI Special Agent Emma Hollis (played by Klea Scott) to try and bring down the Millennium Group, which has become completely evil. Peter Watts (played by Terry O'Quinn), who was Frank's sidekick in Seasons One and Two, is now re-cast as Frank's arch-nemesis. None of this has anything to do with where Millennium appeared to be going in Season 2, and it alienated most of the fan base pretty badly. Plus, most of the stories in Season 3 make no fucking sense at all; they are more like rejected X-Files episodes that are just weird for weirdness' sake. It took me several years to finally watch the entire season all the way through, and I have zero interest in ever trying to doing so again. It felt like Chris Carter lost his marbles and decided to just give all of us Millennium fans the finger.
To add insult to injury, Carter included Frank Black as a guest character in an episode of X-Files after Millennium was canceled in 1999. In this episode (rather creatively titled "Millennium"), Frank is living in a psych ward when Mulder and Scully come to ask him some questions about the Millennium Group. This leads to a so-called "final confrontation" between Frank and the Group at a cabin in the woods, where the last remaining Group members have been turned into zombies. I for one do not know what the fuck Chris Carter was thinking when he wrote all of this. During Millennium's three-year run, viewers learned the Group is up to all kinds of crazy shit, including biological warfare. But according to The X-Files, the Millennium Group is really just a handful of zombies locked up in a basement. What the FUCK? To say that Millennium fans were disappointed by this is an understatement.
In Egyptian cosmology, our universe is sustained and held together by Ma'at, which is both a principle and a goddess. As a principle, it essentially represents helping others to help yourself, both in this life and in Duat (the Otherworld). The ancient Egyptians believed Ma'at is always endangered by the forces of isfet, which are led by the Chaos Serpent. Should Ma'at ever be completely dismantled, the entire cosmos would cease to exist. The "apocalypse" was not a "future" event that had yet to occur, but an ever-present threat that could happen at any possible moment. And the Egyptians believed it was really everyone's responsibility to help prevent this from happening. The key to upholding Ma'at and fighting isfet was to be a good neighbor and citizen, treating others as you yourself wished to be treated. In this way, every human ethical decision has some part to play in the never-ending war between the Netjeru and Apep, no matter how small or insignificant such decisions might seem.
Millennium really speaks to me on this level. Though it is mostly inspired by Christian themes, the idea of the Millennium Group trying to save the world one case at a time struck me as being more of a Kemetic concept. It was especially meaningful to me that Season 2 aired during my freshman year of high school, which was my very first year of walking with Set. My first weekend Sabbats were spent watching Millennium with Big Red and wondering how I could grow up to become just like Frank Black. I even considered studying to become a criminal profiler myself at one point, if you can believe it. (But then I came to my senses and remembered I struggle with depression enough as it is; so investigating murders and such is probably the last thing I should be doing). If there is any particular character from popular culture who has shaped my concept of "What it means to be a Setian," it is most definitely Frank Black, who taught me that even the smallest acts of human kindness can be major victories for Ma'at!
My soundtrack for a Setian apocalypse.
2020 has been a year of horrors. Apart from the pandemic and watching the world burn and living beneath a stumbling demented child-king, I have essentially lost my mother, even though she is still alive. There have been so many times this year that I have wanted to just give up and die. But in searching for ways to cope with all the madness, I have at least been able to channel my immense grief into the work I do. Creating the In the Desert of Set podcast, the Summer's End album, and other artistic projects has been very therapeutic to me, and I hope these works prove helpful to others too.
The week of the 2020 American presidential election was so taxing on my nerves and emotional state that I couldn't eat, sleep, or concentrate on anything much; I couldn't even focus on writing any sermons. All I could do was try to capture the fear, despair, and rage inside me in music. In doing so, I have surprisingly put together a new full-length album just one month and some change after releasing Summer's End.
This work, His Nocturnal Majesty, is something like a soundtrack to a movie that doesn't exist. It is very much inspired by two of my favorite films, The Final Conflict (1981) and John Carpenter's Prince of Darkness (1987), which both deal with the apocalypse and ultimate evil in ways that subvert organized religious dogmas. (In The Final Conflict, the Antichrist is defeated by a godless feminist and single mother; in Prince of Darkness, Lucifer turns out to be the Supreme Being!) I've always wanted to see something of this unique subgenre that takes its cues from Kemetic rather than biblical sources. I have tried developing this premise into some kind of novel, comic, movie or TV show for decades, but I can never seem to figure out just how I want the story to go, or even who the characters are.
All I know is, I had a terrible nightmare back in the 2000s that I have never forgotten. In this dream, the world had grown so irredeemably evil and corroded that the very fabric of reality started to unravel, and the Chaos Serpent was finally able to slither into this world and devour us all PHYSICALLY. It appeared in the sky, big enough to blot out the sun and the stars, just a gaping giant mouth surrounding the globe, ready to swallow and digest us into its putrid gut. It was suddenly nighttime all over the world at the same time, and people and animals were all losing their minds and eating each other in the streets. But just when all seemed lost, a big beefy red hand came out of nowhere and knocked the Serpent right back into hell. And somehow, this battle between Set and Apep above our atmosphere was being magically reflected in a battle here on earth between some courageous heroes and these profoundly evil terrorists who actually wanted the world to be eaten.
I awoke from this crazy dream scared out of my mind—I will never forget seeing the sky turn into a MOUTH like that—and I knew I had to do something with it. Like I said, I struggled to develop it into any kind of coherent story with interesting characters. I can't even draw the things I imagine; my drawing style is a little too cute and cartoony-looking for me to stomach its inclusion in a concept as serious and heavy as this. But while I was sitting there screaming in silence during the 2020 election, I kept thinking about that crazy nightmare, and it hit me rather suddenly: I just released Summer's End, which is kind of like my soundtrack for a Halloween-themed movie that doesn't exist. Why not turn this other movie that doesn't exist into an album too? And next thing I knew, I had 50 minutes of new music ready to release.
My first plan was to sit on this material and wait to release it till next year, in case I wanted to make any changes. Something in my brain said, "You just released an album, wait till next year to release the next one." But I have listened to this thing over and over again non-stop all week, and I'm pretty sure it's finished now; His Nocturnal Majesty is ready for the public. I also get the sense that Set would like it very much if I released this album so people can enjoy it now. After all, why wait? Maybe hearing this stuff might really help someone. Well I don't know who you are, but here you go; I hope you enjoy this latest batch of Kemetic Setian darkwave goodness!
The continuing discussion on horror movies and spirituality with two of my brethren in the LV-426 Tradition!
Today's adventure is a continuation of my discussion with Tony and Patrick, two of my brethren in the LV-426 Tradition, about spirituality and horror movies. (For Part 1 of this discussion, check out Episode #52 of this series.)
Tony and I met in Texas in 2000, and when we started meeting for Sabbats back in 2003, the LV-426 Tradition was born. Tony was also the frontman for an awesome death metal band called Hexlust, which released the album Manifesto Hexcellente in 2015.
Patrick and I met in Michigan in 2009, and he joined the LV-426 Tradition in 2010. Patrick is a writer, podcaster, and lover of all things play. He also writes for Fyx, a blog about video games.
An episode of Patrick's show, Easily Distracted, featuring me as a special guest!
Tony and Patrick are not just my friends, but my brothers in Set. We treat each other like family, and we are truly blessed to know each other. These gentlemen are also two of the most brilliant and analytical Setians I have ever had the pleasure of meeting. So without any further ado, please welcome Tony and Patrick to the show!
Tony: So, possession films. I just literally watched The Exorcist (1973) a couple days ago, along with Exorcist III: Legion (1990) and The Exorcism of Emily Rose (2005). All of that stuff is very black and white! "Somebody is controlling you. We're going to have a strong monotheistic character take that away, and you're gonna be okay." I don't know, but I'm wondering though; will there ever be a possession film that's a little more "Pagan-friendly?"
G.B.: A large part of that boils down to how the concept of "possession" is portrayed in different religions. When you discuss possession in a Christian context (which most of these films do), it is always about casting spirits out from people's bodies through the power of Christ. But what if you're a practitioner of Vodun or Quimbanda? Adherents of those faiths experience things like being "ridden by the Lwa," which means that "possession" is actually a fundamental part of religious worship in those traditions. So if you were to try and write a story like that from an actual Vodun perspective (as opposed to a Hollywood "Voodoo" perspective), the possession would need to be portrayed a good thing.
Tony: When Father Merrin [Max Von Sydow's character in The Exorcist] comes in, that whole scene to me…It's like a Schwarzenegger movie. Here's the other priest who's actually a psychologist and who says, "Well, here is the background" and all that stuff. But Father Merrin's like, "Enough vagina talk, I'm the expert, I know what I'm doing!" And then, of course, he dies of a heart attack.
G.B.: Yeah, things don't quite turn out so well for him in the end.
Tony: I'm glad they took that route though, because they could have easily just had the priest exorcise the demon, then say, "Okay, everybody should be a Catholic." Which is still the main idea behind that movie: "Shame on you for not being a Catholic. You need to be Catholic."
Patrick: It would be interesting to see a non-Christian possession film, but I think the only way that would work is if it were something produced by indigenous filmmakers who actually have a deep understanding of those traditions and ideas. We need to find some indigenous filmmakers to support and watch their movies, because that would go a huge way toward creating something like that.
Tony: Well I have a question for you, G.B.
G.B.: Okay, what's that?
Tony: This is about the views we had when we were younger, versus the views we have now. I remember you used to tell me, back when you were living in Houston, you would go after school or after work, pick up a six-pack, sit down, and watch the Jason movies while drinking the six pack. Back then, you and I would just watch these movies for the lewd content and the violence. But now that we're older, has your perspective changed at all toward some of these movies? Like the 1980s slashers, which seem to take a "moral high ground" against pre-marital sex, drug use, or alcohol. Do you still enjoy movies like that, or do you feel you can't really enjoy that stuff now, because it's too much like visiting some Christian "Hell House" for Halloween?
G.B.: That's a very good question. Yes, slasher films are infamous for having this weird moral subtext that seems to condemn young people (especially women) for having sex, getting drunk, doing drugs, having fun, and being liberated, then getting killed in excessively gory, violent ways by these psychopaths. Especially with movies made in the 1980s, it is very easy to read that as a "judgment" against those kinds of behaviors (like, "No, you shouldn't be doing this"). We have to keep in mind, these are exploitation movies, they were made for one purpose and one purpose only: to exploit the market (and to exploit the teenage moviegoer market, in particular). They're targeting teenage boys of the 1980s in particular.
Patrick: Yes, on a surface level, these films seem to moralize about punishing teenagers for having sex and drinking and partying. This applies less to the Halloween films than it does to the Friday the 13th movies, the Nightmare on Elm Street series, and all the cheap knock-offs that have been made of those movies. One thing I don't appreciate about some of the latter films is how they try to make you like the killers in them. They make the killers into these charismatic characters, and we are supposed to like them more than their victims, which has always bothered me.
Tony: Many people like the bad guys, especially right now, because we're in a culture that loves punishment and justice. We LOVE it! And the killers in these movies are the judges, the punishers, the executioners. People want that feeling of, "I'm justified in my belief that these people are doing things wrong, so Judge Jason, go out and kill them all. Now I feel good about myself!" So that's why I think everybody loves the bad guy so much; the bad guy is the judge, the executioner, and a lot of people obsess over that. I know we're talking about horror movies, but at the same time, you can't not discuss what's happening in the world. Especially where I live, everybody's got the fucking Punisher logo are on their back windshield, and everybody has a black and white flag with a blue stripe in the middle. And I see these things, and I'm like, "Why is everybody is so obsessed with punishing people?" And that goes back to the horror movie fans who are like, "I love Freddy, 'cause he shows those rotten kids what's what!" They may not come right out and say that, but it's subconscious. That's what they like, because Freddy Krueger is the judge, just like Jason is the judge.
Tony: What I want to know is, why can't everyone be like me and just accept that Judge Dredd is the ultimate judge?
G.B.: [Imitating Sylvester Stallone.] "I AM THE LAW!"
[Laughter.]
G.B.: The inclusion of all the sex and the violence in these movies is really just to satisfy the desire of the target audience to see sex and violence. It's not actually meant to communicate an anti-sex message; if it were, I'd expect to see church groups listed in the production credits. And trust me, some of the movies those church groups make might as well be slashers. [See Estus Pirkle'sIf Footmen Tire You, What Will Horses Do? as a primary example.]
Tony: Well, I remember in high school I was invited and I didn't go, but I was invited to a hell house, and I was like, "What the hell is a hell house?" And they were like, "Oh, it's this thing where we show cautionary tales of this couple who go drinking and driving, then get decapitated." And I remember they described to me what I think was actually a simulated decapitation, complete with fake blood and stuff like that. And I'm like, "I love how Christians condemn horror movies, yet they sure do like peddling it on the side."
G.B.: And The Passion of the Christ. Just what the hell is that?
Patrick: It's a snuff film.
G.B.: Exactly, it's a glorified snuff film. But returning to how I feel about slasher movies now. I used to enjoy quite a few of them when I was a young Typhonian foal; but as I grew older, I came round to thinking some of these movies are really bad, and some are actually pretty sick.
Patrick: Thankfully, over the last few years, we've started to see a renaissance build. But for a while there, slasher movies were dove-tailing together with home invasion movies, and I explicitly hate home invasion movies. If they are just randomly picking a house on a street and invading it and then torturing the people who live in it, I am not interested. That's not entertaining.
G.B.: I still enjoy the Halloween movies, and I still enjoy most of the Friday the 13th movies too. I really only enjoy the first two Freddy Krueger movies, I don't care for the rest of the Nightmare series.
Patrick: I like Freddy Vs. Jason, 'cause it's stupid and absurd. I don't think it's a good movie though; it's fun, but apart from that…
G.B.: And maybe a few other exceptions, like The Slumber Party Massacre (1982), which is kind of a funnier take that was actually written and directed by women. But apart from exceptions like those, I've generally turned sour to the slasher genre. I'm really much more engaged with sci-fi and British folk horror, like Alien and The Wicker Man and the other films we've been discussing.
Tony: OK I have a question for you both. You guys are die-hard Halloween fans; hell, we all are. But how do you guys truly feel now that there's been some time since the release of the Rob Zombie remake in 2007?
Patrick: I don't think Rob Zombie has ever even made a passing film. Every one of his movies is absolute garbage. I think we're all holding on to that time in college when we watched House of 1000 Corpses and were like, "Wow, this is rad." Nope, that movie sucks too. I think Halloween [the 2007 version] is obviously one of his better films in terms of talent and production values; but it's also one of his worst films from a writing perspective. What he does with that universe and that character is a complete disgrace. It shows he has no understanding of what makes the original movies so special. It falls into this whole genre from the 2000s where the point was just to show awful pain being inflicted on people, which is not really the point of horror or what makes it interesting. Rob Zombie's Halloween represents this "crescendo" of just wanting to show people being tortured, and now we have this happier medium with films like Midsommar (2019), which are awful to watch and horrifying and disgusting and brutal, but also don't have quite the same level of cruelty about them.
Tony: There's also just too much nostalgia in Rob Zombie's Halloween. The first movie, somebody gets stabbed and you're done. The Zombie movie, somebody gets stabbed, and we're gonna let the camera linger on that KISS lunchbox in the background, because don't you remember KISS?
G.B.: I just reviewed what I count as being my "Top 5" Halloween movies for In the Desert of Set, and I purposely avoided discussing either of the Rob Zombie films. I prefer to try and only review things that I enjoy, because I don't really wanna tear people apart on my website. In some cases I might tear a movie apart, but it's because I actually enjoy the movie and I'm just saying, "Here's this movie that's really insanely goofy, and here's why I love it." (Like with Halloween 6.) But I really have nothing positive to say about the Rob Zombie movies at all.
G.B.: My biggest problem is that Zombie attempts to transform Michael Myers into a sympathetic protagonist, while Dr. Loomis and Laurie Strode are both turned into really horrible, despicable characters who are just toxic and ugly and hateful. Zombie took this story that was originally about really good, noble-hearted people facing off against ultimate evil, and he turned it into a story about nasty, despicable people getting what they deserve from the killer they all helped to create. And that to me is a completely fucking different story from what John Carpenter's Halloween is all about. Michael Myers should never be the protagonist, he should never be the character we're supposed to feel sorry for, and he should never be humanized. If you make a Halloween movie with a human Michael Myers and a dehumanized Dr. Loomis and Laurie Strode, you're doing something wrong. All I have to say apart from that is, the new 2018 Halloween was exactly what I fucking wanted after all of that; a nice return to form. I know some people didn't like it, but I think it is definitely one of the best Halloween movies to have ever been made, and I'm excited to see the next two films. I'm sure they're won't be quite as good, but I'm still excited to give them a shot.
Patrick: Yeah, I liked the 2018 Halloween lot. Over time, I do see some of its flaws more, like it doesn't hit quite as much for me as the original three films. But that's not a condemnation of it either, I think it's a really good movie, and I think it's an interesting branch to go on. I used to be very rigidly into thinking, "Well, this movie is the first movie in the canon, you can make a second movie, but you can't make another one that invalidates the original second one, because you either need to reboot it or you need to make a sequel to the sequel." But I've come around to thinking it's awesome that there are two Halloween IIs, and it's so cool to see the two different takes on it. The 2018 Halloween is one the best of these films, from a quality standpoint, since Halloween III (1982) at least.
Patrick: I almost wish they would make the future Halloween movies an anthology, maybe with stories that continue to feature Michael at the center of them, but which are different branches of that story. I know that's probably a pipe dream, and they wanna just make a straight sequel to the 2018 one.
G.B.: You know what I think? I think if they need to bring back Silver Shamrock, that's what. It's time, motherfuckers! They could figure out a way to do it.
Patrick: I would love to see, with what I just said in mind, a really skilled director take on a Halloween III remake. Someone who has John Carpenter's blessing, and who understands the source material on a deep level. That would be awesome!
Tony: Remakes are a wonderful thing, because they shed new light on the original material. Say there's a movie that's really hard to get; well when the remake comes out, boom! A special edition of the original will suddenly be released and easily accessible again. It's not like Star Wars, where they're literally trying to stomp out, eradicate, and erase the original version. If you wanna see the original version of Halloween, it's always very easy to find. So you don't even have to watch the remake versions, just throw those discs in the trash and watch the originals instead. And sometimes, of course, remakes can actually be good, like David Cronenberg's The Fly (1986) and John Carpenter's The Thing, which people forget is a remake!
Tony: OK, another question. Has there ever been a film that literally went too far for you, which crossed a personal boundary, and which made you kind of step back from horror for a while? For me, my boundary was Cannibal Holocaust; as soon as I saw that movie, it killed the whole "Which movie is gorier?" thing for me. When you're a kid or a young teenager or in your early twenties, you wanna go for the limit, you wanna go to the absolute boundary. Have either of you ever hit that kind of boundary too, where it's like, "I can't go any further?"
Patrick: To me, it's always been about the storytelling, and it doesn't necessarily have to be like a quality storytelling from a literary perspective. But a film has to have a world, characters, and a story. That's how I initially pulled myself through something like Rob Zombie's House of 1000 Corpses (2000). I was like, "Oh, there's an interesting world here that Zombie is creating"; and then I realized how bad that film really is later on. But a good example of my boundary would be the Saw series. I genuinely love the first three films in that series; I think those are excellent movies, the first one in particular. But when I went to the theater to see the fourth movie, there was a noticeable difference in the quality, and it was really too gruesome, gory, violent, horrifying, and horrible. So I think for me, it comes down to this: are you creating this content simply to push up some kind of gore boundary, or are you doing this in service to a really good story? If it's the latter, I can put up with the gore. But one thing that is definitely a limit for me is anything to do with sexual violence. That kind of content must be handled with a very careful hand if it's going to land with me at all.
G.B.: In my entertainment media, I prefer likeable characters, characters I can root for, characters I can care about. I like to see these characters treated respectfully and given good story arcs. They don't necessarily have to make it to the end of the damn movie; it is a horror movie, after all. I expect horrible things to happen in the story. But since the 2000s, there has been a tendency among these films (especially in the case of Rob Zombie) to practically punish the audience for watching them. This might not make total sense, but I really hate mean-spirited horror. Horror should not upset you to the point of making you feel like your life is meaningless, or that ethical behavior has no intrinsic value.
G.B.: Well guys, thank you both so much for coming on the show. It means a great deal to me to have you here; and now, people will know that you both actually exist! You're not just fictional characters I made up for my website. Yay! And I just want to say Happy Halloween and Merry Samhain! May all the blessings of Sutekh and our Blessed Dead be upon you both!
Patrick: Yep, you too, buddy! Absolutely. Thanks for having me!
Tony: Pleasure to be here!
A rambling discussion on horror movies and spirituality with two of my brethren in the LV-426 Tradition!
I am proud to announce that for our next two adventures, I will be joined by two of my brethren from theLV-426 Tradition, Tony and Patrick. Together we will discuss some of our favorite horror movies, and what they mean to us spiritually!
Tony and I met in Texas in 2000, and when we started meeting for Sabbats back in 2003, the LV-426 Tradition was born. Tony was also the frontman for an awesome death metal band called Hexlust, which released the album Manifesto Hexcellente in 2015.
Patrick and I met in Michigan in 2009, and he joined the LV-426 Tradition in 2010. Patrick is a writer, podcaster, and lover of all things play. He also writes for Fyx, a blog about video games.
Tony and Patrick are not just my friends, but my brothers in Set. We treat each other like family, and we are truly blessed to know each other. These gentlemen are also two of the most brilliant and analytical Setians I have ever had the pleasure of meeting. So without any further ado, please welcome Tony and Patrick to the show!
G.B.: Welcome brothers! Thank you so much for joining me today, just in time for Halloween, the Season of the Witch, to discuss two of my favorite things with me: our spiritual orientations and our favorite horror movies, something that many people probably don't think would be readily connected. But as we know in our circle, a monster romp can often be much more divine, thought-provoking, and life-changing than any Kirk Cameron movie!
Tony: Well, he did save Christmas, even though it didn't need to be saved in the first place! [Laughter.]
G.B.: Horror movies have definitely been a part of my life ever since I can remember, from being a little kid. I think probably the earliest movie I ever saw was the old universal Boris Karloff Mummy movie from 1932, where he plays Imhotep, who I learned was actually a real person in ancient history, not just a meet-up monster villain. The actual Imhotep was nothing like the Boris Karloff monster. He was like a fucking doctor or physician, and he was one of the first people in history to develop medical treatments for people that were completely scientific and not magical. His methods didn't have anything to do with repelling spirits or anything like that; it's more like, "No, this is something to do with some kind of disease." And he also constructed the Djoser Pyramid, so seeing The Mummy was kind of a big deal for me. There's just something about killer mummies that I love, but it was also very educational because it opened the door for me to learn about Imhotep.
G.B.: And then of course, I think everybody who stands within 20 to 30 feet of me probably knows the Halloween movies are fucking religion to me. I always make a big deal every year, on October 31st, about actually celebrating the holiday as a time for remembering our sacred ancestors, the Blessed Dead; they might not necessarily be relatives, but it can be observed for anyone who has passed away and whom we miss.
G.B.: So Tony, what have been some of your favorite monster romps that make you think about spiritual shit?
Tony: Many horror movies I see, the older I get, the more I review them, the more I see them; unfortunately, the same tale is told over and over again, and it's a very straight, narrow Christian viewpoint of temptation, lust, punishment, and redemption. This same theme is used over and over and over again, whether it's added with blood, added with sex, etc. That's why I really enjoy The Wicker Man (1973). If that movie was remade yet again today, they would really play up on the fact that everybody's having copious amounts of sex without being observant of the monogamous lifestyle. Or the fact that they're "taking the Lord's name in vain," but in their Pagan god viewpoint. But in the 1970s film, you don't feel like the people on that island are bad people. It's just "Hey, we got a job to do, and we have a set of rules that we follow. We have a set of beliefs and creeds that we follow, and you're coming in here and trying to destroy all of that." We all know the twist at the end, but that's what I like about that movie; it's a very spiritual film, but at the same time it's an excellent piece of horror, because it's taking that Christian viewpoint of being judgmental and showing how that can bite you in the butt. As opposed to other movies where the shrewd, straight, and narrow people get to live. Not in this movie! That's what's so great about it.
G.B.: A really good point. Another thing I like about that movie is the fact that Sergeant Howie [Edward Woodward's character in the the 1973 original] is actually a pretty fully developed character, he's very multi-dimensional. Yeah, he's a judgmental asshole, but he's also right. And he's also a good dude who's just trying to do his job, he's just trying to save this girl. Yeah, he's an asshole, but you kind of feel like if you were ever in trouble, Sergeant Howie would be a good person to have along with you. So [The Wicker Man] is not like a "good versus bad" movie, it's like there's good and bad on both sides, because the island people… Well, we won't spoil it for anybody out there, but apart from that, the island people are actually very friendly and happy people, very celebratory of life, very liberated and very feminist, from the standpoint that the sexes are truly equal on this island.
Tony: That's why I didn't really care for the [Nicolas Cage] remake. What I loved about the original is it seemed like there was no power structure; yes, there was Lord Summerisle [Christopher Lee's character in the 1973 original], but he was just the figurehead of the place. He didn't necessarily say, "I demand all of you to do that," versus in the other movie, where Hollywood is going, "Oh, let's have a feminist outlook" and I'm like, "Okay, cool." But they have one woman ruling everything, which is not really a feminist outlook, that's just a woman controlling everything. "Oh, we're gonna have all the men with their tongues cut out, we're gonna have all this…" And I'm like, "No, no, no, no, no! That's not feminism. There shouldn't be any power struggle between the sexes, everybody should be the same, the women can have power and the men can have power. That's why I like the original 1973 movie, rather than the remake. I like the fact that there was really no no dictator of the island. In any other traditional horror movie, there would have been a clearly evil bad guy; but it's very ambiguous as to who the true bad guy was, as you pointed out. That's the good thing about that movie, that's why I think that movie is something to recognize. Plus, just the fact that it's also a quasi-musical is something that you need to respect! The music isn't anything groundbreaking, but this flick is still more dimensional than just, "Stab, stab, stab! You're dead!"
G.B.: Yeah you're right, it IS a musical! There are random sequences in the movie where people break out into song and dance. Sometimes naked!
Patrick: What's wrong with that?
Tony: I mean, it's basically just a Renaissance Faire caught on tape!
Patrick: [Laughs.] Well, there's the parking lot. And then there's the fair part. And then, if you go to the wooded clearing that's beyond the falconing field, across the highway where everyone sleeps… That's where it's real!
Tony: We've all been there! [Laughter.]
G.B.: So Patrick, how about yourself? Are there any particular movies – horror- and/or monster-related, supernatural and/or sci-fi – that have really appealed to you during all the years of your walk with Set?
Patrick: Yeah, definitely! So there are two movies that come to mind, and they happen to be my two favorite movies. I've always had an interesting relationship with spirituality in general. In some ways, you could make the argument that I am in fact an atheist, because I've always felt there is a sort of explanation, if we were to have all of the facts, all the tools, all of the information. I think what we experience with "the supernatural" is valid and exists, and the concept of divinity is compatible with how I've always looked at the concept of spirituality as a whole. But I think that much of the mystery and mysticism around our interactions with the Divine, the supernatural, and/or the spiritual comes from a lack of understanding. It's like we're looking at a three-dimensional image in two-dimensional space, basically.
Patrick: So that is partly why these two movies have always really appealed to me. First is the original Alien, the first film from the Ridley Scott franchise; and the second is John Carpenter's The Thing (1982). First of all, they're just my favorite movies to watch from an enjoyment perspective, just putting everything else out of the way. But the things happening in Alien are so interesting to me because there is so much mystery, and when you first see the eggs on the Engineer ship, there is a religiosity to the way all that stuff is portrayed. The derelict craft is shot in the same way you would shoot a cathedral or something, with these huge, wide shots of this beautiful interior space that is just haunting, with an architecture that is clearly aesthetic. It is not just mechanical or practical, like the Nostromo (the human spacecraft in Alien), which doesn't look pretty, doesn't look good, it looks like an industrial machine floating through space.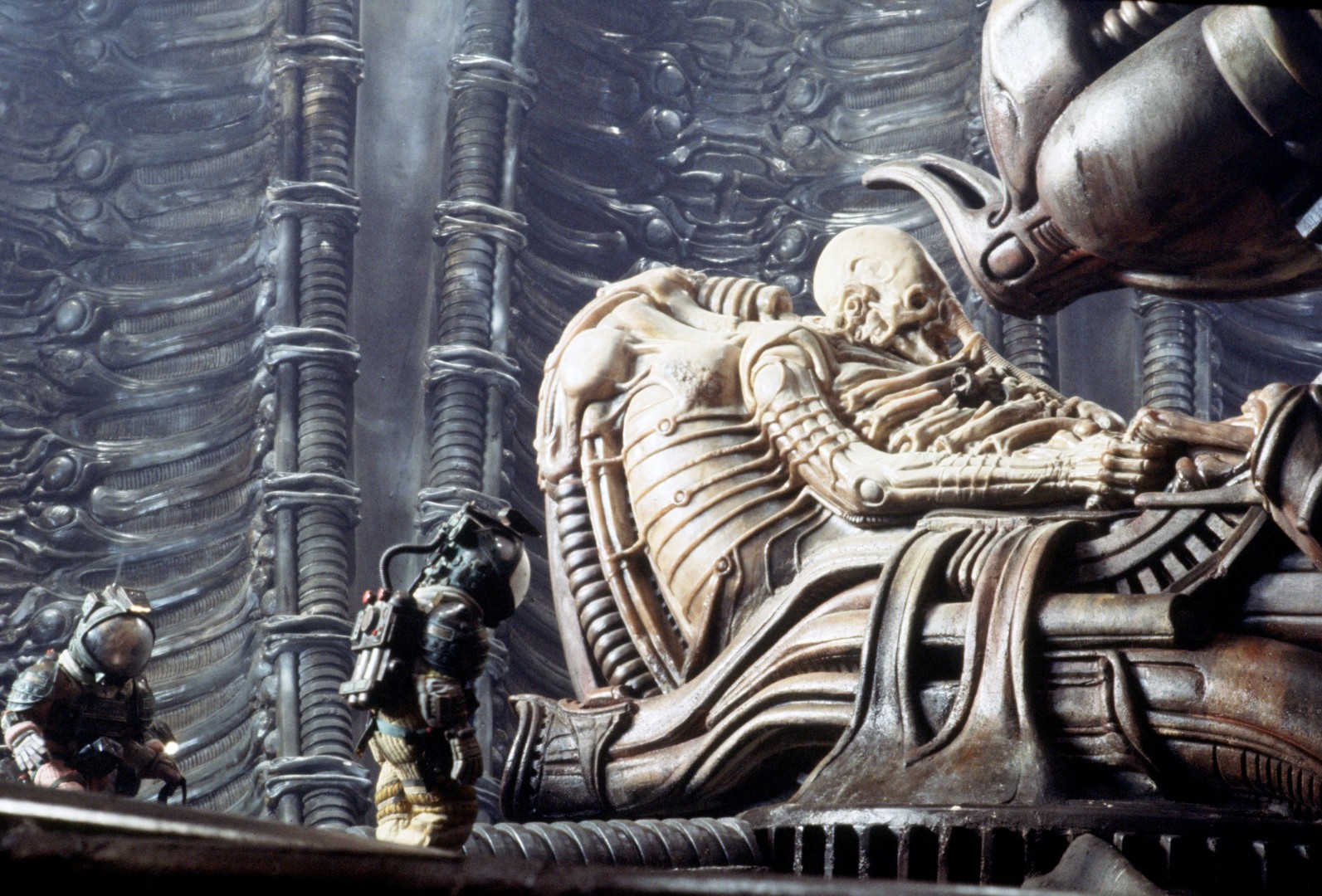 Patrick: I think that dovetails so well with my own relationship with spirituality, both as a larger topic, and then when you get into specifics of how the Alien is a kind of "stand-in" for Apep, the Apophis beast. It is horrifying, not because it is malicious, but because it is simply doing what it's programmed to do, a concept that is later explored in movies like Prometheus (which I enjoy, even though it has nothing on the original Alien). It speaks to the concept of this force that just exists, and there's nothing we can really do about it existing, all we can do is our best to survive its attacks. To me, Alien is such a pure representation of that, because you have this small localized group of characters who each have their own flaws and experiences, but none of them necessarily deserve to die. In contrast to many horror movies of the 1980s, it doesn't feel like Scott is saying, "These are bad people and they deserve to die" in any way. If anything, the film paints a picture of working class people who are struggling to make a paycheck, and who are visited by this horrifying daemon and try their best to survive. And there's nothing you can really do to stop it, except try to get away from it.
Patrick: Ellen Ripley [Sigourney Weaver's character] is the one who figures out how to survive. One of the things I love about her and the arc of that film is, yes, she is the hero. Yes, she is the force for good in this movie. But she also doesn't save anybody but herself and her cat. It's like an examination of hope and resilience and fighting adversity, and of how there is only so much you can do in the face of something that powerful and inevitable. So Alien deals with how the universe works, and with how we emotionally deal with trauma and adversity. There are so many lessons to be had there, that's part of why that's always been my favorite film. And The Thing handles a lot of these exact same issues, but from an even darker, more bleak and cynical place.
Patrick: In Alien, the creature is biological and not mystical in any way; but in The Thing, we understand even fewer of the circumstances as to how it got to be there. At least in Alien we know there were eggs in this big ship; clearly these creatures were either captured or created by these people, and that's why it's here. So there's this slight anchor point where you can kind of understand why the thing that is happening to the Nostromo crew is happening. But in The Thing, yes, we know it's because a UFO crashed; but we can't even begin to imagine what the world that being came from looks like, and that makes it so much more terrifying. Then you get the scene when they're estimating the model of how long it'll take before the Thing conquers the world, and it's very terrifying, and also particularly relevant for 2020. For anyone who has not seen this movie, it will be a little unsettling, but it's definitely worth watching this season, because it has a lot of relevance.
Patrick: I also enjoy the way both films approach feminism. Alien is explicitly feminist and is brilliant for that reason. Then you look at The Thing, and it's a cast that is all male; but the men aren't necessarily portrayed as these disgusting pigs either. It's very interesting that John Carpenter was able to take this all-male cast, and when you watch it, you don't go, "Wow, what an asshole, you didn't cast a single woman!" It's not made in a way that feels exclusionary to anyone; this is the situation that we're in, and all the people in the film feel like they fit, like there aren't any pieces missing from the puzzle. Which brings us back to your point about the quality, Tony. To me, it doesn't feel like mistakes were made in terms of representation in The Thing, specifically because everyone fulfills a role in the story that makes a lot of sense. Most movies that are predominantly men or predominantly white or whatever, I look at that and go, "Wow, this is a miss from a diversity perspective," whether I like the movie or not. But not in this case.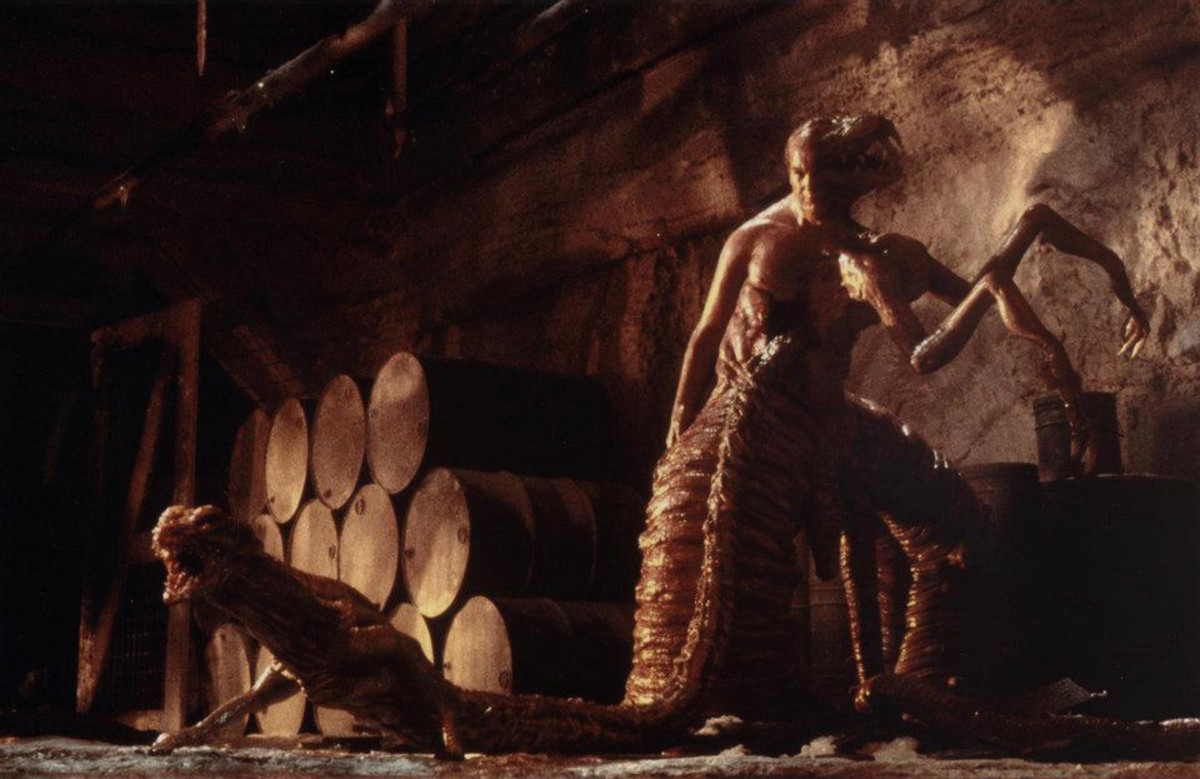 G.B.: The all-male cast actually works to the film's favor. This is a movie about a slimy, tentacled creature sticking itself into people's orifices. If there had been women in this movie, considering the time in which it was made… There were other movies from that same period, like Galaxy of Terror from 1982 and Humanoids From the Deep from 1981, that have women being raped by monsters on camera.
Patrick: That is such an awful trope.
G.B.: Yeah, and if there had been any women cast in the film, I feel like at that time, there would have been way too much pressure to make a sexual trope out of it. This movie is already disturbing enough as it is, we don't need that shit! In fact, The Thing deserves recognition for being one of the only horror movies of the entire 1980s with no sexual exploitation in it whatsoever!
Tony: That's where I wanna step in with that. I'm glad you brought those two movies up, because those two movies are very interlinked as far as characters go. There is also no sexuality whatsoever in either of them, and you can literally switch the actors in both movies and both would still work. Sigourney Weaver would have played a hell of an R.J. MacReady [Kurt Russell's character in The Thing], and Kurt Russell would have been an awesome Ripley. The point Dan O'Bannon was trying to make when he wrote the script for Alien was to not have sexuality, so the women and the men can be interchangeable.
Tony: Plus, Alien is basically "Space Rape: The Movie," where it's a man getting raped in the beginning. He's violated and impregnated, and he has to go through what women have to go through from it. If you could boil the whole movie down to one sentence, it would have to deal with the fact that nobody's listening to this woman [Ripley] who really knows better about these things than any of the men. "Hey, you know the quarantine rules, you can't let these people in," she says. But the men say, "What do you know? You're a woman, I'm gonna let this thing in and we'll just take care of it, 'cause we're men and we know how to control this!" But you can't control it, it's nature, and the Alien's only purpose is to penetrate, impregnate, reproduce, and repeat. That's the whole point of its species. We know from the deleted scenes, as well as from the 1986 sequel (Aliens), that Ripley has a child, which was removed from the first movie to further desexualize everything. There was even a scene where Dallas [Tom Skerritt's character in Alien] and Ripley have a relationship, but they cut that out too. I don't know if it was actually filmed or if it was just in the script, but they cut that part out. I'm glad they separated from that, because otherwise we might have walked into Galaxy of Terror territory.
Patrick: Part of why Alien is my favorite film is that horror and science fiction are my two favorite genres, and Alien is both of those things simultaneously. Sexual violence, of any kind, is my least favorite trope in storytelling, period. I think there are stories that definitely manage their implementation of that kind of device to tell a larger story; but Alien does it in such a way that is (to your point, Tony) not so focused on sex, and that is something that so much media fails to deliver.
G.B.: Though I think the argument can be made that Alien is also very sexual, given that it's essentially about rape.
Tony: I mean look at the [Engineer] ship. I know you compared it to a cathedral earlier, but it also looks like one big, giant vagina.
Patrick: Oh, absolutely.
Tony: There's all these orifices, and of course we're getting into H.R. Giger Land, which is Penis City.
Patrick: And The Thing where is very much a film about masculinity and the ways men interact with each other in the world, which makes it feminist-adjacent in a way that many people don't think about. Frankly it was ahead of its time, because intersectional feminism is definitely a more recent development; obviously there were people laying the groundwork for that in the 1970s and 1980s, and even before that. But intersectional feminism is not just about empowering women, though that is a key part of the feminist conversation. There are also many other pieces to that puzzle, including things like eliminating toxic masculinity, the ways that men are bad to each other, in addition to the ways that men are harmful to women. I think The Thing is very specifically going for that idea, and that is another reason both of those movies have always been connected in my mind, thematically.
G.B.: You're really right, actually; now that I think about it, a lot of the men in The Thing, their relationships with each other are really quite toxic.
Patrick: Absolutely, yeah. It manages to touch on that toxic masculinity, and even on racism, though with a very light hand, not by beating you over the head with things. It's such an interesting microcosm of different people and systems interacting with each other, and it's always made me want someone to make a video game. Not like the one where you're flamethrowing Thing monsters, but one where you're managing all of the personalities at play around that crisis, from sort of a pullback perspective. I think the gross creature feature stuff is amazing in that movie, but what really makes it powerful and meaningful is the way in which all of these personalities interact as everything goes to shit.
Tony: I've always seen the main issue or the main subject that they're trying to explain in The Thing as paranoia. Everybody in that movie is hyper-paranoid because you don't know, "Am I me? Or is me going to be not me? Is my body going to betray me?" and it turns out I was never me this whole time. This to me is a reflection of identity crises in modern society. "Why, I'm supposed to be a 'man.'" "No, no, no, no, you're not supposed to be a man." "Well who am I, then? What am I? Am I not me?" And when you become paranoid like that, some people try to strive for answers, like MacReady, who says, "We're gonna fix this." And then there are the people who freak out and pull out their guns to start shooting, because they don't wanna know, they don't wanna question what they think they know, because they live in a world of absolutes. "Men are men, and women are women, and I'm not going to break away from this." But here is this creature that actually is breaking you away from it, because you don't even know who are what you are when you become super paranoid. And what's the one thing you wanna do? You wanna find some sort of sanity, you wanna find something that makes you less insane, going back to nostalgia, grabbing on to things from the past that make things seem "real" again. People want some semblance of sanity, but everybody is questioning everything because things are changing, so everybody's ultra paranoid. And when everybody's ultra paranoid… What do we gotta do? Oh, we gotta "Make America Great Again." Okay; so when was it great? 40 years ago? Sure.
Tony: As for the sequel to The Thing – or excuse me, the prequel (2011). Instead of playing up the paranoia, they went with Alien's story model instead, with all these men saying, "Don't listen to the woman, even though she clearly knows what she's doing." Still a great movie, but not as impactful as the first one, which is thanks to that theme of paranoia.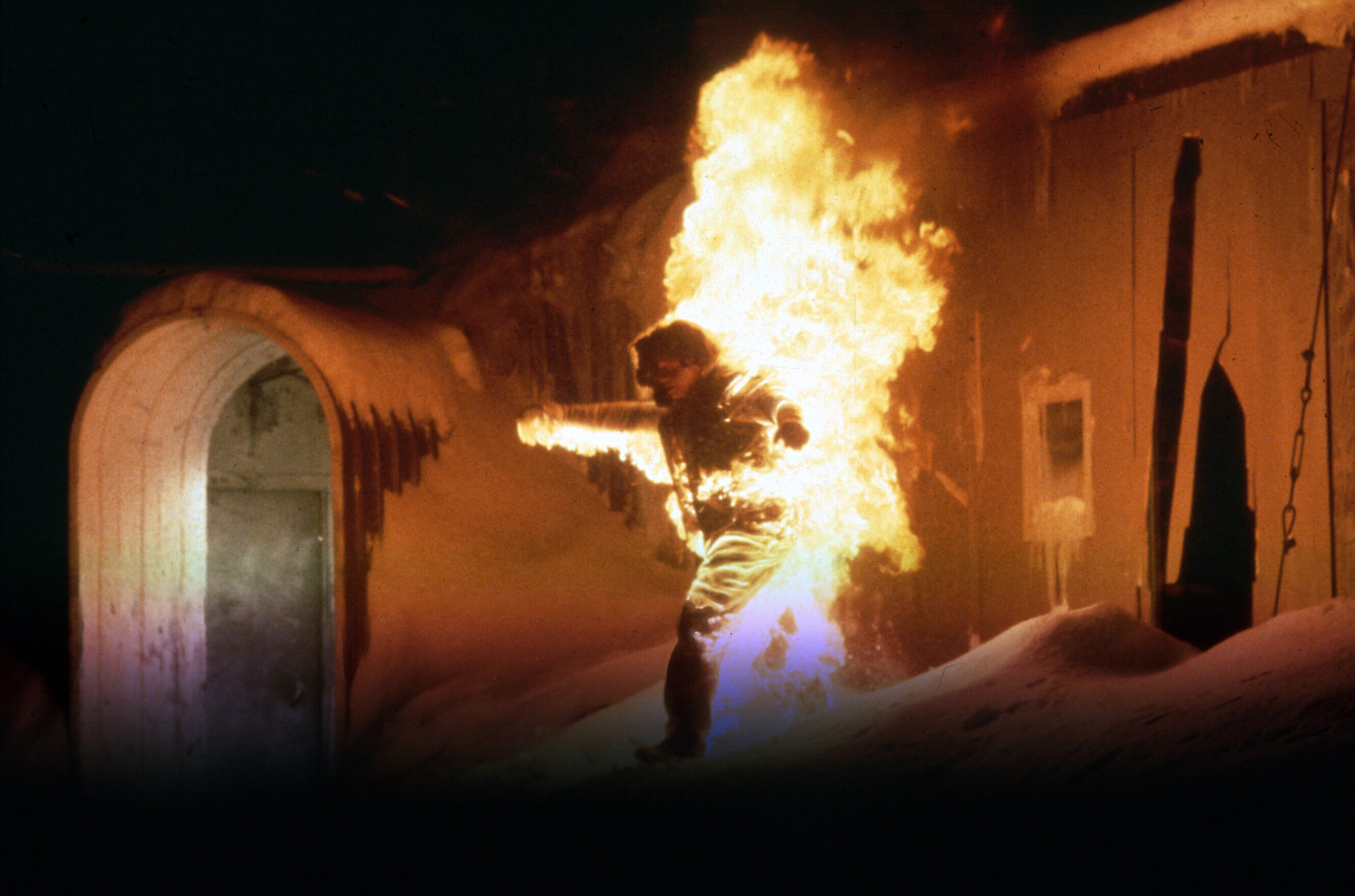 G.B.: I think Patrick mentioned earlier – or maybe it was both of you – how the Alien is really just following its natural life cycle, right? Its biological imperative is to rape and reproduce and do the whole thing all over again. The Thing, on the other hand, is clearly an intelligent, sentient being that is capable of building spacecraft superior to our own (and from pieces of trash that it finds around the camp). It's presumably swallowed countless civilizations. One thing I've heard from some other reviewers is how the human characters are hostile to the Thing from the very start, meaning is actions in the story are purely defensive. Well, maybe it was the Thing that came into the story hostile from the beginning, because it certainly doesn't seem friendly by nature, and even when it's imitating a human American scientist, it can speak English perfectly, indicating that it understands what is said to it. Yet it never makes any attempt at communicating with the men at Outpost 31 at any point. So for me, whereas the Alien is just an animal, the Thing is actually evil, purely and simply evil.
Tony: Well, it's basically Apep. Like, "I have one purpose and one purpose only: to destroy. That is my nature." Do you remember the celestial creature from The Fifth Element where it says, "I eat on purpose, I'm going to destroy…" Well that thing is essentially Apep too, just as The Thing is Apep. It just consumes, it doesn't do anything else. It's the "Space Terminator," it can't be bargained with, it can't be reasoned with, we can't do anything against it, it just destroys, that's all that it does.
Patrick: Another thing that's interesting about Alien and The Thing. When you look at Alien, I think it is clearly the product of atheistic thinking. There are parallels with the Apophis beast and probably with other spiritual evils as well. But Ridley Scott makes it very clear at the beginning that the monster is a purely biological, scientific force that was either made or captured by something. It is not a supernatural force that sprang into existence, with the purpose to destroy on its own. And now of course, with the prequels, we know Scott's ultimate vision for the origin of the Alien species: that it is a product of experimentation and genetic engineering. I think it's interesting that Scott, who is himself an atheist, would create a story with a beast like that at the center. Whereas the Thing feels more comparable to a supernatural force, with its more mysterious origins. Again, we know a UFO crashed obviously; but there is no reason to assume the craft is actually from the Thing's home world. We don't know where it came from, whether it was created in a lab somewhere, or if it is perhaps a literal manifestation of Apep, this beast that's been riding through space and has just now found its way to Earth. Not to suggest that John Carpenter was trying to make an explicitly spiritual or religious message here at all, of course.
Tony: Continuing down the road of linking spirituality and paranoia with The Thing, and comparing it to what's going on in the world. Especially here in this time right now, it seems like to me that everybody is paranoid about one side of humanity trying to wipe out the other. For example, we have conservatives scrambling to keep in power, to stomp out whatever progressive or liberal policies they can, to eradicate all of that. And we have the other side, these people who understand the need to grow and change and stuff. Considering this, I'm surprised that Invasion of the Body Snatchers (1978) isn't something that people aren't talking about right now. I'm talking about the 1978 movie; I've never actually seen the 1956 original. But the 1970s version is a really good movie to watch right now, given the polarizing times in which we're living, how it's "You're either with us or against us." It is fucking scary to think, "What if I wake up and I'm one of them?" And it's the same message with The Thing. What if you wake up and you're one of THEM? All three of us see ourselves as very tolerant people, but what if we wake up one day and WE'VE become the aliens, the invaders, the monsters? That is some super scary shit.
G.B.: You mean the version of Body Snatchers with Donald Sutherland, Leonard Nimoy, and Jeff Goldblum, right? That's a good one!
Tony: Yeah!
Patrick: Such a good movie. At the same time, I'm hesitant to watch it, because November 3 is coming around. Having re-watched The Thing many times, my opinion is that MacReady is not the Thing, and was never assimilated at any point. I think he's human even at the end, and I think they kind of explicitly point to Childs [Keith David's character] as being infected, though that is a debate that will rage for the ages. But when you compare it to political beliefs and a change in one's interaction with sociopolitical issues over time, one of the reasons why I feel so confident in MacReady not being the Thing is that he always has an analytical view of the situation, and he is very smart in how he interacts with the potential for infection and the potential for getting turned into the Thing. I see MacReady as a model for staying true to your innermost convictions; he remains himself no matter what, just like I am very confident I will never become politically conservative.
Tony: That's a great point. But let's look at what happens with Blair [Wilford Brimley's character in The Thing]. Okay, so we don't know when Blair was eaten by the Thing, exactly, but look what happened when he discovered the truth of how long it would take for the Thing to infect the entire world. He just goes berserk. It depends on how you react with it, but some people just can't handle that kind of information, they literally go crazy. If we sat down and were shown a model telling us the human race will go extinct in 22 years, how would we react to that? If you're like MacReady, you take an analytical route and go, "Alright, well I'm just gonna do the best I can do, and keep learning and keep going." But if you're like Blair, you just flip the fuck out and start diving into paranoia, like those people in the QAnon movement, and you start scrambling and going crazy.
Patrick: Yeah. I certainly don't have the answers when it comes to helping the Blairs of the world…
G.B.: There have been several times this past year when I felt like I was almost turning into Blair!
Patrick: I have zero tolerance for things like QAnon; but at the same time, I don't have the answers for someone who is scared. And you're right, Tony; whether Blair's reaction to the Thing is a "reasonable" response or not, it is still a real response, a valid experience that can occur when we see things that horrify us. My partner and I talk frequently about how much easier it would be to just not know anything and not care about anything outside of our media bubbles. So I am hesitant to ascribe a reaction like Blair's to any kind of moral or ethical weakness.
Tony: Some people like to take that and make that their shiny new shield on their chest. "Well, look at me, I'm more put together than you!" And that just feeds off the negativity. As weird and as cheesy as it sounds, many of those people just need a fucking hug, man. OK, you're scared! I get it. But there's no need to act like a buffoon!
If you enjoyed this discussion, stay tuned for Part 2 in the next episode of In the Desert of Set!
Why the 2018 "requel," featuring the return of John Carpenter and Jamie Lee Curtis, is the best direct sequel to the original 1978 classic.
In the 2010s, David Gordon Green came along and pitched an idea to John Carpenter. Green proposed making a new film for the Halloween series that would establish a brand new timeline, but with an extra twist. This new film would be a direct sequel to just the 1978 original, ignoring all the other entries in the series (as well as the remakes). Green further proposed eliminating the "siblings" subplot that Carpenter first introduced in Halloween II (1981), re-establishing that Michael Myers and Laurie Strode are totally unrelated strangers. Jamie Lee Curtis would also become "the New Loomis" and take Donald Pleasence's place as Haddonfield's resident Boogeyman-hunter. Many people would balk at this suggestion, for the idea that Michael and Laurie are siblings has been considered "canon" for decades now. But John Carpenter, having always felt a little embarrassed over Halloween II, absolutely loved Green's idea and signed on to be an executive producer, creative consultant, and composer for the film (his first involvement with the franchise since Halloween 4 was still in pre-production in 1988). It was almost too good to be true!
I can't remember who it was, but when David Gordon Green's Halloween (2018) was first released, some dingbat film critic trashed the notion that "Directors can apparently change canon at the drop of a hat now." Whoever made that statement must not be a very good film historian, otherwise they'd know these movies have already been changing their own "canon" for decades (see 1998's Halloween H20: Twenty Years Later as a good example). Halloween isn't the first franchise to do this, either. Just look at Hammer Films and Toho Studios, which created alternate timelines for both Count Dracula and Godzilla in the 1970s and 1980s, respectively. The so-called "requel" is nothing new, and bringing the Shape back for a new spin on what happened after "The Night He Came Home" is really no different from letting Christopher Nolan take a crack at Batman. The Halloween flicks aren't for everybody, but neither is this foolish idea that every film in a series must necessarily take place in the same cinematic universe.
That being said, the 2018 Halloween begins with two podcast reporters (Jefferson Hall and Rhian Rees ) who are visiting Smith's Grove Sanitarium in Illinois to see Dr. Ranbir Sartain (played by Haluk Bilginer) and his patient, Michael Myers (James Jude Courtney). We learn that shortly after the events of John Carpenter's Halloween, Dr. Loomis tracked Myers through the neighborhood and was about to nail the fucker with another six slugs to the chest when the local PD showed up and "de-escalated" the situation. Myers was brought into custody and returned to the sanitarium, and Loomis was revoked of his license to practice medicine, which is how Sartain took over. Now it's 40 years later, Loomis is deceased, and Myers is about to be transferred to a maximum security prison, where he is expected to rot. The reporters try to stoke a reaction from Michael by pulling out that odd, white, faceless mask he wore while stalking his victims in 1978. Myers gives them nothing, but every other patient in the sanitarium suddenly goes rabid, and that tells us right there that these idiot reporters just made a really bad mistake.
Next, the reporters go to Haddonfield to visit Laurie Strode, the only teenager among Michael's victims to survive—the one who fought back and lived. We learn that over the past 40 years, Laurie had a daughter named Karen (played in adult form by Judy Greer); but Laurie continues to exhibit terrible PTSD, and she's also become a survivalist gun-nut. Her day-to-day behavior is so alarming, in fact, that the state eventually took Karen away from her custody. Mother and daughter have been estranged ever since, and Laurie now lives in a lonely old house in the woods, with an armory fit for Armageddon. She has always known deep in her heart that Michael Myers will escape again one day, and that the mysterious Shape will stalk the streets of Haddonfield once more. And when that happens, Laurie aims to finish what the local police prevented Dr. Loomis from doing all those years ago, once and for all.
The reporters don't get much farther with Laurie than they did with Michael; they're disrespectful to her, suggesting she's just a hysterical old woman and no one should believe or listen to her. But instead of being silenced, Laurie kicks them the fuck out and goes right back to preparing for the Big Blow-Up. Then she goes to visit her granddaughter, Alyson (Karen's daughter, played by Andi Matichak), who is experiencing her own share of maternal estrangement. It seems the adult Karen Strode still carries all her childhood demons from growing up under Laurie; for while she is much more stable and capable of raising a family than the elder Strode, she has nevertheless succeeded in alienating her daughter as well. She has restricted Alyson's access to her grandmother so much that the two of them must meet in secret if they are to interact with each other at all. And while Karen thinks Laurie is just an attention-seeking prophet of doom, Alyson knows her grandmother's trauma and grief are completely authentic.
It's only a matter of time, of course, before Laurie's prophecies about Michael Myers all turn out to be 100% true. The patient somehow manages to escape from a prison bus while he is being transferred to the maximum security facility on Halloween Eve. Then he tracks down the two podcast reporters at a local gas station to retrieve his mask from their belongings. I have to admit, this is the most thrilling sequence I've witnessed in any Halloween movie since the late 1980s. Michael Myers is somehow even more intimidating when he's out of costume, walking around in broad daylight, with everyone around him none the wiser. This part of the film also made me realize just how much Myers resembles a Batman villain like the Scarecrow—complete with escaping from a psychiatric prison and dressing in a costume that seems to enhance (rather than conceal) his true personality. For when Michael finally retrieves his mask and wears it once again, he reverts to his true identity as "the Shape."
(Beware of spoilers!)
So the Shape returns to Haddonfield and invites itself into random people's homes, carving the residents up like jack-o'lanterns. It then crosses paths with Alyson while she's walking home from a school dance, but she manages to elude it and find Officer Hawkins (Will Patton), who's out patrolling the neighborhood with Dr. Sartain. Hawkins, Sartain, and Alyson then encounter the Shape again, and when Hawkins prepares to kill it, Dr. Sartain goes apeshit and kills the cop. Then he throws an unconscious Shape in the backseat of Hawkins' police car (along with Alyson) and drives off toward Laurie Strode's house. He explains that he's obsessed with learning the secrets of Michael's true motives, and that he believes he can uncover those secrets by forcing a showdown between Laurie and the Shape. But once they've almost reached the Strode house, the Shape re-awakens and tears the police car to shit with its bare hands. Alyson manages to escape by the very skin of her teeth, but things don't go so well for Dr. Sartain, whom the Shape soon dispenses with. Then the Shape sees Laurie's house down the road, and the Big Blow-Up between Strode and Myers begins.
Some people complain profusely about this plot twist with Dr. Sartain, claiming that it totally "came out of left field" or "served no purpose" for the story; but I thought it was absolutely brilliant, and for several reasons. First off, it's clear that while Laurie and Sartain both believe the Shape wants to get her, the Shape itself has very different ideas. While Laurie has never stopped dwelling on that fateful Halloween night in 1978, the Shape doesn't appear to even remember who she is. Imagine that someone attacked you and traumatized you several years ago, to the point where everything you do in your life is now shaped and dictated by that awful experience. Now imagine that you will finally have a chance to confront your tormentor several years down the road, only to learn that he doesn't even remember you or the things he did to you! Not because he's been "rehabilitated" or because he honestly forgot, but simply because you are insignificant to him in every possible way. While Laurie has focused all her energy on destroying the Shape for the past 40 years, the Shape hasn't thought about her even once since 1978, and that is some awful dark shit right there.
If it seems strange that a Halloween movie would feature another villain apart from the Shape, we need only remember Halloween 6. I believe the Sartain character is actually an homage to Dr. Terence Wynn, the "Man in Black." According to Halloween 6, there are other people in Haddonfield who know what the Shape really is aside from Dr. Loomis, but who want to "control" or "understand" it rather than destroy it. Dr. Wynn and his "Thorn Cult" learned the hard way that this impossible, and Dr. Sartain learns the exact same lesson here. There are quite a few homages to earlier films in this movie, so I'm pretty certain this resemblance between Wynn and Sartain is intentional. I think the idea of the Shape having "fans" or "helpers" is not only interesting from a narrative perspective, but also quite scary and realistic. Just look at how people idolize monsters like Charles Manson or John Wayne Gacy in real life.
There are also numerous clues in the first half of the film that the Sartain plot twist is coming. Dr. Sartain is the one who deliberately allows the podcast reporters to taunt Michael with his mask at the start of the film. (What the hell kind of doctor lets the press fuck with his patient like that? Dr. Loomis would not have approved!) He also insists on accompanying Myers on the prison bus, and he is the only survivor we see on the bus after Michael's escape. (Did Michael really kill all those guards—or did Sartain do it?) The doctor also says a lot of asinine things about empathizing with Michael, as if he doesn't give a shit about any of the victims. Finally, when Laurie Strode and Dr. Sartain meet for the first and only time in the film, Laurie refers to him as "the New Loomis," given his inherited role as Michael Myers' psychiatrist. This line is absolutely loaded with irony considering that Sartain later turns out to be in cahoots with the Shape, and that Laurie herself turns out to be a much better Loomis than Sartain could ever be!
I also enjoy the Sartain plot twist because I honestly didn't see it coming; despite all the clues, David Gordon Green does a masterful job of hiding the surprise, and it truly caught me off guard when I first watched the film. I can't tell you how many times I will sit down and watch a new horror movie I've never seen before, only to correctly guess everything that's going to happen throughout the film. I have even lower expectations when it comes to slasher movie sequels, which tend to follow a very rigid formula. So the fact that this sequence surprised me as much as it did is nothing short of amazing. And considering how important Sartain actually is to the story (mind you, he is the only reason Michael and Laurie ever cross paths), he has now become one of my favorite characters in the franchise. (Too bad he won't be showing up in any more sequels, unless it's in a flashback!)
Each of the male characters in this film is either helpless (like Officer Hawkins), untrustworthy (like Alyson's boyfriend Cameron), or downright evil (like Myers and Sartain). There is a recurring theme about women not being heard and not being believed (not only by men, but by other women as well). After Michael was apprehended in 1978, no one aside from Laurie and Dr. Loomis seems to have considered him responsible for his own actions. The State of Illinois simply locked him away again, and everyone moved on. When the podcast reporters question Laurie about this, they seem to take Michael's side for some reason, excusing him for his actions in 1978 because "He's crazy" and "It happened so long ago." So Laurie isn't just fighting the Shape here; she's fighting the entire patriarchy, which cares more about her tormentor's side of the story than her own. In this way, David Gordon Green's Halloween is really the only sequel in the entire franchise that taps into one of the original 1978 film's most important themes: how society protects and even aids monsters like Michael Myers by gaslighting their victims. When the Strode women finally band together at the end to tackle the Shape, they aren't just taking down a man in a mask; they are taking down the entire toxic narrative their patriarchal society has used to keep them disempowered for so long.
Another thing I love about this movie is the fact that the "babysitters-in-jeopardy" element of the story is limited to just the second act. We've already seen Michael Myers stalk babysitters for 90 minutes at a time (several times, in fact); there is so much more he can do as a character. David Gordon Green proves this by using the first and final acts to elaborate on things we've never seen in any Halloween movie before. The first act does a fantastic job of putting us in Laurie's head, exploring her complexity as she alternates between her doomsday prepping and her struggles with PTSD. And the final act is a real powerhouse, escalating the conclusion of the 1978 original to full-blown action movie proportions. Now that Green is currently filming not one but two more Halloween films (to be released in October 2021 and 2022, respectively), I'm very excited to see what other new situations he might throw these characters into next. (I've always wanted to see the Shape square off against an entire SWAT Team, myself!)
Without a doubt, David Gordon Green's Halloween wins my vote for "Absolute Best Direct Sequel to the 1978 Original" (a title previously held by Halloween 4). This isn't just some run-of-the-mill slasher movie; this is an example of how one night of terrible violence can still affect people several decades afterwards (even if they weren't even born yet at the time!). And while the Halloween series has always featured strong female protagonists, the 2018 requel deserves special recognition for bringing this theme to a whole new level. I really can't recommend it highly enough, especially for viewers who enjoy seeing powerful women beat the stuffing out of evil men (like I do!).
A preternatural Pied Piper turns people into creepy crawlies with his maleficent merchandise, his android assassins, and his Stonehenge supercomputers.

Halloween III: Season of the Witch (1982) is my second-favorite movie of all time, right after the original Halloween from 1978. Though it is marketed as a "sequel" to the latter film, it is really something completely different. It has nothing to do with Michael Myers, Laurie Strode, Dr. Loomis, or the town of Haddonfield, Illinois at all. By gods, it isn't even a "slasher movie," but something more like a British sci-fi/folk horror hybrid!
Season of the Witch is the story of Dr. Dan Challis (played by Tom Atkins) and Ellie Grimbridge (Stacey Nelkin), who decide to investigate a brutal murder their local police have chosen to ignore. In doing so, Dan and Ellie stumble upon a ghoulish plot masterminded by the one and only Conal Cochran (Dan O'Herlihy), founder and CEO of a major toy-manufacturing company called Silver Shamrock Novelties.
It turns out that Silver Shamrock, Inc. has stolen one of those monolithic rocks from Stonehenge and broken it down into countless microscopic pieces. They have inserted this debris into their world-famous Halloween masks, which children across the nation are buying in droves. They've also developed a TV commercial with a flashing "magic pumpkin" that activates the pieces of Stonehenge within the masks. This converts the masks into deadly cursed talismans, which transform their wearers into snakes and bugs (from the inside out!). Even crazier, most of Silver Shamrock's employees appear to be killer androids with superhuman strength, and Cochran's entire conspiracy is somehow tied to the fact that the planets of our solar system are currently in alignment.
You're probably wondering why Halloween III has nothing to do with any of the other Halloween films. When John Carpenter and Debra Hill were approached for another sequel following the box office success of Halloween II (1981), they took the opportunity to conduct a most fascinating cinematic experiment. Starting with Halloween III, the series would now be an anthology like The Twilight Zone, featuring a different Samhain-themed story with each new installment. There are so many different things that we associate with October 31, including ghosts, witches, fairies, and druids; why then should a franchise called Halloween be limited to just an escaped mental patient?
Tom Atkins, who plays Dr. Challis, is what they call a "character actor." This means he usually plays supportive roles and is more or less the exact same character in each one. To this day, Season of the Witch is still the only film in which he ever got to be the leading man.
We usually expect our male sci-fi/horror protagonists to be young, dashing, and athletic; but Dr. Challis is middle-aged, visibly tired, and very much out of shape. He apparently lives and sleeps at the hospital where he works, and he is a divorced alcoholic who can't stand his ex-wife or his kids (and who seems to have a history of avoiding them whenever possible). Given a choice between (1) spending time with his estranged children or (2) investigating a murder mystery with some hot young lady he barely knows, he doesn't even stop to think about it; he chooses the second option immediately. But despite all his faults, Challis is anything but reprehensible. Whatever else he might be, he is a doctor from first to last, and he takes this role very seriously. He is all about making people better, and when the chips are down, he does everything he can to save the world (including his family).
Tom Atkins might not be a Christopher Lee or a Peter Cushing, but he really shines in this role. If you enjoy his performance here as much as I do, check out Night of the Creeps (1986). He plays Detective Cameron, an alcoholic cop whose girlfriend was butchered by a serial killer back in the 1950s. When Creeps begins, Cameron is on the verge of killing himself; but when he learns his town is being invaded by brain-eating slugs from outer space, he grabs a shotgun and starts blowing holes in everybody else instead!
Ellie Grimbridge, played by Stacey Nelkin, seems to prefer older men; she takes a liking to Dr. Challis almost immediately, and as soon as they reach that motel in the mysterious little town of Santa Mira (where Silver Shamrock's headquarters is located), she is all over him. Later, Ellie is kidnapped by Conal Cochran's robot goons, and she is imprisoned somewhere in the Silver Shamrock factory. Challis busts in to rescue her, getting himself captured in the process. Then he learns the truth about Cochran's dastardly scheme, escapes and finds Ellie, and torches the factory. Challis and Ellie drive off into the night, trying to plan how they can stop that crazy Silver Shamrock commercial from playing on TV and causing the apocalypse—
—and that's when Ellie suddenly tries to kill Challis, revealing herself to be a goddamn robot!
Fans are divided as to whether Ellie is (1) human for most of the film (and replaced with a robot duplicate by Cochran during the final act), or (2) a robot the entire time. It makes no sense to me why Cochran would send a robot to seduce Challis into investigating his own damn conspiracy; but the idea of not knowing you're sleeping with a killer robot is pretty disturbing. All I know for sure is, this sequence scared me really badly when I first saw it as a kid. To think you've just rescued someone you love, only to learn they've been replaced with a soulless imitation that wants to destroy you? That's Grade-A nightmare fuel for me, right there!
Stacey Nelkin was also cast to play the sixth Nexus-6 replicant in Ridley Scott's Blade Runner (1982), which was released the same year. Her part was cut from that film during principal photography due to budget cuts. (Blade Runner fans will recall that in at least one version of the film, Captain Bryant recruits Deckard to track down six fugitive replicants; yet there are only five that are accounted for in the entire film, and this is why.) It's eerie to think that Nelkin was cast to play two murderous androids in two different films during the same year, huh?
Conal Cochran, Halloween III's antagonist, is played by Dan O'Herlihy, an Irish actor of such stature that one wonders just how the hell anyone convinced him to do this movie. Unlike Tom Atkins, O'Herlihy was used to acting in things like Orson Welles' version of Macbeth (1948), Luis Bunuel's Robinson Crusoe (1954), and Sergei Bondarchuk's Waterloo (1970). He even went toe-to-toe against Marlon Brando at the Academy Awards once. (Brando won, but O'Herlihy gave him a run for his money!) Considering Halloween III's budget, I highly doubt O'Herlihy was paid very much for his work. So what the hell was it about Season of the Witch that made this legendary thespian say, "All right, I'll do it"?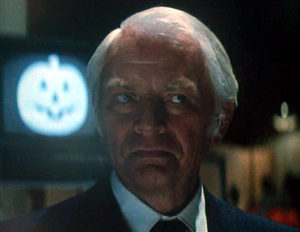 Debra Hill once recounted that Dan O'Herlihy knew an awful lot about the true origins of Halloween . He told all kinds of folk stories about Samhain to the rest of the film's cast and crew. These stories were apparently so enthralling that everyone took to calling O'Herlihy "Mister Halloween." It's unfortunate that Hill couldn't recall any specifics from these conversations, but I can certainly imagine what they must have been like. After all, Halloween III is one of very few flicks ever made in which the word Samhain is pronounced correctly, and it is O'Herlihy himself who pronounces it in his native Gaelic tongue.
I have a hunch that Dan O'Herlihy was primarily interested in Halloween III for its references to Irish culture. Considering the long list of films in which he has appeared, it's interesting to note that almost none of them have anything to do with Ireland (either culturally, historically, mythically, etc.). I sense this man was really proud of his heritage, and that when his agent handed him the script to Halloween III, he recognized the project as an opportunity to finally represent that heritage onscreen somehow.
The original screenplay for Halloween III was written by Nigel Kneale, creator of the British Quatermass films and TV serials. The first draft included a great deal more science fiction than the finished film does. Conal Cochran turns out to be some kind of daemon or alien; he simply impersonates a human being with his mask-manufacturing know-how. He also transports the monolith from Stonehenge to America by interdimensional means, and there is plenty more speculation as to what Stonehenge is actually made of (and why it becomes so volatile whenever the planets are aligned). More of Cochran's genocidal plan is explained, as well. John Carpenter and director Tommy Lee Wallace both felt that some of this material wouldn't translate very well for American audiences, so they took turns re-writing the script to "Americanize" it a little. This led Nigel Kneale to demand that his name be removed from the credits; but it seems to me that his original ideas are still present (and mostly intact) in the film.
In 1979's The Quatermass Conclusion, Stonehenge and other prehistoric places are revealed to be "landing sites" for a hostile alien force. It is difficult to be certain without reading Kneale's original script, but it seems plausible to me that Season of the Witch and The Quatermass Conclusion were meant to be thematically linked in some way. The Quatermass serials also had a direct influence on Doctor Who, which explores many similar ideas and themes. Perhaps it is no accident, then, that Conal Cochran resembles a classic Doctor Who villain like Davros, the Master, or even the Black Guardian. I can totally see him as an evil renegade Time Lord, disguised as an Irishman.
Arthur C. Clarke's Third Law states that "Any sufficiently advanced technology is indistinguishable from magic," and the scene when Cochran explains his plot to Dr. Challis is a great example. "Advanced…" he says, pointing to a room full of computers, "…and ancient technology," he finishes, pointing to the monolith he has stolen from Stonehenge. His machines are all arranged in a large circle formation that's clearly modeled on Stonehenge; a visual hint that the original monument might be some kind of ancient "supercomputer" itself. The implications of this are staggering; who or what built this prehistoric machine, and for what purpose? Halloween III never answers these questions, but I suspect Cochran knows. And if just one piece of this "supercomputer" is sufficient to devastate the entire North American continent in one fell swoop, what the hell would happen if all of Stonehenge were suddenly "switched on?"
At the end of the film, Conal Cochran is zapped by a big blue laser that shoots out from the stolen (and newly re-activated) Stonehenge monolith. When this happens, Cochran's features are momentarily distorted, as if his face were really just a mask. Then he vanishes into thin air, never to be seen again. Many viewers assume this to be Cochran's "death scene," but I beg to differ. The Halloween III novelization by Dennis Etchinson (writing as "Jack Martin") makes it clear that this moment in the story is really just the beginning of Cochran's evil. It also goes into detail on how Cochran isn't just a crazy toymaker, but something that transcends time and space as we tend to understand such things.
Here's a snippet from the novel, in which Dr. Challis considers Cochran's true cosmic nature:
Cochran was nothing new, whatever his latest disguise. He and the dark forces he represented had been around in one form or another since the beginning of time; there was no good reason to believe something so ancient had really been destroyed in a blaze of fireworks in a small town on a cold autumn night. This year's dark venture was like a rerun on the Late, Late, Very Late Show, an endless loop re-enacting the last reels of the same relentless stalking of the heart of the American dream. It had always been so…He would come to movie theaters and TV screens over and over in untiring replays for as long as people turned away and pretended he was not really there; for that very refusal gave him unopposed entrance to their innermost lives. Nothing ever stopped his coming and nothing ever would stop it, not for as long as people deferred the issue of his existence to the realm of fantasy fiction, that elaborate system of popular mythology which provided the essence of his access…For now, he was still advancing, merely shifting from one field of view to another, larger one, from a single television screen to the televised psyches of a nation. Challis shuddered.
Before he pulls his disappearing trick, Cochran says "we" a lot. This suggests that he actually has peers; yet no one who works for him at Silver Shamrock seems to really qualify as such (especially since most or all of his employees are robots, anyway). Cochran's "we" must therefore be referring to some other group of peers whom we never get to see. He also mentions "those who came before" him, and he speaks of human beings as if he thinks we're all insects. It seems clear to me, at any rate, that Conal Cochran is not a "human being" at all, but some preternatural creature that has been visiting our world since ancient times. This is sustained not only by the novelization, but by what is known about the Nigel Kneale script as well. In fact, I suspect Conal Cochran is actually what Celtic folklore calls a "Fae of the Unseelie Court."
The popular image of fairies as "cute little Tinkerbells" is utter horseshit. The oldest stories depict these creatures as being much darker and more sinister than any Disney movie would have us believe. Celtic folklore is full of benign fae who are willing to live in balance with their human friends and neighbors; but it's also full of malevolent fae (the "Unseelie Court") who just want to commit horrific atrocities, like kidnapping babies or tricking people into cannibalizing each other. These entities can make themselves look like anything as well, including animals, trees, furniture…or even Dan O'Herlihy!
Wearing masks for Halloween started as an apotropaic ritual for keeping the unseelie fae away. But as Cochran notes in Season of the Witch, people today think "no further than the strange custom of having [our] children wear masks and go begging for candy." He says "the last great" Samhain was over 2,000 years ago, "when the hills ran red with the blood of animals and children." This is curious, given that Irish people have been observing Samhain each year right into modern times. There is also a historical discrepancy in Cochran's claim, since the first recorded literary references to Samhain date back to the 10th century CE (which was only 1,000 years ago). We know the Celts did not sacrifice children or animals like that, either; so what is Cochran really talking about here?
If you ask me, Conal Cochran was actually there in Ireland 2,000 years ago; he and his fellow unseelies roamed the land, murdering children; and he was probably what motivated the druids to develop their Samhain traditions in the first place. This would explain why there hasn't been an October 31 to Cochran's liking for 2,000 years; all that quality Halloween magic was just too strong for evil creatures like him to stomach. But now that it's 1982 and Halloween has been completely trivialized, the magic is no longer effective. Now unseelie fae like Cochran can intrude upon the mortal realm as much as they please, and they can even weaponize the things that once kept us safe, as Cochran does with his deadly Silver Shamrock masks.
While John Carpenter neither wrote nor directed Halloween III himself, he did score the music. His partner in crime on this task was Alan Howarth, a Hollywood sound designer who co-wrote most of Carpenter's 1980s film scores, including: Escape From New York (1981), Halloween II (1981), Christine (1983), Big Trouble in Little China (1986), Prince of Darkness (1987), They Live (1982), and the incidental music for The Thing (1982). Howarth also scored Halloween 4 (1988), Halloween 5 (1989), and Halloween 6 (1995) by himself, weaving Carpenter's familiar 5/4-time piano melody into some truly impressive soundscapes of his own.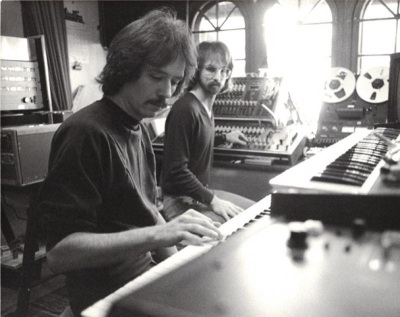 Carpenter and Howarth were an excellent team; I enjoy listening to their music by itself as much I enjoy watching the films for which it was all composed, and Season of the Witch boasts some of their very best work together. Since the entire point was to break away from the first two movies, the aforementioned 5/4 piano theme is nowhere to be heard (except whenever Halloween III's characters happen to catch a glimpse of the first Halloween on TV!). We are instead given a host of new original tunes, all performed on classic Moog synthesizers and sequencers. "Chariots of Pumpkins" might well be considered the main Halloween III theme, and it is one of my favorite pieces of music ever written.
So given its fascinating plot, terrific performances, and outstanding musical score, why on earth did Halloween III: Season of the Witch tank in theaters?
Well, it's all about marketing. Though John Carpenter and Debra Hill tried to make their creative intentions very clear, this information was only relayed to the general public by publications like Fangoria magazine. Considering that Fangoria didn't have half the fanbase in 1982 that it has today, this meant that Carpenter and Hill's plan went completely unnoticed by most audiences. At the same time, Universal Pictures found the notion of a "Shape-less" Halloween unsettling, and their advertising department actually tried to hide the fact that Halloween III would be different. Nothing about the new artistic direction was mentioned in any trailers or TV commercials for the film. As a result, most audiences in October 1982 were basically walking into the movie blind.
In my experience at least, people who prefer slasher movies usually don't "get" other kinds of horror, and viewers who prefer other subgenres tend to find slashers distasteful. So on the one hand, every slasher fan in the world went to see Halloween III and was greatly disappointed; on the other, fans of other subgenres avoided the film precisely because they thought it would be a slasher. An entire decade would pass before Season of the Witch finally started finding its audience on VHS and during late night monster movie marathons.
I first saw Season of the Witch in 1995. I understood it would not be a slasher film going in, but I think I was probably expecting something more like Stan Winston's Pumpkinhead (1988), with old crones conjuring medieval hellbeasts out in the woods. I sure as fuck wasn't expecting to see some alien Pied Piper, turning children into creepy crawlies with his maleficent merchandise, his android assassins, and his Stonehenge supercomputers. This was all WAY too much for my 13-year-old brain to process in just one viewing. The whole thing was somehow ludicrous and terrifying at the same time, and it kept me awake at night for weeks.
The scene where Conal Cochran mentions the Festival of Samhain was a complete mystery to me at first. It wasn't until I re-watched the film with subtitles that I realized he is even talking about Samhain, because I didn't yet know the correct pronunciation of this term. In reading up about Samhain in real life, I learned that people still celebrate it today, including many Pagans. It would be a couple more years before I learned about Setians, but Season of the Witch facilitated my awareness that there is even a Pagan community in general at all. And while I've never felt drawn to the Celtic pantheon in any religious capacity, Samhain or Hallowtide has always been a huge deal to me. So in a weird way, Halloween III didn't just expand my mind on how people can tell stories; it expanded my mind on how people can believe and live their faith, as well.
I consider Halloween III: Season of the Witch to be the absolute best follow-up to the original Halloween (1978) that has ever been made, and it is unlikely to ever be superceded in this respect. None of the sequels or remakes with Michael Myers can hold a candle to it, because even the best of them are essentially just copies of the first movie, a story that was never meant to be continued in the first place. And while the Myers follow-ups have each been motivated primarily by box office avarice, Season of the Witch is a unique and original story that demanded to be told, much like its thematic predecessor from 1978. John Carpenter and Debra Hill's pitch for an anthology is equally interesting, but I think it would have been neat to see Conal Cochran a few more times before Dan O'Herlihy passed away in 2005. One reason I love the Halloween movies as much as I do is because this series features not one, but two of the scariest horror movie supervillains I have ever seen. Only one of them visibly wears a mask and stalks people, stabbing them with kitchen utensils. The other one wears a much less obvious mask—a handsome human smile—and tricks people into purchasing their own deaths.
…THE END (OR IS IT?)
How one of the goofier Halloween movies taught me to think beyond Hollywood depictions of Paganism, with a brief tribute to Donald Pleasence.
While Halloween 4 succeeded in breathing fresh life into the Halloween franchise, the series was almost killed off again with Halloween 5 (1989), which was rushed into production as soon as Halloween 4 proved successful. The production didn't even have a completed script when filming began, and boy does it show. Halloween 5 is a sordid mess, with characters behaving in contemptible ways that make absolutely no sense, and with several aimless plot threads that were clearly only included to build up hype for the next movie. The most obvious of these missteps is the Man in Black, a mysterious asshole who wears cowboy boots and who keeps walking in and out of the movie, showing up at the very end to bust the Shape out of jail and kidnap his niece, Jamie Lloyd. And though Halloween 5 implied that the next installment would be released ASAP, we were not given Halloween: The Curse of Michael Myers (otherwise known affectionately as Halloween 6) until about half a decade later.
When Halloween 6 opens, we learn the Man in Black leads a cult that appears to worship Michael Myers, and which has forced Jamie to bear a child (more on this in just a moment). One of the cultists seems to have a change of heart and helps Jamie escape with her newborn baby; but the Shape pursues them back to the town of Haddonfield, and yet another holiday murder spree begins.
There are actually two versions of Halloween 6—the 1995 Theatrical Cut, and the original Producer's Cut (which wouldn't see an official release until the 2010s). Both cuts are radically different from each other. The Producer's Cut is what was originally put together before Donald Pleasence passed away shortly after filming wrapped in 1995. The director, Joe Chappelle, then re-filmed the entire ending and re-edited the rest of the movie for no apparent reason. We are thus left with two very unique films that tell completely asynchronous stories. Both versions are about Michael Myers stalking his niece, her baby, and a family that has moved into the Myers House (relatives of Laurie Strode, in fact). But the Producer's Cut explains that Myers is merely a puppet for the Man in Black, who appears to be driven by (fanatical) Pagan beliefs. In the Theatrical Cut, the Man in Black's motives are revealed to be more pseudoscientific than occult, and it turns out he does not actually have the Shape under his control at all.
Both versions of Halloween 6 feature a cult of so-called "druids" who worship a theoretical demon called "Thorn." Both versions also posit that Michael Myers is possessed by this demon, thereby explaining his immortality and his drive to kill. The symbol for Thorn is actually the Norse rune Thurisaz (the third letter of the Elder Futhark), and it has nothing to do with the druids or with Celtic polytheism. It represents Mjollnir, the hammer of the thunder god Thor, and it is used to magically harness destructive and chaotic energies for protective ends. It is similar in principle to Khepesh, the starry Iron of Set, and and to the use of gargoyles in Christian church decor; it's not about glorifying evil, but repelling it. So when certain characters claim that "Thorn" demands one family in Haddonfield be ritually murdered every now and again—and that Michael is simply the current bearer of this curse—I can confirm this is complete bullshit. This stuff is not based on any authentic Paganism; the writer, Daniel Farrands, simply pulled it out of his butt to fill all the gaping plot holes left over from Halloween 5.
While the Producer's Cut still follows the tried and true slasher formula ("spooky killer stalks protagonists one-by-one"), it also follows the Satanic Panic formula ("community is besieged by murderous, rapey witches"). Here is where we return to the subject of Jamie Lloyd's baby, who is eventually named Stephen. The parentage of this child is extremely controversial. In the original script, Stephen is the result of Jamie's rape by the Man in Black, who impregnates her so that yet another member of the Myers family can be offered to Thorn. While the film was being shot, the script was rewritten on an almost daily basis, and for some unholy reason, someone thought it was a good idea to have Stephen be Michael's kid instead. There is actually a flashback which implies the Thorn Cult tied Jamie to an altar and forced the Shape to rape her. There are so many things wrong with this idea, I'm not even sure where to begin. First of all, the Halloween movies generally aren't known for using rape as a convenient plot device. The Shape is a brutal killing machine, and murder has always been its sole biological imperative; it's never shown any kind of sexual interest in its victims whatsoever. And the idea that anyone could "force" the Shape to rape someone—given that this motherfucker can rip people's skulls apart with its bare hands—is just ridiculous.
Those of us who grew up watching her in Halloween 4 and 5 really look up to Jamie Lloyd's character; so when Halloween 6 was still in the works, we were all anxious to see how this mighty young warrior would outwit the Shape once again. And we were all promptly heartbroken. It's bad enough that they didn't want to pay Danielle Harris the salary she deserved and cast an older woman (J.C. Brandy) in the role instead. (Jamie should have been about 15 or so in 1995; but J.C. Brandy was clearly in her late twenties or early thirties when Halloween 6 was made.) It's even worse, however, that they decided to write Jamie out of any future sequels by having her be raped and killed. Yes, these are horror movies, it's understood that upsetting things are going to happen. But this was an awful, thoughtless, and totally mean-spirited thing to do to a beloved, cherished character. The truth is, I'm glad Danielle Harris wasn't in this one, because I wouldn't be able to sit through it at all if I had to watch the real Jamie Lloyd suffer such a cruel fate.
In the Theatrical Cut, baby Stephen is strongly hinted to be a product of artificial insemination. Both versions end at Smith's Grove Sanitarium, which is the Thorn Cult's base of operations; and both versions reveal the Man in Black to be Dr. Terence Wynn (played by Mitch Ryan, otherwise known as Will Riker's dad), who is the head of the hospital. But here is where the similarities end. The Producer's Cut concludes with Dr. Loomis and company disrupting a sacrificial ceremony and binding the Shape with "the power of the runes." The Theatrical Cut climaxes with our heroes learning that the Thorn Cult is not really a cult at all, but a bunch of mad scientists conducting some ghoulish lab experiment. The sanitarium is filled with human fetuses in test tubes, and Dr. Wynn mentions something about Stephen being "a very special baby" who represents "the dawn of a new age." We also learn the Shape has been murdering pregnant women in the hospital who seem to be related to the test tube babies somehow. The Thorn scientists don't seem to be aware of Michael's activities at present, perhaps thinking they have safely locked him away. That's when the Shape busts in on their operation and butchers every scientist in sight. It then comes down to Paul Rudd bludgeoning Myers with a big lead pipe in a room full of fetuses (and trust me, it's every bit as spectacular as it sounds!).
None of these events are ever explained in any coherent way, and one fan's interpretation of events is as good as another's. But for what it's worth, here's what I think the Halloween 6 Theatrical Cut is trying to say with all this craziness. Dr. Wynn and his cronies never believed in Thorn at all; they simply pretended to worship the force possessing Michael so he would allow them to get close to him. They don't really believe in the Boogeyman, but they do acknowledge Michael's superhuman strength. Their true goal is to clone the Shape's DNA; perhaps they work for the military, or maybe they just want an army of Shapes they can control. They artificially inseminated all of their female "patients," including Jamie, with little Myers clones, and Stephen has proven to be some kind of breakthrough. More than anything, they want Stephen back so they can continue their experiments on him; so they release Michael to track him down, with plans to recapture the Shape before it can actually murder its prey. After succeeding at this, Dr. Wynn dispenses with all pretense at being a "druid," thinking he has fooled the Shape. But Michael Myers has actually been in control of the entire situation all along, keeping the "Thorn Cult" close to himself for his own purposes. And that's when these other villains who think they're oh so bad find out the Boogeyman is VERY fucking real, indeed!
Given this interpretation of events, I much prefer the Halloween 6 Theatrical Cut to the Producer's Cut. The former is essentially an X-Files episode that just happens to feature Michael Myers, with tons of bizarre shit happening and none of it being explained (saving material for future installments). While it is still a ridiculous film with many flaws, this leaves a much better taste in my mouth than the alternative. The Producer's Cut is more like a gothic Hammer film, which I would normally find appealing, save for this: it reduces the Shape to being little more than Kharis the Mummy, with Dr. Wynn as his Mehemet Bey. I also really resent the addition of all that Satanic Panic baloney, which is just unnecessary. The idea of people being raped for witchcraft might be essential to a story like Rosemary's Baby, but it has never been a part of John Carpenter's Halloween. With all due respect to Ira Levin, I just do not want to see any of that shit when I put on a Halloween movie. The idea of genetically engineering a race of Michael Myers clones is equally crazy when you compare it to the original 1978 film; but at least it's my kind of crazy, dammit!
There are certain things about the Producer's Cut that I happen to prefer, however. For one thing, there's a whole lot more Donald Pleasence in that version, which is always a good thing (especially since this was his final appearance before he died). For whatever blasphemous reason, most of his scenes are either heavily trimmed or completely removed from the Theatrical Cut, and that's just insulting. My number one reason for seeing Halloween 6 in the first place was to see how Dr. Loomis is doing, and to see what he does to stop the Shape this time. Removing most of his presence from the film leaves it feeling very hollow, like part of the movie's soul has been lost. It helps that Dr. Loomis passes the torch to Tommy Doyle (played by Paul Rudd), who witnessed Michael's first killing spree as one of the child characters in 1978. But the very last scene with Donald Pleasence in the Theatrical Cut ("I have a little business to attend to here…") never fails to make me tear up a little.
Halloween 6 might be goofier than shit (no matter which of the two versions you prefer to watch), but seeing it was a major step in my coming to Paganism as a teenager. Donald Pleasence is also my all-time favorite actor, and it was very sad for me when his passing was first announced back in February 1995. I have always thought the Thurisaz rune would be much better suited to representing Dr. Loomis as a protector against the Shape, rather than the Shape itself; so I decided to include a song on my new 2020 album, Summer's End, that honors the concept of Thurisaz, and which is also dedicated to the memory of Donald Pleasence. I pray you will enjoy this offering, good sir!
Why Halloween 4 (1988) is one of my favorite flicks to watch for the Samhain season.
John Carpenter's Halloween (1978) made a shit-ton more money than anyone was betting it would, and that ending just screamed for a follow-up. Carpenter never intended to make any sequels, but was legally forced into making one for contractual reasons. The mixed result was Halloween II (1981), which takes place on the same night as the original. The Shape is still on the loose in Haddonfield in 1978, with Dr. Loomis and the fuzz in hot pursuit. Laurie Strode is taken to the local hospital for her injuries, and the Shape follows her there, stalking and slashing through the entire graveyard shift. Meanwhile, Loomis comes to suspect that Michael Myers is driven to kill by some kind of "druidic curse." The final act begins when it's revealed that Laurie is actually Michael's younger sister, whom he apparently meant to kill in 1963 along with his elder sibling Judith. All hell breaks loose when Dr. Loomis shows up at the hospital to save Laurie and blow himself and the Shape to smithereens.
Halloween II broke some big box office records of its own, so it was only a matter of time before another sequel would be greenlit. Carpenter insisted on taking the series in a new direction, turning it into an anthology like The Twilight Zone. Hence why Halloween III: Season of the Witch (1982) has nothing at all to do with the Michael Myers storyline. I will save my analysis of Halloween III for later, but suffice it to say for now that the film was not very well received by audiences at the time, making the Shape's resurrection inevitable.
Jason Voorhees and Freddy Krueger were making big bank in the mid- to late 1980s, and executive producer Moustapha Akkad was determined that Michael Myers should do the same. He approached John Carpenter for his input on a potential Halloween 4, but the two of them just couldn't see eye to eye. Carpenter pitched a really weird script by horror novelist Dennis Etchinson that has the Shape returning from the dead as some kind of reality-bending ghost. It's actually pretty neat, but Akkad just wanted to "go back to the basics" (or "Xerox the original" according to Carpenter), and Carpenter sold his interest in the franchise. Akkad then assembled his own creative team, headed by director Dwight H. Little, and produced Halloween 4: The Return of Michael Myers in 1988. The end product is not quite as interesting as what Dennis Etchinson cooked up for us, but it still turned out pretty awesome in my book.
Halloween 4 ignores its immediate predecessor and picks up 10 years after the events of the first two movies, which technically makes it Michael Myers' second killing spree. It also rewrites the ending of Halloween II so the Shape and Dr. Loomis weren't immolated in that hospital explosion after all; they were burned and disfigured, but survived. Myers has been in a coma at a maximum security prison ever since, and Dr. Loomis has never left his side. Presumably the prison staff are tired of Loomis always demanding they take his patient off life support, for they arrange to have Myers transferred to some other facility across the state without the doctor's knowledge. This might not have turned out so bad, except they decide to do this on the night of October 30. To make shit worse, the paramedics transporting the prisoner stupidly discuss the fact that Laurie Strode, while now deceased from a car accident, had a daughter named Jamie Lloyd (nice touch), who is currently living with a foster family back in Haddonfield. That's when the "comatose" Michael Myers snaps into action and butchers every motherfucker in the ambulance; then he returns to Haddonfield and relentlessly stalks his niece the following Halloween night.
While it is extremely derivative of the 1978 original, Halloween 4 is actually a pretty fantastic movie, and there are two primary reasons for this. First, Donald Pleasence really shines as Dr. Loomis in this one. In fact, he is practically an action movie hero here, doing all kinds of crazy stunts (the exploding gas station sequence being one of my favorite scenes in the entire franchise). This shit could not have been easy for a 69-year-old WWII veteran to do, but Donald Pleasence did it anyway, and I love him for it. I can't stress enough how his character is really what kept me coming back for more of these movies when I was a young'un. Seeing Dr. Loomis stick it to the authorities and risk his life and reputation to rescue a scared and defenseless 9-year-old girl always makes my heart glow! Plus, virtually everything he says throughout Halloween 4 is a classic one-liner. I think of Dr. Loomis as being an avatar of Set in these movies: the grim, doomy outcast who hunts down the evil regardless of whether he is ever thanked or recognized for doing so, and who is every bit as relentless in this pursuit as Michael Myers is in stalking his niece.
Which brings us to the second reason why Halloween 4 is so awesome: Danielle Harris, the talented young lady who plays Jamie Lloyd. There was simply no better child actor in the 1980s than Harris. If I didn't know any better (and I do), I'd think the filmmakers were actually trying to kill her. This was definitely not the case, as every effort was made to make Harris feel totally comfortable with George P. Wilbur, the stuntman who plays the Shape. She also got to hang out with Donald Pleasence between shoots, and he would tell her all kinds of crazy stories (which must have been fuckin' awesome). But when Harris screams or runs away from the Shape on film, she really SELLS it, making me want to leap through my TV screen and save her myself!
There is something to be said for the fact that Myers stalks a child for this venture. Other popular horror sequels at the time were becoming self-parodies, with slashers like Jason and Freddy getting up to all kinds of goofy hijinks (like going to Manhattan, or appearing in music videos by the hair metal band, Dokken). Having the Shape target a little girl really heightens the stakes in comparison, especially when we remember that Laurie Strode was a teenager in 1978 and could actually fight back against Michael. But Jamie depends on the adults around her to do all the fighting for her, and when most of those adults AREN'T Dr. Loomis, the situation is made even more suspenseful.
Halloween 4 is superior to Halloween II for several important reasons. While certain aspects of the latter film are classic and iconic in their own right (such as the hospital setting and the idea of having it take place on the same night as the first movie), the film is dreadfully paced (that entire second act is a total snoozefest), there is too much absurdist gore, and the bits about Celtic religion are especially distracting (given they are pure gibberish). The "family vendetta" premise nullifies the idea from the first movie that Myers is completely arbitrary in his actions (which is a much scarier idea to me personally). And while his newfound motive would seem to give Laurie a role of central importance, Halloween II puts her character to little use, rendering her drugged, silent, and powerless until the conclusion. But here in Halloween 4, the pacing is just right, the amount of gore is significantly reduced, and we don't have to sit through any of that anti-druidic bullshit. Also, Danielle Harris' performance as Jamie is so fucking intense, it makes me forget how stupid the "family vendetta" storyline from Halloween II really is.
Halloween 4 takes a big risk by not only presumably killing Michael Myers once and for all, but by passing his curse on to Jamie, driving her to re-enact her uncle's original murder in 1963 by stabbing her foster-mother to death. The film ends with Dr. Loomis discovering what Jamie has done and screaming hysterically, understanding immediately that the Shape has now taken a new incarnation. Given this set-up, Halloween 5 seemed ready to begin in 2003 (15 years later), with a full-grown female Shape terrorizing everybody on Halloween that year. Something like that might have been pretty damn cool; but we ended up with a lot of bullshit instead.

How a simple "slasher movie" deplores the patriarchy and evokes Celtic folklore.

Merry Samhain! Happy Hallowtide! To mark this blessed holiday occasion, the next several episodes of this series will feature my analyses of the Halloween horror film franchise, with a particular focus on my five favorite installments thereof.
If I had to rank my top 5 Halloween movies as things currently stand here in 2020, the countdown (from fifth to first favorite) would run as follows:
I find it difficult to discuss these films in a countdown, and would prefer to discuss them chronologically instead. But unlike most other popular movie franchises, the Halloween series does not follow a single coherent timeline. It instead includes several alternate continuities, and even a completely different cinematic universe in the case of Halloween III (which diverges thematically from all the other films). That being said, I think it would make the most sense if I discussed my favorite entries from the "A-plot" storyline of the series (the Michael Myers saga) first, then concluded with an analysis of the "B-plot" story. So the first four episodes in this little mini-series will feature my four favorite Myers films in their chronological order of release; then I will end by discussing Halloween III.
It's Halloween night, 1963, in the sleepy little town of Haddonfield, Illinois. Dressed as a clown, a six-year old boy named Michael Myers stabs his teenage sister, Judith, to death—and for no apparent reason at all. He neither moves nor speaks afterwards, and he is admitted to a state mental hospital, where he is treated by Dr. Samuel Loomis (Donald Pleasence). After a while, Loomis claims Myers is the single most dangerous patient he has ever observed, and he does everything he can to have the boy transferred to a maximum security prison—despite the fact that Michael just sits there motionless, never reacting to any external stimuli. The doctor's colleagues think Loomis has gone crackers, but he seems to understand something about Michael that modern psychiatry just isn't equipped to explain. Much to everyone's horror, Loomis is proven 100% correct about his patient 15 years later, when a full-grown Myers gets a hair up his ass and makes a jailbreak on Halloween Eve. The authorities continue to gaslight Dr. Loomis and ignore what's happening, thinking they will probably find Michael just sitting in a park somewhere in his hospital clothes. But Loomis knows his patient is really up to something terrible, so he follows his only lead: the possibility that Myers might return to the scene of his childhood crime, the old Myers House back in Haddonfield.
Here is where we meet Laurie Strode (Jamie Lee Curtis), a meek and lonely teenager who happens to live in Haddonfield. She's good-natured and smart as a whip; but her closest "friends," Annie and Lynda (Nancy Loomis and P.J. Soles), constantly treat her like shit, making fun of her good grades and her shyness around dudes. Yet Laurie does, in fact, attract a "man" when she passes by the Myers House on her way to school that Halloween morning in 1978. For a mysterious Shape inside the abandoned property notices her and fixates on her, following her wherever she goes from that point on. Laurie keeps catching glimpses of the Shape as she sits in class, walks home from school, and goes to babysit her pre-adolescent friend Tommy Doyle (Brian Andrews) for the evening. But the Shape keeps appearing and vanishing like a phantom, and Laurie doesn't really believe what she sees as first, thinking it's probably just some holiday prankster, or perhaps her eyes playing tricks. Tommy refers to the Shape as "the Boogeyman" whenever he sees it lurking outside the windows, and Dr. Loomis insists this thing is really the devil himself. By the time Laurie is forced to defend herself and Loomis arrives to shoot the Shape six times in the chest at close range, the viewer is unable to dispute with Tommy or Loomis on either of these theories. There really is no "Michael Myers" at all, or at least not in any human sense; there is only the deathless Shape, which has now dropped all pretense at being a mortal man.
This story might not seem to have anything to do with magic or the occult, but there is a curious parallel to Celtic mythology and folklore that is seldom noticed. Celtic lore tells of changelings, or faery children who are swapped for human babies (without the human parents' knowledge or consent). A changeling will look and behave just like a human baby at first, but eventually it starts exhibiting weird superhuman powers, and misfortune follows it wherever it goes. It seems to me that Michael Myers fits this motif perfectly; his parents appear to have had no idea of what they were really raising, and much like the evil spirits in Celtic folk religion, he only roams free during the festival of Samhain. Additionally, the apotropaic Halloween traditions that once kept us safe from entities like the Shape—wearing costumes, carving pumpkins, trick-or-treating, etc.—have been completely secularized, rendering them powerless. The evil can stalk and slash as much as it wants to now, since the people of Haddonfield aren't even willing to acknowledge its existence in the first place.
The fact that Myers wears a pale white mask and stalks defenseless young women is also significant. Myers is the ultimate Angry White Male, and he is just as difficult to kill as the horrific patriarchy in which we all live. The authorities' insistence on minimizing his evil is paralleled by how our society continues to trivialize issues like systemic misogyny and toxic masculinity today. I think most people would agree with me that even when these evils are exposed in broad daylight for all to see, the common reaction is to ignore the problem and pretend nothing bad is really happening. Here in 2020, the entire United States is still responding to evil men the same way Haddonfield responded to the Shape in 1978: by ignoring them and letting them do whatever the fuck they want.
John Carpenter's Halloween (1978) is amazing and beautiful on many different levels. It is, in fact, my all-time favorite film. It might be a "slasher" film (and the template for many slashers to come, at that), but it feels much more like an old-fashioned ghost story to me. The point is not to build a body count or gross out the audience with gore, but to build relentless suspense, to make us yell at the characters in the movie, and to leave us all wondering, "What happens next?" when the credits roll. The fact that this film was made on a nonexistent budget by mostly unknown talent (many of whom worked multiple jobs on set for free, including Curtis) only enhances the impression it leaves on the viewer. The most expensive part of the entire production was probably just hiring Donald Pleasence to play Dr. Loomis for a few key scenes, and even he (being the fantastic professional that he was) admired all the heart that was put into the project. This was also Jamie Lee Curtis' first big break, and she truly shines as Laurie Strode, the timid girl who never goes looking for trouble, but who turns out to be much tougher and cooler than she or her peers think she is. And lest I forget, the eerie electronic music by director John Carpenter is truly a work of art unto itself. The soundtrack is my #1 favorite album to listen to, which I suppose is probably obvious to anyone who's heard my music.

Shameless self-promotion for my new album, Summer's End (2020), a musical anthology of Halloween happenings.
It's October 1, 2020, and the Season of the Witch is nigh! The Festival of Samhain, otherwise known as the Feast of All Hallows, is my very favorite holiday. The following clip from Episode #32 of this series (Holy Days of the LV-426 Tradition) explains why:
Halloween isn't "just for kids," and it wasn't invented by the candy companies either. It originates from a blend of Celtic folk religion and Roman Catholicism. It is just the first of three holy days—All Hallows' Eve (October 31), All Saints' Day (November 1), and All Souls' Day (November 2)—which are collectively known as Hallowtide.

Even before the Catholic Church reached Great Britain and Ireland, these three dates were already an ancient festival called Samhain ("SOW-wynn") in Gaelic and Nos Galan Gaeaf ("knows GAIL-uhn GUY-ov") in Welsh. It marked the end of the harvest season and the start of winter, which was an extremely frightening time for the Celts. Many of them would die of starvation, disease, or freezing temperatures before the following summer. For this reason, the first night of winter weighed heavily upon their minds, and people thought the barriers between this world and the next were temporarily lifted, allowing the dead and other paranormal beings to roam free. This wasn't so bad when it came to ghosts, who were viewed as beloved ancestors to be welcomed. Malevolent faeries and qliphothic entities were the real concern, and people dressed in frightening animal skins, carved protective charms from turnips, and left out offerings of food to keep such things away. It's from these ancient traditions that wearing costumes, carving jack o'lanterns, and trick-or-treating are all descended.

Halloween was always my favorite holiday growing up, more important than the winter holidays, and it's the first thing in which I ever took a religious interest, even before Set. I enjoy handing out candy to trick-or-treaters on October 31st; but once the boils and ghouls have all gone home, I begin my all-night vigil for the dead. I light some candles for our ancestor shrine in the kitchen, and I say some words to our dearly departed. I keep the candles burning all night long, not going to bed until 5:30 in the morning or so. Then I repeat this process the following two nights.

Spooky things do tend to happen during these vigils, like voices or footsteps that come from nowhere (especially around 3:00 am). But nothing scary or sinister ever happens, perhaps due to our ancestors' protection. Call it "superstition" if you like, but we take this stuff pretty seriously. I think it's important to keep the true spirit of Halloween alive as much as we can.
And to that end, I would like very much to present my new album, Summer's End, in honor of this most sacred occasion. 2020 has been a terrible year for so many people, too many lives have been lost or ruined, and there probably won't be a lot of trick-or-treating or bobbing for apples this year. Plus, many of us are afraid of what next month will bring, and I can offer little comfort when it comes to that. BUT, one thing I CAN do is give the world a special holiday present that will hopefully bring others some much-needed joy. If nothing else, play this music on Halloween night with no lights on apart from some jack-o'lanterns! Perhaps something magical might happen…
To stream or download this album entirely for free (just enter $0), visit gbmarian.bandcamp.com!