Forget what you think you "learned" from The Exorcist (1973) about Pazuzu, and join this mighty deity as He quests against both human and spiritual cruelty.
The last several months of my life have been quite painful, and I imagine I am not alone in this respect. Yet the gods are merciful and good, and one of them in particular saw fit to help me just recently, even though I have never specifically reached out to Him before.
Pazuzu
is another ancient god who, like Set, has an extremely bad reputation today, thanks largely to William Peter Blatty and his novel, The Exorcist (i.e., the source material for the 1973 movie). It is interesting that Blatty would choose an explicitly Pagan deity for his novel's antagonist, rather than one of the fallen angels from his own religious lore.
Far from possessing little girls and making them vomit pea soup or spider-walk up and down staircases, Pazuzu was commonly invoked in ancient times to protect pregnant mothers and newborn children from horrific monsters, most especially the night demon Lamashtu. Sure, He's creepy and He's kooky (again, much like Set), and He ain't much for sunshine and rainbows. But no matter how "evil" people think Pazuzu might be, He clearly hates bullies who harm the defenseless; and though the identity of His mother in Assyro-Babylonian mythology seems unclear, I get a strong feeling that Pazuzu loves His mother very much indeed.
Last week, Pazuzu "possessed" me to record a new album in His honor (ha ha). I could barely sleep or even take any breaks while I put this puppy together. It HAD to be finished last week for some reason; imagine my surprise when I suddenly remembered that Friday was Walpurgis Night!
Anyway, this is my attempt at setting the record straight about Pazuzu, and at providing something good and helpful for His worshipers who live today. Working on this has been an incredibly healing experience; I pray that Pazuzu enjoys it, and that others will too.
For personal reasons, I don't feel comfortable recording sermons for my podcast at present. I will likely get back to that eventually, as I do not intend to stop producing In the Desert of Set.
But since the holidays, I have only felt comfortable expressing myself in pictures. I would like to try expressing myself in words again, but I need to regain my footing with electronic print before I can feel comfortable with public speaking again.
I'm not prepared to produce the kind of in-depth content I have been writing for the podcast up until recently, or at least not yet. So I will be focusing on writing shorter offerings; hence this new Updates page featured on my website.
It may be some time before I return to producing the podcast; but Set has Opened my Mouth, and I must speak no matter what. If pictures and brief blurbs are the only way I can do so right now, then so be it.
Set's Will be done.
O Dazzling One!
You who were made desolate,
But who never dies!
You who were rejected,
But who always saves the dawn!
Straighten my spine!
Make strong my limbs!
Open my mouth!
You are what makes me to STAND!
You are what makes me to FIGHT!
You are what makes me to SPEAK!
The Serpent strikes me every day,
But I will NOT be stopped!
I will NOT be rendered powerless!
I will NOT be kept silent!
Holy Outlaw! Divine Rebel!
You who lay tyrants to waste!
Put me to Your holy work!
Do not let me stop
Until MA'AT HERSELF
Decrees my descent!
May I never EVER stop
Bringing joy to loved ones
And strangers alike!
May the Serpent TREMBLE
Whenever I pass near!
DUA SUTEKH!
SO MOTE IT BE!
The LV-426 Tradition of Setianism is a fusion of Kemetic polytheist theology with (Setianized) Western occult practices.
Recently a good friend of mine asked me, "What name do you call what you practice, if it fits into any one religion that has a name?"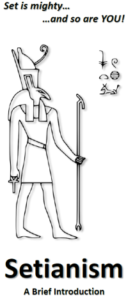 The simplest and most direct answer to this question is that I identify as a Setian, a person who reveres and works to emulate Set. Given that Set is central to my entire spiritual life, I am Setian in the same way that Christ followers are Christians, or that Shiva devotees are Shaivites. I therefore think of what I do as a type of Setianism. (For more information on Setianism in general, check out Episode #1 of this series.)
But like the words "Christian" or "Shaivite," there are some contexts in which the word Setian requires further explanation. Not all Christians or Shaivites believe or practice the same things, and neither do all Setians. I think it's probably fair to say we are mostly divided into two major groups:
Setians who are Kemetic polytheists, a term taken from Kemet or "Black Land" (the indigenous name for ancient Egypt). People in this category are more likely to believe Set is actually a real, living force of nature; that He is not "the Egyptian devil"; and that He deserves to be worshiped as a personal deity.
Setians who are Western occultists, which means they take more of their inspiration from 20th century sources like Aleister Crowley. People in this category are more likely to think Set is somehow "separate from nature"; that He is "completely 100% opposed to Christianity"; and/or that "true" Setians bow to no gods, not even Set.
And then you have people like me who blur the lines between these categories in certain ways. In my case, my theology and values are very much Kemetic; I treat the Netjeru (the Egyptian gods) as literal beings, and I consider ancient Egyptian literature on Set to be more important than anything Kenneth Grant or Michael Aquino ever wrote about Him. Plus, my entire spirituality is aimed at actually revering and making offerings to Set, not on becoming some kind of "black magician."
But at the same time, my ritual style—the way I specifically express my reverence for Set in ceremony and prayer—is very much influenced by Western occult sources. I was not yet aware of the Kemetic community when I first came to Set; I was only aware of His occultist followers at the time, and their ritual templates were the first to which I was exposed. I found such examples helpful, but could never quite buy into the claims that "worshiping Set is un-Setian" (!) or that "Set is a force 'against' nature" (?) or whatever. (This contradicted the fact that Setians in ancient Egypt very clearly did not believe EITHER of those things.) So in 1997, I started xeroxing all the rituals by Crowley and other occult writers I could find at my local library; then I would go home and repurpose these litanies to suit my devotional intentions.
A few years later, my friend the Tonester came to Set and asked for my help in learning how to worship. I showed him how I had been doing things up to that point, and we bonded because neither of us was impressed with the occult community in general. No one we knew who was into this stuff was really interested in worshiping anything but themselves. Many of these same individuals were also manipulative egomaniacs with absolutely zero regard for other people's mental or emotional well-being. Seeking help or support from anyone was always treated as a "spiritual weakness"—like if you can't just shake off all that depression or anxiety you're living with, you can't be a "real" Setian or something like that. So the Tonester and I both said, "FUCK dem apples; we'll just start our OWN outfit." And such is more or less how the LV-426 Tradition of Setianism began, back in 2003.
It wasn't until sometime in the mid-2000s that I met any Kemetic polytheists or became aware of modern reconstructionist groups like the House of Netjer and the Church of the Eternal Source. Learning of this community really blew my mind; here were all these people who actually believed in worshiping the Egyptian gods, and I hadn't known about them this whole time! And I was impressed by the sheer amount of empathy that Kemetics just seem to feel for each other in general. Things might be different now than they were in the early 2000s; but back then, to speak of having suicidal feelings in a group of left-hand path occultists was to invite them to shame you into "just feeling better," "getting up and doing something about it," and/or "leaving if you can't take the heat." But to this day, I still see Kemetics supporting each other emotionally through such terrible struggles—something that anyone who claims to love the Gods of Egypt SHOULD be doing (YES, even if your patron Netjer is SET!). Despite any differences in my ritual style, I would much rather hang out with a bunch of Kemetics for an informal Moomas party than attend something like one of the Temple of Set's annual conclaves.
In summary, the simplest term for my faith is Setianism; but if we want to get really taxonomical about it, my particular kind of Setianism (LV-426) is a unique fusion of Kemetic polytheist theology with (Setianized) Western occult ritual practices. We do not claim to be following "the one true way" of Set or anything like that; this is just OUR way, and others can take it or leave it. But one thing we LV-426ers will NOT tolerate is being told by any Social Darwinist occultniks that THEIR ways of "being Setian" are somehow more "accurate" or "legitimate" than ours. In absolutely any situation where this ignorant claim might arise, we will be sure to correct people accordingly (and mercilessly).
(To paraphrase Ozzy Osbourne: "Tell me I'm a phony? I got news for you: I spoke to Set this evening, and HE DON'T LIKE YOU!")
As a final note, the LV-426 Tradition is a private fellowship, and membership is by invitation only. This is not because we want to be a "secret society"; it's because we treat each other as family, and that is not a dynamic people can just develop by sending us a check and applying to join. It usually takes several years for someone we know personally to even realize they are one of us; then we have to all agree with each other before the candidate can be initiated. Sometimes when you've had a really bad week, it feels damn good to sob uncontrollably in the presence of Sutekh and your siblings in Him during one of our Sabbats. And this kind of atmosphere is most successful when there aren't any "might is right" crotchgoblins around, trying to shame people for having problems and needing support.
But while we are extremely protective of whom we allow into our personal lives, we want to share the magic we've worked together so that others may benefit from it too. You don't even have to join us or pay us to learn how we do things; hell, just read this damn website and take notes! If other Setians find our material useful but would like to make changes, I encourage them to do the same thing I did with Crowley or whomever and tinker with the work as they see fit. While I am in no hurry to expand my own coven, I do hope to hear of more like-minded Setian groups popping up across the globe some day.
Reclaiming Set's good name from "secret societies" that like to play "Raiders of the Ark" (but as Nazi characters!), and which have contributed to the normalization of fascism today.
Anton LaVey once codified a concept called "the Law of the Trapezoid." This refers to the magical power of shapes and spaces that trigger strong reactions of primordial fear, from phobias and apotropaic religious images to German expressionist paintings and gothic horror movie sets. Whatever it is, something is "wrong" about it—it has too many (or not enough) legs or eyes; it reminds us uncomfortably of sex, death, and/or spiritual evil; or something is just "off" about that crooked, pointy hallway in the scary movie you're watching. Such images provoke fear in most people, but fear is not always a bad thing; it can be a great motivator for self-preservation and change. And some people are even energized by such imagery, finding it beautiful in its own eldritch way. LaVey named this principle after the trapezoid because it is the simplest of all "disturbing" geometric shapes (it does look rather odd, like a decapitated triangle), and he applied it to many of his ceremonies in the Church of Satan. Imagine a religious service where you are scared or shocked right into "enlightenment" in a Halloween spookhouse, and you'll have a ballpark idea of how this theory was supposed to work in practice.
LaVey was so driven by these observations that he even named the inner circle of his church "the Order of the Trapezoid," a title Michael Aquino later gave to a particular school within the Temple of Set. The Setian Order of the Trapezoid developed LaVey's theories on weird geometrical spaces even further, conceptualizing themselves as "knights" on an esoteric "Grail Quest" (where the Grail is equated with a postmortem state of existence comparable to that of the Akhu). The literature that's been made available to the public touches on everything from H.P. Lovecraft to left-hand path interpretations of Scandinavian mythology, and it's all tied together with kind of an Indiana Jones vibe. The Order's take on the Aesir and the Vanir is probably not agreeable to most devotional polytheists who are drawn to said divinities; but that has never been the point for these particular Setians. Their point is to kheper by applying the Law of the Trapezoid to a wide mishmash of things that engage them, but which are mostly related to Germanic and/or Lovecraftian influences.
I will say that the Order of the Trapezoid's obsession with Nazi occultism is alarming, though perhaps in a more complex way than might be expected. I do not believe Order of the Trapezoid members are actually totalitarian white supremacists; but they have deliberately modeled themselves after Heinrich Himmler's Ahnenerbe (the Nazi occult think tank that inspired movies like 1981's Raiders of the Lost Ark), claiming to extrapolate the "positive" aspects of that secret society while discarding its "negative" aspects. This has understandably led outsiders to assume that Order of the Trapezoid members are Nazis, despite their claims of including both Jewish and black people among their membership. But whether members of the Order actually agree with National Socialism or not is almost immaterial; they promote its ethos simply by spotlighting their highly questionable sources so much.
Any Heathen can point you to a wealth of resources on Scandinavian polytheism that are far more advanced and reputable than anything Heinrich Himmler might have been reading back in the 1930s or 1940s. So why bend over backwards so much to "find positive things" about the Ahnenerbe when there are much more excellent resources available? The answer, of course, is that this isn't really about reclaiming Scandinavian lore from the Nazis at all. It is really just about having an excuse to enjoy Nazi symbolism and memorabilia without considering how such imagery can still harm other people, even when it is completely devoid of any real political content. Even if Order of the Trapezoid members are not Nazis themselves, their activities and publications have certainly encouraged OTHER left-hand path occultists who ARE Nazis to come out of the woodwork. For it wasn't until the Order of the Trapezoid started scaring people like Isaac Bonewits during the 1980s that other, more extremist cults like the Joy of Satan and the Order of the Nine Angles came into play.
Setians are free to explore whatever spiritualities they like; but I must admit, it gets my back hairs up to think there's a group of people out there who have taken Set's name as a part of themselves, yet who also idolize the Ahnenerbe so much. I can definitely agree with the idea that Set and Odin might be "drinking buddies," so to speak; there are many people who are drawn to Egyptian and Norse gods at the same time, so the idea of combining Kemeticism with Heathenry is nothing new. But I don't see Set's mighty red fingerprints on ANYTHING Heinrich Himmler was ever involved in (and frankly, I see nothing of the real Odin in any of that bullshit either). There is simply no good reason to incorporate such drivel into either Setianism or Heathenry. If you really want to walk with Set or Odin, ditch all that volkisch right-wing propaganda and read you some proper university-published archaeology textbooks instead.
Again, just to be clear, I am not accusing Order of the Trapezoid members of actually being Nazis themselves. I have read more than enough of Michael Aquino's work to know that he never actually praised Hitler, denied the Holocaust, and or called for the extermination of Israel or anything like that. But I AM saying there is most definitely an antisemitic undercurrent to all of this stuff. This is captured in almost every critique Aquino ever wrote about Judaism, which he frequently conflates with Christianity and Islam. Whenever you see someone refer to Judaism as a "Judeo-Christian" religion; or if you see them confuse Judaism with the ancient Hebrew religion; or if they seem to hold Jews responsible for every horrible thing Christians ever did to polytheists throughout history; well then you can reasonably guess that person has probably never tried to understand Judaism on its own terms before. (The baseless claim that "Satan" is a "Hebrew corruption" of "Set-Hen," a name for Set that Aquino appears to have invented, is also indicative of this bias.) You don't have to buy into National Socialism to promote antisemitic views like these, and thanks to Aquino, many LHP occultists continue to promote such fallacies at every turn.
Of course, it will be argued by LHP readers that my visceral reaction to their use of National Socialist imagery is proof itself of LaVey's Law of the Trapezoid at work. Theoretically, they take this disturbing imagery that scares other people away and find ways to benefit from it magically without directly harming anyone. (The argument would likely be that since I find their activities distasteful, I am somehow "lacking" as a Setian.) The trouble is that even without directly harming anyone, such imagery can still harm people indirectly—and for generations to come! By flirting with fascist symbolism so much in the 1980s and 1990s, people like Anton LaVey, Michael Aquino, and Zeena Schreck effectively normalized this ethos among their respective LHP communities. And whenever such hateful imagery is normalized, it becomes much easier for others to take it too seriously and actually become real life monsters. (It doesn't help that leaders like LaVey, Aquino, and Schreck were all white, with no people of color [publically] joining in on their fascist aesthetic.)
The Order of the Trapezoid prides itself on supposedly presenting its information in such a way as to "protect" the outside world from any negative consequences their controversial magical projects might have. My argument is that if they really cared about keeping anyone "safe" from such fallout, they would never have published any material about this shit in the first place. They would have kept their esoteric tradition completely oral and never allowed any information about their practices to reach the public. If you feel like you gain some kind of spiritual benefit from dressing up like Colonel Klink in your private rituals (even though you really find Nazism deplorable), that is no skin off anyone else's back. But if you FLAUNT that you are doing this, you really can't bitch about it when people give you grief, or when OTHER people become RADICALIZED by the signals you are sending them. If my reactions to Nazi imagery exemplify the Law of the Trapezoid, it is only because the misapplication of this "Law" (by those who claim to understand it, no less) has been incredibly destructive to society. We probably wouldn't have quite so many Proud Boys crawling out of the gutters today if people like LaVey, Aquino, and Schreck hadn't helped to normalize some of this shit in the first place.
I have already discussed my views on Lovecraftian occultism at greater length in Episode #13 of this series, but here is a brief review. First, Anton LaVey and Michael Aquino both owe a debt to Kenneth Grant, who was really the first occultist to adapt H.P. Lovecraft's lurid science fiction tales for ritual work. Second, I can see why Lovecraftian figures (Cthulhu, Yog-Sothoth, etc.) would prove useful to occultists who are interested in applying the Law of the Trapezoid to their work. And third, I think such figures are prime "real estate" for qliphothic entities that want to skull-fuck people six ways from Sunday. I think it is best not to play with that sort of thing unless you do it in a controlled environment, with proper banishings and protective circles and stuff.
Matter of fact, the only way I'd allow any Cthulhu caca at one of MY rituals is if we were invoking Apep into something Lovecraftian so we can smash it to bits and pieces, as an execration spell. Such would demonstrate Set's power to stomp the shit out of ANYTHING, including motherfuckin' Cthulhu. But I just can't get behind the idea of actually venerating any Lovecraftian space monsters. Besides, the association of Set with such lore is really a byproduct of the same white Orientalism that has bred things like Robert E. Howard's "evil snake god Set" and "evil Snake People" tropes. If a time traveling Setian from ancient Egypt were to witness all these white people in Nazi regalia, invoking Set as "Nyarlathotep" so they can somehow "escape" the natural universe, I am pretty sure they would NOT approve.
Furthermore, Setians don't need to bastardize Heathenry to practice our faith. Everything we need to theoretically become powerful multidimensional beings after death is already included in Kemetic lore. We should not be equating Set with any Norse deities, for there is just never going to be a perfect match in that respect. (I personally link Him more closely to Thor and Loki than to Odin; but again, Set is identical to none.) We do not need to make up things about Valhalla to describe the afterlife scenarios we hope to enjoy, as these are more than adequately captured in Egyptian references to the Imperishable Ones. And we certainly have no good reason to promote any "legitimized" versions of early 20th century white supremacist propaganda, given that everything about our religion comes down to us from a highly advanced North African people of color.
We also don't really need the Lovecraft stuff either (except as entertainment, of course). Kemetic lore is already full of alternate universes, qliphothic monsters, and sacred geometry. In fact, Khepesh (the Big Dipper, sacred to Set) might even be called "trapezoidal" insofar as it is a strange angular shape that represents something scary (Set's raging deicidal power) being put to a positive use (warding off Apep, which tries to sneak into the material world through the northern sky). Then there's the fact that the chisels for Opening the Mouths of the dead were modeled after this same "trapezoidal" symbol, which brings us back to the idea of becoming Imperishable Ones and gettin' rowdy with Sutekh up there in His Desert. See how I just did all that without including any Norse gods, Nazis, or Cthulhian beasties? I rest my fuckin' case.
I am sure some readers will no doubt find my stance on these topics to be incredibly close-minded. After all, Set loves autonomy and diversity right? So I should even accept things I personally find unacceptable, or so the logic seems to go. The answer to that is a hard NO. I know good and well I won't change any minds that don't want to be changed; but I can't claim to respect Ma'at if I don't denounce isfet whenever I see it. And there is an AWFUL lot of isfet to be seen in LHP romanticizations of Nazism (political, magical, and artistic). This sort of thing should NEVER be romanticized, for it has NOTHING to do with Set, and it has EVERYTHING to do with His eternal enemy, that rancid fucker Apep.
A Setian midnight mass performed and recorded for an imaginary AM radio station.
Good evening.
For tonight's episode of "In the Desert of Set," we are brought to you live from the First Typhonian Anabaptist Church of Grover's Mill, Pennsylvania by Hem Sutekh Radio, WZLP AM 770.
We now give you Reverend G.B. Marian, Priest of Set in the LV-426 Tradition, who will now lead tonight's Midnight Mass.
Happy Holidays from LV-426!
Thoughts on Nehebukau, the holy Snake God, and the concept of Snake People, with an analysis of their appropriation by modern pop culture and conspiracy theorists.
It's important to understand that snakes are not a universal symbol of "evil" in Kemetic or ancient Egyptian lore. Actually they are more like angels, a special class of preternatural being. There are good snakes like Wadjet and Meretseger who serve Atum-Ra the Creator; and there are also bad snakes that serve Apep and who seek to disintegrate all things. One story of Nehebukau is that He was originally one of the bad snakes; but this was only because of a pinched nerve in His spine that was hurting Him real bad, making Him terribly grouchy. Eventually, Ra healed Nehebukau by touching His back and fixing that nerve, and the latter has been a good and holy snake ever since, working Ma'at and assisting sentient beings through their various kheperu or transformations in life and the afterlife (what might be called a "shedding of skins"). In this way, Nehebukau fits right in with some of the other gods I hold most dear. Like Set and Taweret, He's kind of like a monster that learned to be better, and who is in a very unique position to empathize with humans in our struggles against isfet.
To be clear: when I refer to "the Snake God," I am referring to Nehebukau, and not to the monster Apep. When I refer to "the Chaos Serpent," the situation is reversed. The distinction here is that Nehebukau is a proper god or Netjer, while Apep is more like an "ungod." If it confuses anyone that I would use "snake" and "serpent" in different ways like this, just remember the comparison to angels above. Nehebukau is no mere angel (and neither is Apep for that matter), but one might say Nehebukau is a Snake God in the same way that Gabriel is a "holy angel," while Apep is a Chaos Serpent in the same way that Satan is a "fallen angel." There are additional good male snake gods among the Netjeru as well (e.g., Geb, Mehen, etc.); but as I have not personally interacted with any of them myself, Nehebukau is the particular Netjer I mean to invoke when I write "Snake God" in capital letters.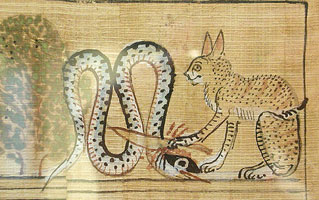 Prior to collaborating with Setken on Hymn To The Soul Serpent (Hymn To Nehebukau), I don't recall actually being that cognizant of Nehebukau before. I recall seeing Him in Egyptian art in His winged, double-headed serpent form from time to time; but it wasn't until my exposure to Setken's artistry that I remember seeing the Snake God depicted in a humanoid form (as exemplified in Setken's Study For The Netjeru!: Nehebukau). Apart from just being really fucking beautiful, Setken's paintings spoke to something buried deep within the furthest regions of my memory. It was not until we were almost ready to release Hymn to the Soul Serpent that I suddenly realized just what these sacred icons were actually reminding me of.
(When Setken first proposed the Hymn to the Soul Serpent project to me, I mistook him for saying "Nekhebet," and I immediately started studying footage of vultures for inspiration. When I realized my mistake, I apologized to to Nehebukau profusely, even though I am reasonably certain He wasn't actually offended. But perhaps some kind of project for Nekhebet might be on the horizon!)
This is probably going to get me into trouble (more on this later), but I've had a fascination with the idea of reptile people for as long as I can remember. I think my first exposure to this was from watching He-Man and the Masters of the Universe. I also collected the dolls (or "action figures," if it really bothers other men so much), and my absolute favorites were the Snake Men. King Hiss looked like a normal dude, but his entire torso came apart to reveal his true form as a writhing mass of vipers. Tung Lashor had a super-long poison tongue that came rocketing out of his mouth when you operated the button on his back. And Rattlor's neck could extend with quite some force, rendering him somewhat hazardous around children's eyeballs. These characters were not featured in the He-Man cartoons, but the dolls came with miniature comic books that explained their background stories and such.
According to the comic that came with King Hiss, the Snake Men are native to He-Man's homeworld, Eternia, and they controlled a powerful empire long before the reign of King Randor. They were banished to some alternate dimension, but the evil wizard Skeletor found a way to bring them back. Thanks to He-Man, Skeletor only succeeded in facilitating the return of three Snake Men: King Hiss, Tung Lashor, and Rattlor. The Snake Men then launched a campaign to return the rest of their kind to Eternia, so they could invade and enslave humanity once more.
Is any of this starting to sound familiar to you yet? In Episode #10 of this series, I discuss one of my least favorite anti-Setian tropes in popular culture: the theme of an "evil snake god" called "Set" who was banished to an alternate dimension, who has legions of "Serpent Men" under his command, and who seeks to return and invade the world of human beings. This theme originates from the short fantasy fiction of Robert E. Howard (creator of Conan the Cimmerian and Kull the Conqueror), and it gained even more traction when Marvel Comics was licensed to adapt Howard's fiction into its own fictional universe in the 1970s. Since then, the "Set and His evil Serpent Men" trope has emerged in countless cartoons, movies, role-playing games, and science fiction TV shows. He-Man and the Masters of the Universe, with its Snake Men and their tyrannical King Hiss, just happens to be the most obvious example of this trend.
One thing I disliked about He-Man was the fact that these Snake Men were bad guys. I have always loved snakes, especially the non-lethal ones like garter snakes, and I always thought it would be neat if these characters could have been heroes instead. I remember imagining my own Saturday morning cartoon shows where the heroes were all benevolent Snake People (with badass edgy names like Queen Hissteria and Big Bad Mamba), and the bad guys were just normal-looking humans. Curiously, the animated He-Man series does feature another race of snake people, the Reptons, who are peaceful and kind. (One of them, Kobra Khan, is one of Skeletor's goons; but the show makes it clear that Khan is just a bad egg, and the rest of the Reptons are cool.) But when it comes to stories that add a little more dimension to this concept than what I usually expect, my life changed forever when I saw Doctor Who.
No, I'm not talking about the newer Who series that's been in production since 2005. I speak to you of those lost long days when the only way you could catch Doctor Who here in the States was by watching PBS and sitting through all those passive aggressive pledge drives they used to do, where they'd threaten us with no Doctor Who ever again if we didn't call in to buy that nifty coffee mug with the disappearing TARDIS. During the Jon Pertwee years, there were two serials that dealt with the theme of reptile people specifically: The Silurians and The Sea Devils, written by Malcolm Hulke. In the first of these adventures, the Doctor (who is currently stuck on earth with an inoperative TARDIS) learns there was another intelligent species that ruled this planet long before humans evolved from apes. These reptile people are not aliens, but native to earth. They went into hibernation deep underground when their advanced astronomy detected the incoming comet that eventually wiped out the dinosaurs. Their machines were supposed to awaken them shortly after the disaster, but a malfunction caused them to remain in suspended animation until they were accidentally revived by human nuclear testing during the 1970s.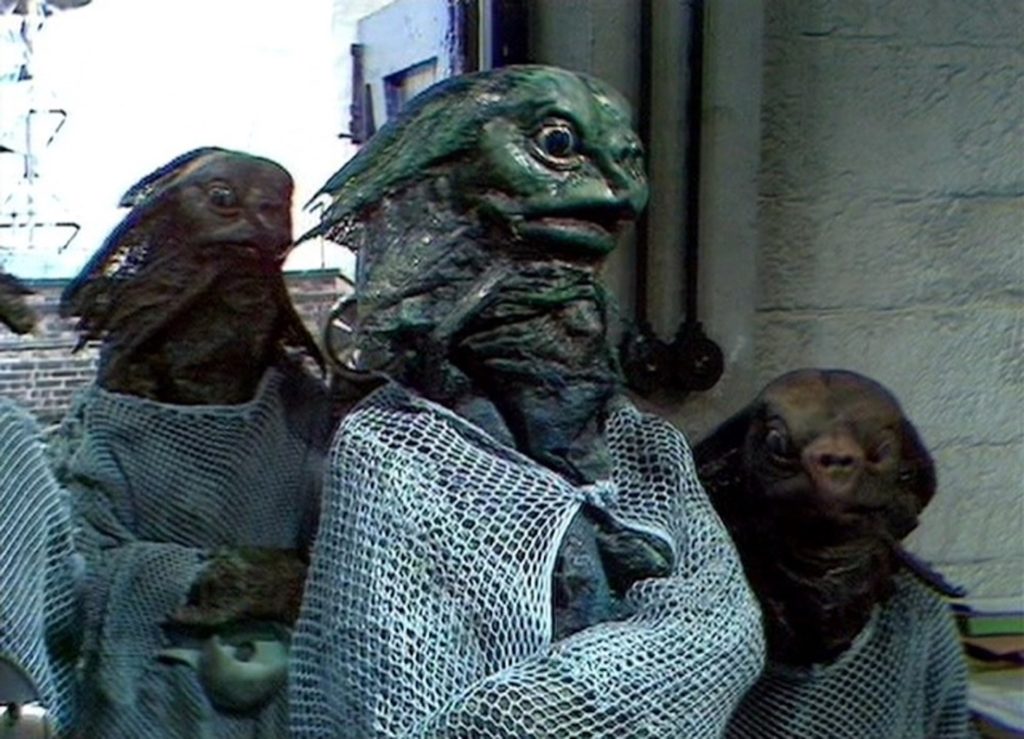 Having resurfaced, the reptile people are understandably distressed to find their planet invaded by ultraviolent hairless apes. Some of them are willing to try and co-exist with us peacefully, and the Doctor tries his best to facilitate an arrangement to this effect. But racists on both the human and reptilian sides of this dispute eventually stifle this hope, with the reptiles unleashing their biological warfare upon us, and the humans bombing all the rest of their hibernation chambers. In the second of these serials, the Doctor encounters another tribe of reptile people who belong to an aquatic subspecies, and the whole thing starts all over again. (Things are made even worse this time by the Master, played by Roger Delgado, who actively seeks to escalate the conflict between humans and reptilians.) Doctor Who lore is curiously divided as to how the reptilian characters in these stories are to be identified, but when I was a kid at least, I always went by the Malcolm Hulke novelizations, which refer to the land-dwelling reptilians as Silurians and their oceanic cousins as Sea Devils.
I remember CRYING a lot whenever I watched these episodes of Doctor Who, to the point that my parents were concerned I was actually scared and would have nightmares. But while I did find this stuff disturbing, it wasn't because it was scary; it was because it was sad. I thought the Silurians and the Sea Devils were cool, and I wanted things to work out so that everybody can share this planet together and get along. I will admit that I was very young at the time, and I didn't yet grasp that this was all just make-believe. But I also remember that when I got a little older and I first learned about some of the colonialist atrocities that have been (and still are) perpetuated against Native Americans, my initial reaction was to reflect back on Malcolm Hulke's stories and the profound emotional reactions they invoked in me. The difference, though, is that THIS WAS FUCKING REAL, it ACTUALLY HAPPENED, it is most certainly NOT make-believe. And learning THAT horrible truth (in addition to others) has kept me awake at night far more than any scary TV show ever could. (Somehow, I sense that if I could ask Malcolm Hulke about this today, he would tell me this was exactly his point in writing these awesome stories.)
Incidentally, the Silurians and Sea Devils return in a few later Doctor Who adventures, but Malcolm Hulke had nothing to do with these serials, and I am not really a fan. In the 1983 episode Warriors of the Deep, the Fifth Doctor (Peter Davison) ends up wiping out two combined tribes of terrestrial and aquatic reptilians all at once. Sure, Davison makes a fantastic Doctor, and he clearly doesn't WANT to commit genocide against the reptilians; but he does it anyway, and it's gross, and there is no text or subtext about colonialism anywhere to be seen. It's just "We gotta kill the people with animal heads so the humans can live." This leaves the whole story feeling way too hollow and mean-spirited for my tastes.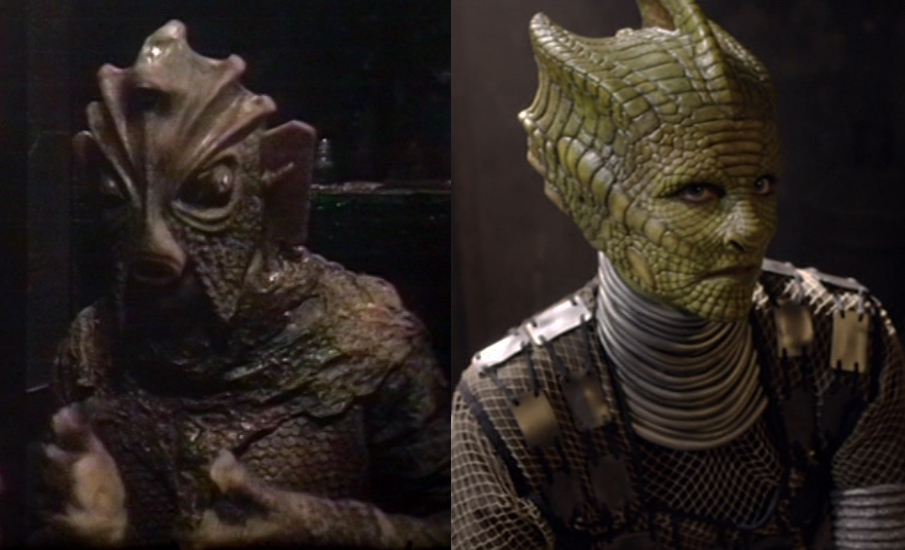 Decades later, the new Doctor Who series re-introduced the Silurians during the Matt Smith era. These episodes deal with Malcolm Hulke's creations much more respectfully, and I really enjoy the idea of a badass lady Silurian living in Victorian England and kicking hiney to help the Doctor save the world and stuff. I believe they even wrote it that at some point in Earth's future history, humans and reptilians really do learn to co-exist. This is definitely a major victory as far as my inner child is concerned; but I just can't stand the new makeup design for the Silurians. Old Silurians (and Sea Devils) actually look like people with reptile heads, much like the Serpent Men from Conan and the Snake Men from Masters of the Universe. The new versions are really just people with reptile skin, and they don't resemble the beloved creatures from my childhood enough to resonate. Still, I do enjoy the fact that Doctor Who's reptile people have at least been vindicated in terms of their collective story arc after all these years.
Another show in which Robert E. Howard's Serpent Men resurface is Hasbro's G.I. Joe: A Real American Hero. In the 1987 animated film adaptation of the popular cartoon series, it is revealed that the international terrorist organization Cobra is really just a front for an ancient civilization called Cobra-La, which of course was populated by Snake People. These reptilians naturally seek to reclaim what they perceive to be their stolen earth, and the entire history of Cobra as a human totalitarian human regime is really just one more phase in their long game.
I don't remember owning any G.I. Joe dolls, but I remember really enjoying the cartoon and its huge ensemble of diverse and fairly well-developed characters (especially my first true love, the Baroness Anastasia Cisarovna). But imagine my surprise when I learned that Cobra wasn't actually created by Hasbro, which launched the toyline. Rather, it was "invented" by Marvel Comics, which was commissioned to write a story for Hasbro when it re-launched its catalogue in the 1980s. The writers at Marvel pointed out that the heroes needed some villains to fight if there were going to be any story worth telling; and for lack of any better alternative, they more or less cloned the concept of Hydra—the terrorist organization battled by superhero teams like the Avengers—and re-named it "Cobra."
Like Cobra, Hydra was originally founded by ancient reptilians, who later infiltrated human governments for their own purposes, including that of Nazi Germany. Then there's the fact that many of Hydra's most infamous members are named after snakes in one way or another, including Viper/Madame Hydra, Gorgon, Anaconda, etc. But there's an extra layer here: the Serpent Men who founded Hydra turn out to be the very same Serpent Men who serve the "evil snake god" Set in Howard's Kull and Conan tales. This bastardization of Set has even appeared throughout Marvel Comics as an actual character for superheroes like the Avengers to fight. This is ironic given that the real Egyptian god Set also makes a personal appearance in an episode of G.I. Joe; but as discussed in Episode #10, G.I. Joe was much much closer to the mark! Its version of Set doesn't appear to be involved with the civilization of Cobra-La, either.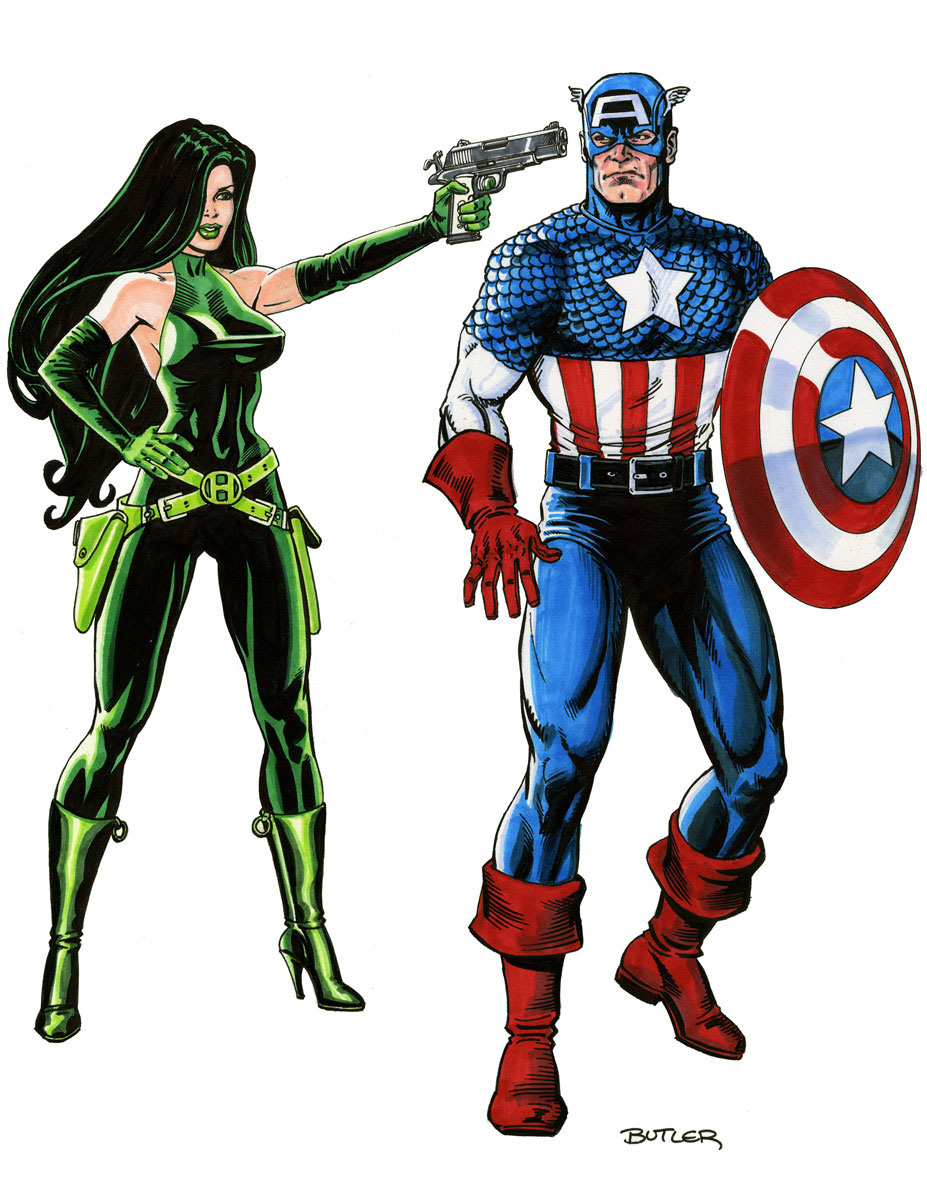 Now I must return to my earlier point about how writing about all of this will probably get me into some trouble with some people. (It's okay, I don't really care—this is all for Nehebukau, to whom I shall return in just a moment!) I am sure readers in the know are already chomping at the bit for me to touch on reptilian humanoid conspiracy theories and the bizarre subcultures they have bred in real life. I'm referring of course to the belief some people have that there are actual reptilians living among us here on earth. These people mostly take their cue from the exact same source: David Icke, a pseudoscientist and total huckster. Since the late 1990's, Icke has popularized this belief that reptilians from a planet orbiting Alpha Draconis invaded our planet way back in ancient times. They were mistakenly worshiped as "gods" by "wayward" people like the ancient Egyptians, and they continue to infiltrate modern human governments (including the entire Bush family, no less). Furthermore, this ancient alien reptile conspiracy is supposed to kidnap little children and drain them of their spinal fluid so it can be fed to Hillary Clinton, who is herself alleged to be a reptilian warlord in disguise. (Icke even manages to tie his evil reptilians together with Nazi Germany somehow, which explains the trope of Adolf Hitler secretly floating around the Arctic in submarines with reptile people.)
There are so many things wrong with David Icke's bullshit, it's impossible for me to address each particular grievance in today's sermon. But my most immediate critiques are that Icke's take on ancient civilizations is hopelessly racist; his encouragement of secularized Satanic Panic nonsense is absolutely deporable; and worst of all, domestic terrorists have adopted his anti-reptilian routine, trying to assassinate politicians they believe are reptilians. Yet there is something else wrong with all of this that should hopefully be CRYSTAL fucking clear by this point, given everything I have already explained above:
It's ALL fiction, and NONE of it is original.
Robert E. Howard made a lot of this crap up back in the 1920s. Then Marvel Comics came along and made up some more in the 1970s. Then a bunch of Saturday morning cartoons boosted the signal for it during the 1980s. And of course there have been countless other science fiction authors and media properties that have played around with the concept in one way or another. David Icke never wrote any of his conspiracy theory bullshit until the late 1990s, by which point the meme had already been well established in popular culture. So it's pretty fucking clear that he plagiarized his entire routine from a bunch of cartoons and comic books. And the assholes who are willing to kill people over this shit are really doing it for nothing.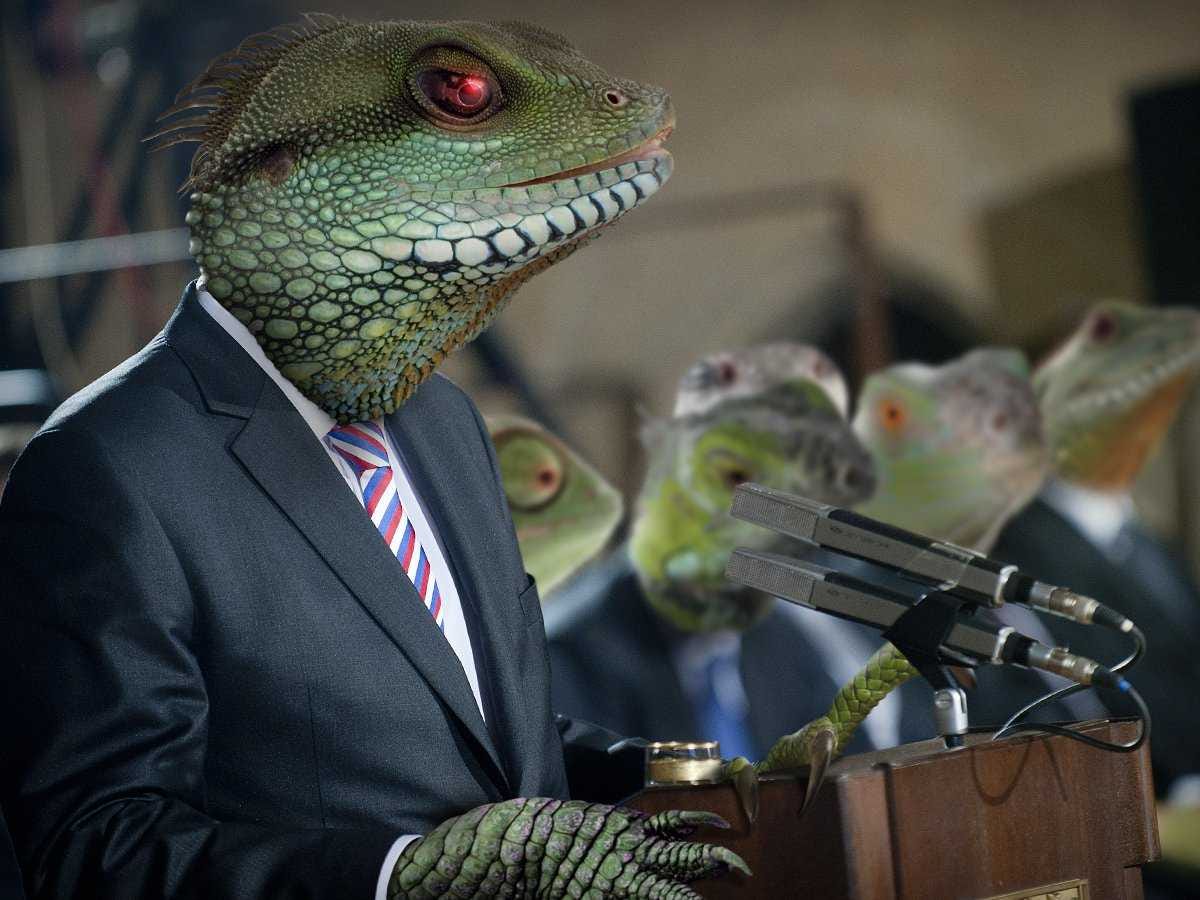 Here's the thing: I do not actively believe there are any reptilian humanoids living on this earth, or at least not in the sense of "ancient aliens" (more on this below). I'm not saying it isn't possible; I just haven't found any evidence to substantiate such an idea. But even if I did, I would quicker assume such entities are just as native to this world as we are, and that they have just as much right to be here as we do. I don't believe any of this nonsense about aliens controlling human governments; human beings are the single most dangerous creatures on this planet, we don't need extraterrestrials to make us any better at wreaking havoc. If there ARE any Snake People around, they're probably HIDING from us because they're fucking SCARED TO DEATH of us!
And to assume that an entire sentient race would be inherently evil simply because it evolved from reptiles is, to call a spade a spade, racist. WE evolved from motherfucking APES, and apes do some pretty fucked-up shit you know. Maybe it's just because I grew up learning important lessons about these things from Captain Jean-Luc Picard; but I see no reason to assume a civilized reptilian people would be any worse at respecting Ma'at or fighting isfet than civilized simian peoples apparently are. (I can already read the emails from Icke's zombie followers, skewering me for being some dumb, deluded PR boy for the Visitors who want to eat me and my family!)
The thing is, there are other people who believe in real reptilians so to speak, and who hold more sensible views about them than anything offered by David Icke. The most prevalent example of this would be Hindu, Buddhist, and other Asian religious belief systems that acknowledge the Nagas. These semi-divine creatures can appear as snakes, people, or any variety of human/serpentine hybrid. They are believed to have pre-existed humans, and while they can be good or evil just like us, most of them appear to be dutiful servants of the Devas (the Hindu gods). They enjoy living in rivers, lakes, oceans and raindrops, and they guard all kinds of ancient knowledge and treasures. Though they are not necessarily gods, the Nagas are often venerated with offerings, which helps to attract good fortune. Much of this is echoed in Chinese folk beliefs about dragons, as well. Lóng or Chinese dragons are also shapeshifters who can appear human and who bring good luck to those who show them the proper gratitude and respect.
I first learned about the Nagas not from a textbook or a cartoon show, but from my best friend in second grade, a boy named Pawan. Pawan and his family were Indian American immigrants and deeply observant Hindus. I remember seeing various images of the Devas whenever I visited their apartment. I do not recall which sect or tradition Pawan and his family might have followed (and being only eight years old or so, I lacked the head space to even formulate such a question at the time). But I remember asking Pawan's mother to tell me about the Nagas, and she seemed really happy to share some stories with me. It must have been crazy to have this weird little white boy from next door take such a genuine interest in her family's culture and heritage!
But then I would go home and tell my parents about this stuff. For some reason, they were only okay with such beliefs as long as it was Pawan and his family practicing them. I received every indication that it is only acceptable for white people to be Christians and believe in one god, even though neither of my parents has ever been a committed religious believer of any kind. Much later I would meet some of David Icke's followers (most of whom are white), who insisted to me that both Naga and Lóng veneration is really just another part of the evil reptilian plot to murder children and keep the world hypnotized. When these people claim that Asians are actually venerating evil demons or aliens—or if they suggest that such religious traditions are "beneath" white people for any reason—they are blatantly endorsing Christian white supremacism; full stop.
Furthermore, neither the Nagas nor the Lóng are space aliens that ride around in spaceships. There are no tales about them eating people or operating any nefarious shadow governments. They are nature spirits and religious figures, not science fiction monsters. The same is true of other Snake People who are acknowledged in other cultures too, including African Mami Wata spirits and Native American horned serpents. This begs the question: could the ancient Egyptians have believed in something similar? There doesn't appear to be any specific term in Egyptian for "serpent man" or "snake person" (or at least not that I have found just yet); but perhaps this would have been redundant. The Egyptians appear to have regarded normal, everyday snakes as sentient creatures with magical powers. How else could serpents be held accountable to Ma'at, with the good snakes serving Ra and the evil snakes following Apep? This distinction makes little sense, at least to me, unless we stop to consider that maybe snakes are actually people too!
Which helps me circle back to the Netjeru. It is curious that I never felt drawn to any particular Egyptian snake deities until Setken first proposed that we collaborate on his Hymn to the Soul Serpent project together. Only then did it occur to me that everything I ever needed to justify my enthusiasm for snakes (whether as animals, sentient beings, or magical anthropoids) is already included in the belief system I already follow. And when I laid eyes on Setken's humanoid portrayals of Nehebukau, I was taken back to those far-off days when I would play with my Snake Men dolls; when I would weep over the Silurians and the Sea Devils; when I secretly rooted for Cobra or Hydra as reptilian freedom fighters; and when I listened to Pawan's mother explain to me about the Nagas. Could it be that Nehebukau was looking in on me even back then, thinking, "This is the kid I want to co-write a song for Me someday"? Could it have been His double-headed wisdom that helped me see through all of David Icke's bullshit when it was first presented to me? Hell; I reckon Set and Nehebukau probably both had all of this arranged somehow before I was even born!
Writing one song isn't all I think I am meant to do, either. I think Nehebukau has probably put all of this stuff into my brain for some kind of purpose, and I mean to put it to use somehow. This very likely means another album will soon be in the works. I always wanted to make movies when I grew up; and failing that, I enjoy adapting some of my old story pitches from childhood into "soundtracks" for films that don't exist (as with Summer's End and His Nocturnal Majesty, with which I am very happy). I've successfully introduced the crimefighting mummy Het-Sem-Peckinpah to the world, as well as the mysterious Knights In Sutekh's Service. Now that my Halloween and apocalypse "movies" have been taken care of, so to speak, perhaps it is time to revisit my old sword-and-sorcery "movie" pitch as well. It could be that Queen Hissteria, Big Bad Mamba, and other Saurian Warriors of Basilisk Basilica will soon be making an appearance…
One Setian's take on ancient Egyptian concepts of the self—including our bodies, souls, spirits, hearts, shadows, names, and the hope for unification of these features into a multidimensional whole after death.
The way I read the Heliopolitan cosmogony at least, human beings are not creations or playthings of the Netjeru (gods); we are their younger and less powerful relatives, a race of living demigods. As discussed in Episode #19, every sentient being can be considered an avatar or incarnation of Atum-Ra, the Creator. This is evident from the fact that people can use heka (magic or spirituality) to work Ma'at (truth, balance, order, and interconnectedness) against isfet (falsehood, toxicity, injustice, and disintegration), just as the gods do. But while the gods work Ma'at together up at their higher, more cosmic levels of existence, it is our responsibility to work Ma'at here on earth as their mortal counterparts. In this way, the war between the Netjeru and Apep or other powers of isfet is reflected in even the most mundane human struggles against evil, no matter how small or mundane they might seem.
Given this, it is important to understand what it actually means to be the Great He-She incarnate. It is not a license to just do whatever we want; for even the gods aren't perfect, and any mistakes they make could have cataclysmic consequences for everyone (including themselves). The same is equally true of people, who run around wasting natural resources, splitting atoms, and unleashing terrible pollution and plagues upon this world. We have such remarkable power and potential, but we have so little patience for delay of gratification that we have fucked up the planet and each other well beyond measure. If we do not want our world to fall apart, we must each take responsibility like the gods do by upholding Ma'at and abjuring isfet. This is not just a call to behave ethically, but a real spiritual battle, a lifelong magical quest. Both here and in Duat (the Spirit World), the best way to help ourselves is by helping others, and the best way to destroy ourselves is by destroying others.
The ancient Egyptians believed the human self consists of several multidimensional components. The following is neither an exhaustive list nor a definitive explanation of what these components actually are; it is simply how I conceptualize them personally, at least at present. While I like to think I know my stuff when it comes to Set, I really can't claim to be an "expert" on Kemetic Soul Anatomy. I therefore reserve the right to adjust my opinions on these topics as I acquire more knowledge over time.
I should also clarify that I am not a Kemetic reconstructionist exactly. My walk with Set is definitely influenced by Kemetic sources, but I have also been deeply influenced by Western occultism, which has been known to take some mighty big liberties with Egyptian thought. (Just look at Thelema.) LV-426 Setians like me are probably every bit as eclectic in our approach to the Other Side as most Western occultists are; but we also pride ourselves on being crystal clear about what is actually "Kemetic" and what is not. That being said, I am not prepared to claim that what I have written about the Egyptian concept of the self below is 100% authentically Kemetic; these are just my own thoughts on the matter (such as they may be), so take from them what you will.
The most obvious component of the self is the physical body, which the Egyptians called the khat. Images are magical windows to alternate universes, and there is no greater image for the self than one's very own material form. In the West we tend to dissociate ourselves from our bodies all the time, but this ontological dualism does not exist so much in Kemetic belief. To me at least, it is more a matter of the body being a "seed" in which our incorporeal aspects are fundamentally rooted. We aren't souls born into bodies; we are bodies from whence souls sprout! So essential is the khat to the self's existence that its preservation was deemed absolutely critical to having a pleasant afterlife; hence the tradition of mummification. For those whose corpses are lost or destroyed, new images can be created to serve as magical surrogates (statues, drawings, etc.).
I think even the Netjeru have khatu or physical bodies; it's just that their blood and bones are in plants, animals, the elements, and other natural phenomena. When we see their actual flesh, we think we are just observing weather patterns, seasonal changes, or astronomical events; but our ecosystem is just as alive with soul and spirit as we are. It is when we grasp this principle that we can actually peek beyond the Veil and into Duat. There are also tales of the Netjeru having lived right here on earth with literal bodies as we understand them (and with flesh made of gold and bones made of silver, to boot). There is a point in Egyptian mythology where the history of the world transitions from being linear to becoming cyclical. When the gods still walked this earth, time was linear, with events unfolding between the Netjeru from beginning to middle to end; but when the gods ascended to the heavens, nature switched to following cyclical time. What were once linear events for the gods are now cyclical events that we experience here on earth over and over again as the seasons, the human reproductive cycle, etc.
In our Western vernacular, little distinction is ever made between the concepts of "soul" and "spirit." These terms are used interchangeably in any number of different contexts, but I prefer to differentiate between the two as carefully as I can. The Egyptians distinguished between the ba and the ka, which I use as my benchmarks on this matter. The ba, represented as a human-headed bird, was conceived as the innermost personality of a sentient being, which is how I tend to conceptualize "the soul." The ka, represented as a doppelganger that follows a person throughout their entire life, is more like a secondary, invisible body that individual can use to interact with things in Duat. This is more or less what I mean when I refer to "the spirit." So your soul is like the part of you that consistently stays the same, no matter how much you might kheper or transform over time. Your spirit is more like the part of you that can touch or be touched by gods and other spirits (living or discarnate).
There is also a story about the god Khnum sculpting the bodies and spirits of unborn children on his potter's wheel, then placing them within the wombs of expectant mothers. This is such a powerful image; it evokes how the ka is like a twin version of yourself that occupies the exact same points in time and space that you do, but in a slightly different dimension you might say. Heka or magic is the art of learning to use your ka or spirit to create change, as opposed to implementing more conventional physical methods. For example, the logic behind a healing spell (as I see it at least) is that you are basically sending regenerative vibes to the recipient's spirit from your own, which will hopefully heighten the recipient's chances for a speedy recovery. Even a thoughtful "Get Well" card can be an incredibly magical act in this regard, for it is literally a matter of trying to "lift" the other person's spirit.
This applies to when we have spiritual experiences with gods or ancestors, too. Whenever I have a vision of Set, for example, I think of it as a matter of Set's spirit interacting with mine, not of me actually seeing a literal Sha-headed man with my physical eyes. We physically observe Set with the eyes of our khatu all the time whenever we observe thunderstorms, donkeys, the Big Dipper, or even people with red hair. But when we bear witness to Set in ways that most people would call "supernatural," we are actually seeing one or more of the kau or spiritual bodies of the god—and we are seeing these kau with the eyes of our own kau as well.
Each of the holy Netjeru has multiple bau or souls as well. The way I read it, this speaks to how there are really multiple universes, infinite timelines brought forth from the Big Bang, that moment when the First Netjer awakened and determined themself. In some realities, that Netjer determined themself as Atum-Ra; in others, they determined themself as Ptah, Amun, Neith, etc. (There might even be a universe where Set is the Creator!) There is probably some other dimension where I'm gay and married to one of my best male friends. Or maybe I'm a woman who lives alone in the woods somewhere with a passel of cats. Maybe I'm a hip crime fighter in one world, and a devious supervillain in another. Whomever and whatever I might be in whichever reality we care to consider, I think of these alternate personalities as my various bau or souls; they may be different versions of me, but they are all still me. (Just like Doctor Who is still the Doctor, whether they are being played by Jon Pertwee or Jodie Whittaker.)
Another core component of the self in Kemetic thought is the ib or "heart," by which the Egyptians meant the literal bodily organ (as opposed to a purely figurative concept of "heart," like in Captain Planet or something). Advanced as they were, the ancient Egyptians didn't realize the brain is the body part that enables us to think; they identified the heart as serving this function instead. It was considered to be the seat of a person's consciousness, as well as the part of their body where their khat and their ka are connected.
When a person's ib or heart stopped, the khat, ba, and ka were all separated. The spirit would remain with the corpse while the soul was guided by Anubis or another psychopomp to the Hall of Judgment in Duat. There the soul underwent the Weighing of the Heart, which meant the person was judged for all of their deeds and misdeeds in life—a thing for which only sentient beings with hearts (or in our culture, brains) can be held responsible for. If the person's heart was too heavy with isfet, they were deemed unfit for the afterlife and fed to the daemon Ammut or cast into a lake of fire. Back on earth, the spirit withered away and died; or it could become restless and terrorize the living as an evil ghost. But if a person's heart was more or less in good standing with Ma'at, their ba and their ka were reunited by the gods, transforming the deceased into an Akh or Imperishable One.
An Akh is also united with what the Egyptians called the shut or khaibit (the "shadow"). The "shadow" in this context is literal, referring to those black shapes our bodies cast on walls or the ground whenever we stand in the light. Our shadows are not just apparitions, but living parts of ourselves; we create them without even thinking about it, and a part of us exists in them and is reflected in them. In the exact same way, a person can exist in other things they intentionally create as well, like songs, paintings, photographs, works of literature, etc. This is exactly why the Egyptians built so many monuments and wrote down so much of their knowledge and history. To preserve their culture in so meticulous a manner has not only been a benefit for modern archaeologists in piecing together the Kemetic worldview; it has also helped the ancient Egyptians live on and continue influencing people today. This applies to when we look at photos or read letters from our departed loved ones, as well; art and literature do in fact help us live on after death, and I think it is our shutu or shadows that probably benefit from such creative work specifically.
Names, or renu in ancient Egyptian, are also significant dimensions of the self. This includes not only our birth names, but any titles, nicknames, and other names we might be given or choose for ourselves as well. Each of the gods has various names by which they are known, and the same is true of us. Names are living extensions of ourselves that carry a real, lasting power of their own; for though they are long dead, we still speak the names of Hatshepsut, Joan of Arc, Princess Diana, and other blessed ancestors in regular conversation today. Doing so helps to keep this aspect of the self alive after death. There is also a story in which the goddess Isis tricks Atum-Ra into giving her their true secret name, which only Ra had known up to that point. By learning the true unknown name of Ra, Isis becomes the most powerful goddess, magician, and woman of all time.
Conversely, the Egyptians defaced or erased the names of people and things they wanted to write out of history and existence. This is what happened to the Heretic King, Akhenaten (born Amenhotep IV), who prioritized the new religion of Atenism over his duty to be a good and responsible leader. His name was removed from various monuments after his death in an attempt to forget that this particular ruler even existed. This is also why modern Kemetics generally write the name of Apep in strikeout text. Simply writing the name is not good enough, because it can actually attract the monster's attention to ourselves. Writing its name in strikeout text serves as a way for us to communicate about the rotten bastard without actually evoking it into our lives.
It is not exactly clear what happens when a deceased person passes the Weighing of the Heart and is transformed into an Akh. But I imagine that person would be united with themself across both this world (as a corpse and a spirit) and the Other Side (as a soul), as well as with their various names and any objects in which their shadows might reside (photos, diaries, etc.). I also imagine they would be united with all the possible variations of their soul that might exist across the vast multiplicity of universes. Akhu are said to reside with the Netjeru in Duat, but there are actually many different heavens included there. I think Akhu are free to visit either of these various realms, but they are also free to visit the living and travel to alternate realities as well. This mobility of the Akhu between universes is remarkable when compared to other religious teachings about the soul after death. I can't even begin to grasp what such an existence might be like; but I think it probably isn't that far removed from how the people of the "Q Continuum" exist in Star Trek: The Next Generation (1987–1994).
The Egyptians also referred to additional facets of the self, but our knowledge of what these things actually are is unclear. There is something called sekhem, which translates to mean "power" or "form." This could be referring to the latent magical power that exists within each of us as unique incarnations of Ra; but I am really just guessing. It is tempting to compare sekhem with what Chinese folk medicine calls qi or "chi": a vital life force or energy flow that can be used to guide exercises and reinforce medical treatments. It might also be similar to Japanese Reiki, a form of alternative medicine that involves energy healing.
There is also something called a sahu, which seems to be an additional spiritual body that is generated for the deceased during their funerary rites. It is not evident how this feature should be distinguished from the ka or spirit exactly, except perhaps that the ka exists from birth while the sahu doesn't. I have heard it said that the state of sahu is probably closest to how the Netjeru experience their own existence; but the concept remains unclassifiable nevertheless. Rather than try to pontificate on things for which there is currently so little available evidence, I simply accept that there are no clear answers to this particular question at present.
For now at least, it is enough for me to know I am a body with a soul, a spirit, a heart, a shadow, and a name. There are many different versions of me that exist in all kinds of different universes, too. When I die, I hope to be found worthy of the afterlife during the Weighing of my Heart. I hope for all the pieces of my self to be re-united so I can become an Akh and get up to some shenanigans with other Akhu out in Set's Desert, beyond the Great Bear. And I hope that when I get there, I'll meet Ronnie James Dio and we can go smite some monsters of isfet together!
How a simple "slasher movie" deplores the patriarchy and evokes Celtic folklore.

Merry Samhain! Happy Hallowtide! To mark this blessed holiday occasion, the next several episodes of this series will feature my analyses of the Halloween horror film franchise, with a particular focus on my five favorite installments thereof.
If I had to rank my top 5 Halloween movies as things currently stand here in 2020, the countdown (from fifth to first favorite) would run as follows:
I find it difficult to discuss these films in a countdown, and would prefer to discuss them chronologically instead. But unlike most other popular movie franchises, the Halloween series does not follow a single coherent timeline. It instead includes several alternate continuities, and even a completely different cinematic universe in the case of Halloween III (which diverges thematically from all the other films). That being said, I think it would make the most sense if I discussed my favorite entries from the "A-plot" storyline of the series (the Michael Myers saga) first, then concluded with an analysis of the "B-plot" story. So the first four episodes in this little mini-series will feature my four favorite Myers films in their chronological order of release; then I will end by discussing Halloween III.
It's Halloween night, 1963, in the sleepy little town of Haddonfield, Illinois. Dressed as a clown, a six-year old boy named Michael Myers stabs his teenage sister, Judith, to death—and for no apparent reason at all. He neither moves nor speaks afterwards, and he is admitted to a state mental hospital, where he is treated by Dr. Samuel Loomis (Donald Pleasence). After a while, Loomis claims Myers is the single most dangerous patient he has ever observed, and he does everything he can to have the boy transferred to a maximum security prison—despite the fact that Michael just sits there motionless, never reacting to any external stimuli. The doctor's colleagues think Loomis has gone crackers, but he seems to understand something about Michael that modern psychiatry just isn't equipped to explain. Much to everyone's horror, Loomis is proven 100% correct about his patient 15 years later, when a full-grown Myers gets a hair up his ass and makes a jailbreak on Halloween Eve. The authorities continue to gaslight Dr. Loomis and ignore what's happening, thinking they will probably find Michael just sitting in a park somewhere in his hospital clothes. But Loomis knows his patient is really up to something terrible, so he follows his only lead: the possibility that Myers might return to the scene of his childhood crime, the old Myers House back in Haddonfield.
Here is where we meet Laurie Strode (Jamie Lee Curtis), a meek and lonely teenager who happens to live in Haddonfield. She's good-natured and smart as a whip; but her closest "friends," Annie and Lynda (Nancy Loomis and P.J. Soles), constantly treat her like shit, making fun of her good grades and her shyness around dudes. Yet Laurie does, in fact, attract a "man" when she passes by the Myers House on her way to school that Halloween morning in 1978. For a mysterious Shape inside the abandoned property notices her and fixates on her, following her wherever she goes from that point on. Laurie keeps catching glimpses of the Shape as she sits in class, walks home from school, and goes to babysit her pre-adolescent friend Tommy Doyle (Brian Andrews) for the evening. But the Shape keeps appearing and vanishing like a phantom, and Laurie doesn't really believe what she sees as first, thinking it's probably just some holiday prankster, or perhaps her eyes playing tricks. Tommy refers to the Shape as "the Boogeyman" whenever he sees it lurking outside the windows, and Dr. Loomis insists this thing is really the devil himself. By the time Laurie is forced to defend herself and Loomis arrives to shoot the Shape six times in the chest at close range, the viewer is unable to dispute with Tommy or Loomis on either of these theories. There really is no "Michael Myers" at all, or at least not in any human sense; there is only the deathless Shape, which has now dropped all pretense at being a mortal man.
This story might not seem to have anything to do with magic or the occult, but there is a curious parallel to Celtic mythology and folklore that is seldom noticed. Celtic lore tells of changelings, or faery children who are swapped for human babies (without the human parents' knowledge or consent). A changeling will look and behave just like a human baby at first, but eventually it starts exhibiting weird superhuman powers, and misfortune follows it wherever it goes. It seems to me that Michael Myers fits this motif perfectly; his parents appear to have had no idea of what they were really raising, and much like the evil spirits in Celtic folk religion, he only roams free during the festival of Samhain. Additionally, the apotropaic Halloween traditions that once kept us safe from entities like the Shape—wearing costumes, carving pumpkins, trick-or-treating, etc.—have been completely secularized, rendering them powerless. The evil can stalk and slash as much as it wants to now, since the people of Haddonfield aren't even willing to acknowledge its existence in the first place.
The fact that Myers wears a pale white mask and stalks defenseless young women is also significant. Myers is the ultimate Angry White Male, and he is just as difficult to kill as the horrific patriarchy in which we all live. The authorities' insistence on minimizing his evil is paralleled by how our society continues to trivialize issues like systemic misogyny and toxic masculinity today. I think most people would agree with me that even when these evils are exposed in broad daylight for all to see, the common reaction is to ignore the problem and pretend nothing bad is really happening. Here in 2020, the entire United States is still responding to evil men the same way Haddonfield responded to the Shape in 1978: by ignoring them and letting them do whatever the fuck they want.
John Carpenter's Halloween (1978) is amazing and beautiful on many different levels. It is, in fact, my all-time favorite film. It might be a "slasher" film (and the template for many slashers to come, at that), but it feels much more like an old-fashioned ghost story to me. The point is not to build a body count or gross out the audience with gore, but to build relentless suspense, to make us yell at the characters in the movie, and to leave us all wondering, "What happens next?" when the credits roll. The fact that this film was made on a nonexistent budget by mostly unknown talent (many of whom worked multiple jobs on set for free, including Curtis) only enhances the impression it leaves on the viewer. The most expensive part of the entire production was probably just hiring Donald Pleasence to play Dr. Loomis for a few key scenes, and even he (being the fantastic professional that he was) admired all the heart that was put into the project. This was also Jamie Lee Curtis' first big break, and she truly shines as Laurie Strode, the timid girl who never goes looking for trouble, but who turns out to be much tougher and cooler than she or her peers think she is. And lest I forget, the eerie electronic music by director John Carpenter is truly a work of art unto itself. The soundtrack is my #1 favorite album to listen to, which I suppose is probably obvious to anyone who's heard my music.

Shameless self-promotion for my new album, Summer's End (2020), a musical anthology of Halloween happenings.
It's October 1, 2020, and the Season of the Witch is nigh! The Festival of Samhain, otherwise known as the Feast of All Hallows, is my very favorite holiday. The following clip from Episode #32 of this series (Holy Days of the LV-426 Tradition) explains why:
Halloween isn't "just for kids," and it wasn't invented by the candy companies either. It originates from a blend of Celtic folk religion and Roman Catholicism. It is just the first of three holy days—All Hallows' Eve (October 31), All Saints' Day (November 1), and All Souls' Day (November 2)—which are collectively known as Hallowtide.

Even before the Catholic Church reached Great Britain and Ireland, these three dates were already an ancient festival called Samhain ("SOW-wynn") in Gaelic and Nos Galan Gaeaf ("knows GAIL-uhn GUY-ov") in Welsh. It marked the end of the harvest season and the start of winter, which was an extremely frightening time for the Celts. Many of them would die of starvation, disease, or freezing temperatures before the following summer. For this reason, the first night of winter weighed heavily upon their minds, and people thought the barriers between this world and the next were temporarily lifted, allowing the dead and other paranormal beings to roam free. This wasn't so bad when it came to ghosts, who were viewed as beloved ancestors to be welcomed. Malevolent faeries and qliphothic entities were the real concern, and people dressed in frightening animal skins, carved protective charms from turnips, and left out offerings of food to keep such things away. It's from these ancient traditions that wearing costumes, carving jack o'lanterns, and trick-or-treating are all descended.

Halloween was always my favorite holiday growing up, more important than the winter holidays, and it's the first thing in which I ever took a religious interest, even before Set. I enjoy handing out candy to trick-or-treaters on October 31st; but once the boils and ghouls have all gone home, I begin my all-night vigil for the dead. I light some candles for our ancestor shrine in the kitchen, and I say some words to our dearly departed. I keep the candles burning all night long, not going to bed until 5:30 in the morning or so. Then I repeat this process the following two nights.

Spooky things do tend to happen during these vigils, like voices or footsteps that come from nowhere (especially around 3:00 am). But nothing scary or sinister ever happens, perhaps due to our ancestors' protection. Call it "superstition" if you like, but we take this stuff pretty seriously. I think it's important to keep the true spirit of Halloween alive as much as we can.
And to that end, I would like very much to present my new album, Summer's End, in honor of this most sacred occasion. 2020 has been a terrible year for so many people, too many lives have been lost or ruined, and there probably won't be a lot of trick-or-treating or bobbing for apples this year. Plus, many of us are afraid of what next month will bring, and I can offer little comfort when it comes to that. BUT, one thing I CAN do is give the world a special holiday present that will hopefully bring others some much-needed joy. If nothing else, play this music on Halloween night with no lights on apart from some jack-o'lanterns! Perhaps something magical might happen…
To stream or download this album entirely for free (just enter $0), visit gbmarian.bandcamp.com!
On the conflation of all Setian spirituality with what Western occultists call "the left-hand path," and why this is problematic.
Setianism is often linked with something Western occultists call "the left-hand path," and this is thanks largely to the Temple of Set. The term originates from Hindu and Buddhist Tantra, in which the Vama Marga or "left-handed way" to enlightenment involves practices that most orthodox believers find "repugnant" (e.g., erotic mysticism). Helena Blavatsky, the founder of Theosophy, appropriated the name for virtually any kind of Western occultism she didn't like. Ever since then, it has been evocative of "black magic" and "devil worship."
Most other occult writers followed Blavatsky's example in this respect, including Aleister Crowley, the founder of Thelema (who was himself regarded as a "brother of the left-hand path" by many of his contemporaries due to his controversial views and practices). The first Western writer to actually adopt the left-hand path (or "LHP" for short) as a positive self-label was Kenneth Grant, a protege of Crowley's who developed his own "Typhonian" school of Thelema. Grant's philosophy hinges on Set rather than Horus, and it has much to do with contacting qliphothic forces from alternate universes via the use of sexual magic. Grant was also a UFOlogist and a pioneer in Lovecraftian occultism, or the use of H.P. Lovecraft's "Cthulhu Mythos" in actual esoteric practice. His use of the term "left-hand path" is probably the closest I have seen among Western sources to the original Tantric idea of the Vama Marga (perhaps because Grant studied under an actual Indian guru, Ramana Maharshi).
The next Western writer to adopt the left-hand path was Anton LaVey, founder of the Church of Satan. LaVey conceptualized the LHP as being like a carnival huckster's take on spirituality: it's all "make-believe," we are just meat machines that cease to exist upon death, and there are no actual gods or spirits to hear any of our prayers. But at the same time, there is nothing wrong with all of this "make-believe" so long as it enriches and empowers the "believer." In LaVey's worldview, conventional religions ("the right-hand path") use made-up dogmas to control the masses, while the left-hand path uses such fantasy to liberate the individual instead. Success is measured not by any spiritual advancement, but by purely material milestones. For example, a successful actor or musician would be considered far more adept at "the black arts" than someone who can recite each of the Enochian Keys by heart, but who flips burgers at McDonald's for a living.
Michael Aquino, the founder of the Temple of Set, developed a radically different construct from that of LaVey. His LHP is a more metaphysical process of "immortalizing the psyche," with the potential achievement of a sentient afterlife being the ultimate goal. For Aquino and his followers, the problem with conventional religion is that it stifles the powers of the mind, leading to a total dissolution of consciousness after death. If people just ditched such creeds and started exercising their minds intellectually and metaphysically, they'd have a much better chance of becoming discarnate alien intelligences when they die—or so the theory goes. If there is one element of LaVeyan belief that Aquino maintained, it is the claim that authentic LHPers do not actually "worship" any of the forces they evoke in their magic (including Set Himself). Aquino's take centers on worshiping one's own highest potential to the exclusion of anyone or anything else that might (or might not) exist.
Many additional Western LHP perspectives would bloom over the following decades, including those of Zeena and Nikolas Schreck, Michael W. Ford, and Thomas Karlsson. Notable themes that many sects seem to share include autotheism (the worship of oneself); an indiscriminate affinity for so-called "dark" forces (like conflating Set with Apep); an intersection of Gnosticism, hedonism, nihilism, and/or anti-cosmicism; and a rather unfortunate disposition toward right-wing sociopolitical ideologies (from American Libertarianism to outright National Socialism). The very worst example of this would be the Order of the Nine Angles, whose supporters are known to be terrorists and white supremacists. Even among LHPers who do not entertain such views seriously, there is an ugly tendency to glorify fascist imagery (often because it is "shocking" or "cool"), going all the way back to Anton LaVey's inclusion of "Might is Right" (a racist diatribe by Ragnar Redbeard) in 1969's The Satanic Bible.
Though many Setians identify as "left-hand path," not all of us do. Part of the confusion on this stems from the fact that many Setian writers are either Temple of Set members or adherents to some variation of its philosophy. This has always been something of a "pet peeve" for me personally, because I think the word Setian really belongs to Set. It is understood that not all Setians will believe or practice the same way, as Set loves variety and freedom. But if any particular theme should be the one common element that we all share, that theme is and must be SET HIMSELF—not the Book of the Law, The Nightside of Eden, the Satanic Bible, or the Book of Coming Forth By Night. This does not preclude Setians from sharing additional interests; but Set was there long before Vama Marga, Typhonian Thelema, LaVeyan Satanism, the Temple of Set, or any other LHP variant, and a person doesn't need EITHER of those things to know Set and walk with Him. To claim otherwise is to ignore the fact that Setianism began over five millennia ago as a North African animist and polytheist tradition in which our Namesake was clearly revered and venerated (as He deserves to be).
Which returns us to the matter of right-wing ideological influences in Western LHP circles. This rather disgusting tendency is made all the more revolting whenever it happens to manifest among so-called "Setians." For one thing, Set is an Egyptian god, and the Egyptians were a North African people. They were PEOPLE OF COLOR, you idiots. We owe everything to them, too; there is not a single white person who would be walking with any of the Netjeru today if it hadn't been for these blessed ancestors. So if you pay lip service to an Egyptian god while supporting white supremacy, you are a fucking idiot and you deserve to have your ass handed to you. Furthermore, Set is the absolute WORST mascot for any kind of fascist cause, given that His hatred for authoritarianism is purer than venom. We call Him "He Who Commands the Riot" for a reason, you know. Set is a god who smites other gods whenever they need smiting, and He has even less patience with human megalomaniacs. If you take His name but support tyranny, you are no Setian; you are just a servant of Apep in disguise—and we Setians know just how to deal with Apep!
I'm willing to bet that most of Set's people today are probably Kemetics or some other flavor of devotional polytheist—or at least, that is how it looks across the internet (which is probably a better reflection of things today than it was in the 1990s). We devotionalists have just as much right to Set's name as any Thelemite, Satanist, or Chaos Magician (if not more), and I for one insist on taking ownership of the term Setian for this reason. LHPers are welcome to walk with Set too in my book, but they are NOT welcome to look down their noses at those of us who actually revere and venerate Him as the ancients did. And those who favor any of that "might is right" fuckery should just pack their shit and leave. It seems egregiously stupid that I should even have to say this to anyone, but y'all are just gonna have to live with the fact that there are Setians who worship and pray to Set, who are animists and polytheists, and who believe in trying to make things better for everyone, not just ourselves.
Three brief sermons in which I discuss Set's affinity for the color red, why Setianism is substantially different from many other religions, and how the Red Lord saves us all every night.
Red isn't just a color; it's a part of Set Himself. Or to put it another way, the Red Lord doesn't just "like" the color red; He is the very essence of redness.
Within the spectrum of visible light, red exists between orange (where red meets yellow) and violet (where red meets blue). Technically, its wavelength is approximately 620–740 nanometers on the electromagnetic spectrum. It has historically been associated with aggression, blood, heat, lust, and passion. It's also linked to the planet Mars and the sphere of Geburah on the Qabalic Tree of Life. Mars, of course, is named after the Roman God of war, who is often conflated with the Greek God Ares. (Hence why Mars is so often associated with hostile alien space invaders, as in H. G. Wells' The War of the Worlds.) Geburah is where the gods pass judgment and destroy things, causing us all to be transformed (whether we want to be or not). It's also the sphere where the gods take whatever steps they need to beat the crap out of evil.
Red is further linked to iron, which is likely because (1) there is actually iron in our blood and (2) Late Stone Age people often used ochre, a clay that is given a reddish tint by iron oxide. Even today, tribal peoples still use ochre to treat animal skins, repel insects, stop bleeding, and protect themselves from the sun. Red also continues to be the preferred color for warnings and danger signs (both in human society and in nature), with the highest threat levels being "red alerts."
The Egyptians associated Set with red because He is a storm deity. While most Thunder Gods are linked with fertility and kingship due to the part storms usually play in fertilizing crops, storms almost never occur in the Nile Valley. The crops there are sufficiently irrigated by the Nile itself when it floods each year; so even when storms do happen, they tend to have disastrous consequences. They more often occur in the deserts on either side of the Nile Valley, the sands of which are colored red (making Set "the Lord of the Red Lands"). Red-haired animals and people were likewise linked with Set as well, and by the time He was completely demonized during the Late Period, it wasn't uncommon for such animals and people to be killed as a way of execrating Him. Redheads continued to be demonized by European Christians, who thought such people were especially prone to "worshiping the devil" and becoming "witches." This construct came from the Egyptians, who considered Set to be the original "red-headed stepchild."
In many Typhonian spells from the Greek magical papyri, the directions call for magic words to be written in donkey's blood (which is often described as "Typhon's blood"). In the LV-426 Tradition, we think that harming any of Set's sacred critters will definitely draw His attention to you, but not in a way that any sane or rational person would want. I do, however, think that the more red things you can include in your rituals, the better. I prefer to light red candles for the Big Guy, myself.
What does it mean to be "religious"? The answer to this question is much more nuanced and evasive today than it was hundreds of years ago.
When I use this descriptor in relation to myself, it often catches people off guard because I just "don't seem like the religious type." I don't attend any kind of church, take any scriptures literally, try to convert people, or seek to legislate other people's lives. I also cuss like a sailor and tend to be hypercritical of organized religion in general (to the point of supporting the strict taxation of all churches).
Some people dismiss my religiosity for just these reasons, because their definition of "religion" is limited to the conservative Christian model. And since my religion does not fit within those specific parameters, people always want to tell me I am "spiritual, not religious" at best.
Excuse me, but let's make something perfectly clear: I am a SETIAN, and SET is my god. I do what I do out of profound reverence and devotion to HIM. The only theological expectations I care to meet are HIS; the standards of other faiths DO NOT APPLY.
Furthermore, Set is not some bullshit authoritarian shepherd god; He has nothing to do with giving commandments, judging humanity for its sins, or bullying anyone with the threat of a miserable afterlife. Set is a cosmic individualist in the truest possible sense of the term; He demands not only freedom for Himself, but for EVERY sentient individual to be the unique and different creature they really are. And even in 3200 BCE, this included everyone from foreigners and immigrants to LGBTQ people to nomadic desert peoples to others who just "didn't fit in" for whatever reason (especially if they were redheads).
Set is a god who approves of having drag queens read books to children at public libraries, for instance, while contemporary Christians still quarrel over whether Jehovah even accepts such lovely people as human beings. So do not presume to judge MY religiosity according to YOUR (highly questionable) standards. As far as Setians like me are concerned, your own religious priorities are absolutely fucked!
As for the "spiritual but not religious" crowd, I fully support everyone's right to self-identify as they please. I reject this label myself, for it simply doesn't do me justice. Walking with Set is not a "hobby" or a "game," it's a motherfuckin' QUEST that takes your entire life, and which continues long after you die! I will not belittle myself, my god, or the magic we work together by referring to it as anything else BUT religious. And those who want to bash all religion in general because "it's all the same" can kindly kiss my ass.
"Have I been saved? Yes; in fact, my god saves me every day. He saves you every day, too, even though you don't believe. The fact that the world is still here when we wake up each morning—that we don't all just blink right out of existence while we're asleep—is a direct result of His operations out there, on the Frontier of Creation. He's out there right now, fighting for all of us. He doesn't care if you're strong or weak, noble or corrupt, pious or irreligious. Nor does He care that most people vilify Him, if they acknowledge Him at all. Whether He is cursed as a devil or dismissed as a fairy tale, it makes no difference to Him. It's neither His job nor His concern to judge the world. Even if no one ever rooted for Him at all, my god would still be out there, saving the whole of Creation each night!
"Don't get me wrong; He does notice those mortals who call out to Him in praise. Given that there are so few of us, it would be hard for Him not to! And though He has His own battles to fight, He shares His strength and His steel with us. When we have tribulations that are too much for us to bear alone, we can ask Him for strength and clarity of vision. We can use our words of power to actually become Him in human flesh, and nothing—not even the Chaos Serpent itself—can stand against us when we do! When we perform this Great Work, we are saving our own little parts of the world. With our Holy Father, salvation becomes a team effort; our victories are His, and His victories are ours!
"That is why Set, alone of all the gods, has my undying loyalty. That is why the subjective realities of other faiths can just never compare to mine. There are no threats, no guilt trips, and no extortions here. It all comes down to just one thing, baby: making sure there's always tomorrow!"
An LV-426 Setian adaptation of the Lesser Banishing Ritual of the Pentagram.
The Lesser Banishing Ritual of the Pentagram (or LBRP for short) is a magical procedure developed by the Hermetic Order of the Golden Dawn during the late 19th and early 20th centuries. It involves casting a magician's circle, tracing pentagrams in the air, and reciting divine names of power to repel any chaotic or qliphothic forces that might be hanging around you.
The litany for this rite was adapted from a traditional Jewish prayer that is recited before sleeping:
In the Name of God, the God of Israel: may Michael be at my right hand, Gabriel at my left, Uriel before me, Raphael behind me, and above my head, the presence of God.
The actual Golden Dawn procedure is much more complicated than just a bedtime prayer, requiring the use of an altar, robes, and various ritual tools. But the effect was so remarkable that even people outside the Golden Dawn started using the procedure, re-writing it to suit their own needs. More than a century later, a Google search for "LBRP" will retrieve countless variants of the rite that are now used in various faiths today, including Wicca, Thelema, and even Satanism.
Upon learning that the LBRP descends from a bedtime prayer, I felt moved to draft an adaptation of my own. This version of the rite is written from an LV-426 Setian perspective, which means it is much simpler than what most ceremonial magicians are probably used to. You can include an altar and any additional ritual items you wish, but this is entirely optional. The only things you really need are yourself and a nice quiet place where you can be alone.
The Procedure
Stand facing north, with your eyes closed. Count down silently from 100. Then raise your head up high and recite:
In the Name of
SUTEKH,
God of Deshret.
Open your eyes and turn slowly to the left, facing west. Raise both your hands in the sign of the horns, pointing up to the sky.
Draw a horned pentagram in the air before you with your left hand; imagine a red light trailing behind your fingertips, so there is an invisible afterglow. Then, arms still raised into the air, recite:
Hear me,
NUBTI of Ombos,
Golden One,
Provider of Life on the Frontier.
Turn to the left, facing south. Draw another pentagram in the air, in the same manner. Then, arms still raised, recite:
Hear me,
TYPHON of Aegyptos,
Disturber of the Dark,
Giver of Winds.
Turn to the left, facing east. Repeat the same procedure; then recite:
Hear me,
HADAD of Kemet,
Savior of Khepera,
Hero of the Light.
Turn to the left, so that you are facing north once again. Draw one last pentagram in the air; then recite:
Hear me,
ASH of the Oases,
Horned Night-Hunter,
Wanderer of the Wastes.
Gently lower your arms and close your eyes. Remain silent for a few moments; then recite:
I am
SUTEKH'S Child,
the Dazzling One in mortal flesh.
I alone am Sovereign Ruler
of my innermost self.
Raise your left hand in the sign of the horns, pointing west. Recite:
May
NUBTI
ever be at my left;
I will survive and persevere
in all hostile terrain.
Raise your right hand in the sign of the horns, pointing east. Recite:
May
HADAD
be ever at my right;
I will smite the forces of isfet
and champion the Light.
Keeping both arms in the air, take a half-step backwards, so that your left foot is behind you. Recite:
May
TYPHON
ever be behind me;
I will ride the winds of change
and create myself anew.
Take a half-step forwards (with your arms still in the air), so that your right foot is before you. Recite:
May
ASH
ever be before me;
I will drink sweetwater
in the Desert between the Worlds.
Rise into a standing position and cross your arms over your chest, with your hands still in the sign of the horns. Close your eyes once more and recite:
May the presence of
SUTEKH
be ever upon my crown.
Silently count backwards from 100; then open your eyes and go forth by day.
The times we consider most sacred in our coven.
Today I figured I'd discuss the major holidays observed by Setians of the LV-426 Tradition. These aren't necessarily the only holidays we celebrate; some of us also celebrate things like Christmas, Mabon, or even St. Patrick's Day. But these particular times are the ones we all agree are most important to our shared religious calendar.
The LV-426 Sabbat
The word Sabbat is used differently in many faiths. In LV-426, we use this term in reference to a weekly night of worship that has most often been observed on Friday nights, but which can really be observed on any night of the week. The idea is to meet with Set for a Sabbat every seventh night, in any case, and whenever possible.
Our Sabbat procedure is simple. We use the basic rite that is offered in the very first episode of this series (Setianism: A Brief Introduction). When we get to the part when we speak our wills to Set, we discuss all the high and low points of our week with Him, speaking informally. If more than one person is present for worship, each attendee takes a turn at doing this.
Once everyone has had a chance to say what they wish to say, we throw on some heavy metal and break out the booze, chatting through the night until dawn. Set is asked to remain present if it pleases Him to do so, and He guides the conversations we have during these sessions. There is no other situation in which I am quite so comfortable, happy, or grateful as when I am meeting with Set and my brothers and sister in Him for our Sabbat.
It's been several years now since our coven has been able to keep the Sabbat together as a group; but the procedure can be followed in a solitary context as well. You don't even need the booze or the heavy metal; all you really need is to pick a night that works best for you, then try your best to spend some time with Set on that same night every week. How you choose to spend or structure that time with Him is entirely up to you. And if you are unable to follow the same procedure every week for any reason, do not hate on yourself. Set is always with His chosen ones, and He knows what we are all going through. Our Sabbat is not a commandment, but a gift. There is no expectation that we must observe it every week; but it is always there whenever we need it.
Egyptian New Year
The Egyptian New Year festival (or Wep Ronpet, which means "Opening of the Year") coincides with the heliacal rise of Sirius, the annual flooding of the Nile, and the Dog Days of Summer. It technically falls on a different date each year, and the precise calculation of this date depends on your geographical location.
A heliacal rising occurs when a star that hasn't been seen in the nighttime sky for a while becomes visible again in the east, just before dawn. Sirius disappears for about 70 days in May, and it reappears toward the end of July and the middle of August. (This is called the "Sothic Cycle.") The Nile River always floods soon thereafter, just like clockwork. There isn't much rainfall in Egypt at all, so this annual inundation provided the only means for irrigation in ancient times. And when the Egyptians saw Sirius rising in the east just before dawn in late July, they took it as a sign from the goddess Isis (the ruler of Sirius) that it was time to start planting all their crops for the year. To this very day, the Egyptian people still celebrate the annual flooding of the Nile as a two-week civil holiday called Wafaa El-Nil, which begins each year on August 15.
August 15 is also a significant date for me personally, as it marks the anniversary of when I first came to Set in 1997. So while everyone who observes this holiday will understandably observe it on different dates due to the Sothic Cycle, I just celebrate it on August 15 each year and call it a day. To be honest, the Dog Days of Summer (which take their name from Sirius, "the Dog Star" in Canis Major) just feel very sacred to me in general.
Wep Ronpet is not just the start of a new year; it is also an echo of the Zep Tepi or "First Time," when the first god began to stir within the primordial ocean of chaos. One way to mark this occasion is to greet the sun as it rises (on whichever date you prefer to celebrate) beside a body of water (preferably a large one, if possible). As you watch the sunrise, know that you aren't just watching the start of another day; you are witnessing a "re-run" of the Creation of the universe. Another worthwhile holiday activity would be execrating any negativity you might have collected in your life over the past year, which is something many people who walk with the Egyptian gods do. (For an example of an execration rite that we use in LV-426, check out Episode #31 of this series.)
Hallowtide
Halloween isn't "just for kids," and it wasn't invented by the candy companies either. It originates from a blend of Celtic folk religion and Roman Catholicism. It is just the first of three holy days—All Hallows' Eve (October 31), All Saints' Day (November 1), and All Souls' Day (November 2)—which are collectively known as Hallowtide.
Even before the Catholic Church reached Great Britain and Ireland, these three dates were already an ancient festival called Samhain ("SOW-wynn") in Gaelic and Nos Galan Gaeaf ("knows GAIL-uhn GUY-ov") in Welsh. It marked the end of the harvest season and the start of winter, which was an extremely frightening time for the Celts. Many of them would die of starvation, disease, or freezing temperatures before the following summer. For this reason, the first night of winter weighed heavily upon their minds, and people thought the barriers between this world and the next were temporarily lifted, allowing the dead and other paranormal beings to roam free. This wasn't so bad when it came to ghosts, who were viewed as beloved ancestors to be welcomed. Malevolent faeries and qliphothic entities were the real concern, and people dressed in frightening animal skins, carved protective charms from turnips, and left out offerings of food to keep such things away. It's from these ancient traditions that wearing costumes, carving jack o'lanterns, and trick-or-treating are all descended.
Halloween was always my favorite holiday growing up, more important than the winter holidays, and it's the first thing in which I ever took a religious interest, even before Set. I enjoy handing out candy to trick-or-treaters on October 31st; but once the boils and ghouls have all gone home, I begin my all-night vigil for the dead. I light some candles for our ancestor shrine in the kitchen, and I say some words to our dearly departed. I keep the candles burning all night long, not going to bed until 5:30 in the morning or so. Then I repeat this process the following two nights.
Spooky things do tend to happen during these vigils, like voices or footsteps that come from nowhere (especially around 3:00 am). But nothing scary or sinister ever happens, perhaps due to our ancestors' protection. Call it "superstition" if you like, but we take this stuff pretty seriously. I think it's important to keep the true spirit of Halloween alive as much as we can.
Walpurgisnacht
Walpurgisnacht or Walpurgis Night is a spring fertility festival that's observed each year on April 30. It's the Teutonic equivalent to May Day or the Celtic Beltaine, but was later renamed after the medieval Christian Saint Walpurga. It represents the cross-quarter point of our solar year between the Spring Equinox and the Summer Solstice, and it's a time for warding off the last vestiges of winter. It's most often observed in continental Europe by wearing scary costumes, lighting huge bonfires, and making all kinds of godawful racket to scare away the evil spirits. In fact, you might say Walpurgisnacht is Germany's version of Halloween; one might even call it "Samhain in the Spring."
A Walpurgisnacht gathering at the Heidelberg Thingstätten in 2007 (from Wikimedia Commons)
For Setians in LV-426, the lore of witches roaming mountains on this night, throwing bacchanalian rites to a horned god mistaken for "Satan" is suggestive of our own experiences with Set. Since He is a nocturnal god of the wilderness, we've always preferred to recite our incantations to Him in lonely woodsy areas after dark (or immediately before dawn). And since the ears of Set's most holy symbol, the Sha, resemble "horns" (not to mention that some of His other sacred animals include such horned and hoofed critters as antelope and oryx), it is easy enough to conceptualize ourselves as "witches" who invoke a horned god at night. So adopting Walpurgisnacht into our religious calendar has always made sense, at least to us.
With apologies to Francisco Goya…
Perhaps the greatest Walpurgisnacht in LV-426 history so far was in 2005. It was on a Saturday that year, and I was living in Houston. The Tonester drove down to visit me for the whole weekend, and we hit the city together like bricks fired from a machine gun. We roamed every strip club, antique book store, and vintage record shop we could afford at the time, growling the lyrics to all our favorite death metal songs and shouting a random "DUA SET!" at every turn. It was perhaps the only time in my life that I have ever felt completely comfortable wearing my spirituality on my sleeve in public. It was a weekend full of booze, lewd jokes, horror flicks, and about a ton and a half of heavy fuckin' metal. We really shook the pillars of heaven, by gods, and when it was over, we both knew Big Red was mighty pleased.
"Turn it up to 11, Hoss!"
Saturday, April 30, 2005: The city of Houston fell under siege to a bizarre sect known only as LV-426. Heads were turned and jaws were dropped as two strapping young lads of Sutekh took to the streets. No slice of pepperoni pizza was safe. No vintage record shop could run. No 1970s folk horror movie could hide. But lo, musical instrument shops had it the worst by far; for Set's crazed servants did ecstastically hammer on drums, strum on electric guitars, and scream psalms to His Majesty on microphones turned up to 11 in full public view. Never before had such madness been seen or endured by the community, and the dark wizards soon vanished as mysteriously as they had appeared, like a nightmare before the break of day. No evidence remains of the outlandish lunacies that were witnessed on that fateful Walpurgis Night—not even a photograph…
Friday the Thirteenth
When Set slays Osiris in Egyptian mythology, He chops him into 14 pieces, 13 of which are then buried throughout the world (before they are re-assembled and restored to life by Isis), while Set feeds the final piece—Osiris' phallus—to an elephantfish. (Dennis Wheatley refers to this fish as "the Talisman of Set" in his 1934 novel, The Devil Rides Out.) There were also 13 people at the Last Supper of Christ, which was soon followed by his crucifixion (on a Friday, no less). In both tales, the dying-and-rising god can't rise from the dead until he is killed first (with Judas Iscariot fulfilling the Setian role in the Christian narrative). The god must be sacrificed before he can rise again and offer new life to the world, and in this context, the number 13 represents initiation: the (often painful) ending of one phase of existence, followed by the glorious emergence of a new and better life.
In LV-426, we don't view Set and Osiris as "enemies"; we think of the two as being like a gardener and a rosebush, respectively. It's Set's job to "prune" Osiris so the latter can produce fresh "blooms," which keeps the universe alive and healthy. If Set were not there to keep Osiris regenerating himself, there would be no past and no future; there would only be a static present in which nothing new can thrive. So while the experience of being "pruned" by life's hard knocks certainly isn't pleasant for anyone, Setians in LV-426 believe it's important to honor Set for His role in this process. We also think it's important to take a moment and Hail Osiris as well, and Friday the Thirteenth is our preferred time for doing so.
Watermelon is reported to be one of Set's favorite foods, and since it's a plant, it is also sacred to Osiris. So one LV-426 custom for Friday the Thirteenth is to buy a watermelon, recite some prayers over it, chop it up, and share it with Set and Osiris as a sacred meal. As we each eat the watermelon, we also partake of Osiris' regenerative powers so we can heal and grow back stronger from whatever trials we are currently facing in life. One year, we hosted this dinner at a derelict cemetery, and we respectfully shared our offerings of watermelon with the forgotten ancestors who were buried there.
"Dinner with the Dead" we hosted in honor of Osiris for Friday the 13th, August 2010.
Aside from hockey masks (thanks to Jason Voorhees), black cats are one of the first things people associate with Friday the Thirteenth. Everyone knows the old superstition about how you'll get "seven years' bad luck" if a black cat crosses your path. But what most people don't realize is that cats are actually very lucky creatures to have around, and that black cats are especially lucky. Remember, cats were worshiped in ancient Egypt; they were protected by law from injury and death, and families mourned, mummified, and buried their beloved felines as if they were human beings. Cats were thought to have a special connection to the spirit world, and were especially cherished for driving away evil spirits. The color black was also considered very lucky indeed, given its association with the fertile soil of the Nile Valley. From this perspective, a black cat is twice as lucky as usual, for it not only has all the standard demon-repelling bells and whistles; it also carries the promise of hope, fertility, and regeneration wherever it goes.
My youngest child, Bishop.
The number of days in February and March are such that if Friday the Thirteenth ever falls in the former, it will also fall in the latter (unless we're in a leap year). Having two consecutive Friday the Thirteenths in the same month like this only happens 3 times every 28 years, and it never happens at any other time of year. For these and other reasons, this occasion is considered highly sacred in LV-426 and is observed as a month-long festival that we call Miew Khem or "the Month of the Black Cat."
An example of an execration ritual, a procedure to cast out and/or ward off negative energy.
Everyone showed up at our house around 5:00 PM that Saturday, and each person was given a small ceramic pot and a black Sharpie marker. I instructed them to write and/or draw whatever they liked on their pots. Whatever they wrote or drew had to represent negative things that were bothering them and that they wanted to cast out from their lives. It was a silent and solemn twenty minutes as everyone meditated on the demons that were haunting them the most, pouring all that sad and frightening energy into their drawings.
Once everyone had finished decorating their qliphothic pots, I implored them not to touch anyone else's pot (or to let anyone else touch theirs). We had just created the magical equivalent of bio-hazardous waste products, and it was vital that no one be "infected" by anyone else's bad vibes.
Then we all went out into the back yard, where Blackwyn and I had prepared a small altar to Set (complete with His statue and a big red lantern). We had also set up a couple of garden tiles on which all of our qliphothic pots could be smashed.
One of our friends brought her 2-year-old daughter, and the little girl had brought her toy pig. As we prepared to recite the opening invocation, the girl approached the altar and stared at Big Red's statue. We were briefly worried that we'd need to intercede, but she just stood there, quietly and respectfully gazing at the man with the funny animal head. Then she placed her toy pig right beside the statue and said, "That better"—as if she somehow understood that pigs are one of Set's favorite critters. As the child walked back to her mother, everyone who was present felt a powerful chill, including those who weren't committed believers.
It was evident that Set was already present, but I invoked Him into our ceremony just the same:
Hail, Son of Nut! You Before Whom the Sky Shakes! Hear us, O Lord of the Wastelands! O Divine Foreigner! O Bringer of Winds! O Savior of the Sun! As You travel the Desert between the Worlds, as You smite the Evil One again and again, look down upon us and straighten our spines! Open our mouths to speak great words of power! We are Your soldiers upon this Earth; put us to Your work!
Now it was time to conjure the Chaos Serpent and kill it together as a tribe—as a constellation brought together by Set from across the Earth:
Torment be upon you, Apep! You enemy of Set, of all gods and all creatures! The Companions of Set prevail over you, for you are but the filth of unborn pasts! Accursed shell and nothingness, the Typhonian Beast shall rip and tear you asunder, and scatter your meat as confetti to the winds! Taste your death, Apep! Get back and retreat, O enemy of Set! Fall down, be repulsed, get back and retreat! For the Eye of Set is upon you, piercing you like a spear! It is His Army that drives you back with all of our thunder and metal! O vile and vapid corruption, WE CAST YOU BACK INTO NOTHINGNESS!
Then we all took a deep breath…and we chucked our qliphothic pots upon the garden tiles as forcefully as we could, all at the same time.
No one expected the crash of the pots to be as loud as it was; it echoed throughout the neighborhood like a thunderclap. The shards flew more violently than we had anticipated as well, but no one was harmed. We were briefly shaken by the sight and the sound of what we had done, but we also felt a clear and powerful sense of release, like a knotted muscle melting into butter.
Then I brought our spell to a close:
Back, fiend! An end to you! Set has driven thunder and lightning at you! Set has made you to be destroyed, and Set has condemned you to evil! An end, an end to you! Taste your death! An end to you! You will NEVER swallow the dawn! You will NEVER win the night!
Our curse had been cast, and our demons were on the run. The others went inside to decompress from this experience, and Blackwyn and I went to sweep up the debris of the qliphothic pots.
Then, as if on cue, it started to rain.
We decided to leave the qliphothic pots alone, so Big Red could piss on the Chaos Serpent's corpse for a spell.